Chapter 12 - The Last of the First
Is it true that the first non-aboriginal child born in Vancouver was a baby girl named McNeil, I was asked by Angus MacNeil of Vancouver as I plugged away at my research into the often unattributed contributions women have made to British Columbia. The archives showed that there was a Margaret Florence McNeil born in Vancouver on April 27, 1886, the year the city was both incorporated and burned down—but whether she was actually the first-born I couldn't attest. The more I asked around, the more frequently I heard in anecdotal terms that her parents had moved after the fire and she wasn't located again until 50 years later, thanks to the diligence of a city archivist who doggedly traced her to Portland, Oregon. That yarn was too good to ignore.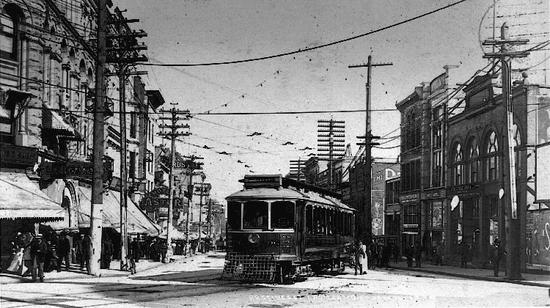 Then I got some unexpected help from Erin Sweeney of Richmond, who wrote to me—"at the urging of my uncle, Jake Sweeney, and my father Ed Sweeney"—to help clarify what turns out is not a mystery at all, although it began as one. And my 12-year-old daughter broke off from designing her website to track down for me a posting to a genealogical site in Cape Breton that provided some further interesting background. It was written by a Vince MacNeil, who himself thanks the research of Carol MacLean and quotes from sources as far afield as the long-defunct Vancouver News Herald, the Oban Times in Scotland (a place I've actually visited, but only in search of the perfect Scotch) and the Vancouver Province.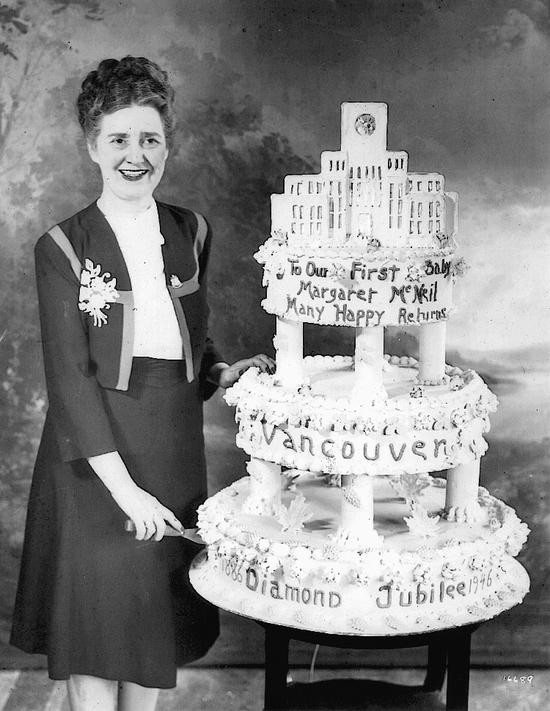 As I say, the Vital Events Registry at the provincial archives corroborates that on April 27, 1886, exactly three weeks after the town of Granville was incorporated as the City of Vancouver and two weeks before the first meeting of the first city council—at which the first order of business was to ask Ottawa to turn over the land that would create Stanley Park—a Margaret Florence McNeil entered the world and was baptized by Father Patrick Fay at Holy Rosary, the humble predecessor of the present cathedral. The date was certainly right and the name was similar to that offered by Angus MacNeil, who wasn't sure exactly how she spelled her surname and thought she lived in Portland, Oregon, but was descended from stock on the Isle of Barra in the Outer Hebrides.
Which brought me back to Erin Sweeney. She told me that her grandfather, M. Leo Sweeney, had served as the General Chairman of Vancouver's Diamond Jubilee. The committee apparently produced a splendid souvenir booklet of Vancouver facts from which the following excerpt is taken:
By way of contrast to the dim beginning of cities in "old" countries, there sat down to a dinner in the Stanley Park Pavilion on April 30, 1946, nine of the 16 men and women born in Vancouver in 1886.
These "Jubilarian" guests included Miss Margaret Florence McNeil, first white baby born in the year of incorporation, whose birthday was April 27, 1886. Other "1886 babies" present on this unique occasion were: A.C. Reid; C.F.H. Steele; E.G. Sumner; Mrs. Edward Brown, formerly Edna Ludlow; Mrs. W.W. Hatfield, formerly Irma Chase; Mrs. J.B. Abrams, formerly Beatrice Jagger; J.D. McPhalen; Mrs. George Sims, formerly Flora Johnston.
But there's more to this story than the birthday party that took place the year before I was born. It turns out we owe the presence of Vancouver's first-born at the celebration to the tenacity and skill of Vancouver's first city archivist, Major J.S. Matthews, a hero of Ypres who came home and had a brief stint in business before retiring in 1924. His hobby—perhaps we should say obsession—was collecting and recording early Vancouver history and, according to Donna Jean MacKinnon's short essay about him in Chuck Davis's The Greater Vancouver Book, his Kits Point house was soon jammed to the rafters with memorabilia. He was made the city's first archivist in 1932 and his personal collection is still at the heart of our early documentary record of the city's genesis—another triumph, I always like to point out, for the publicly spirited amateur in this age that seems overly impressed by formal credentials and the notion that you need a PhD before you can think.
Major Matthews, it seems, was blessed with an uncanny ability to remember names long-forgotten by others and a reporter's skills in ferreting out information about them, which probably explains why he was so chummy with the reporters of his day. As I poked about looking for information, I came across letters in the papers of my late father-in-law, Bill Mayse, who was a reporter for both the Vancouver Province and the Vancouver Sun more than 75 years ago, with news tips from the archivist scrawled in the margins.
According to Vince MacNeil's posting on the Cape Breton site, the major wrote more than 900 letters in a relentless 20-year search to track down Vancouver's vanished first-born. Then a reporter drew his attention to a 1909 newspaper story that seemed to indicate that her parents, Alexander McNeil and Anna Springer McNeil, had moved to Portland after losing their home in the ferocious fire that wiped out most of Vancouver just six weeks after the baby was born. That fire was so hot it melted the church bell at St. James to cinder slag. Our intrepid archivist next wrote to the city comptroller in Portland. He obtained a municipal government list of every McNeil in the American seaport and then worked his way through the addresses. He found Margaret working as a glove buyer for a big department store.
In 1940, 54 years after her departure, the city brought her home. She was greeted at city hall by Mayor Lyle Telford, presented with a gold necklace and pendant bearing the city's coat of arms and treated to a spectacular birthday cake decorated with roses to represent Portland and a maple leaf to represent Canada. Major Matthews, who died in 1970 at the age of 92, undertook to ensure that Vancouver's long-lost birthday girl was never again forgotten. Every year until her own death in 1972, she received a cake, a present and a phone call from the City of Vancouver.
[Previous Chapter] [Postscript]