5. The Strait as Waste Dump
Mixing stories of navigation, colonisation and capitalist development (chapters 1 to 4) with tales of health, disease and recreation (chapters 5 and 6) complicates the history of places like the Strait of Georgia. But it also makes for a history in which we can more easily see ourselves. Considering issues of politics and economics together with those of public health, safety and well-being helps us understand the Strait's many diverse roles, the complex interactions among them and how they have evolved over time.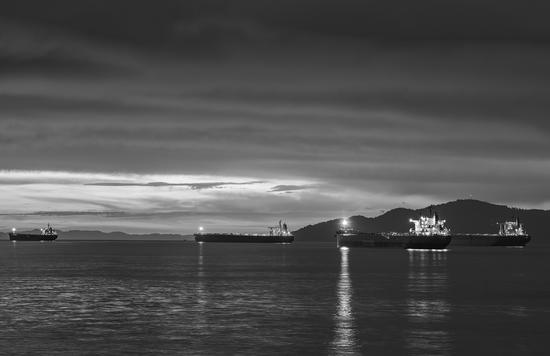 Around 1950, opposition to the use of the Strait as a waste dump began to grow tremendously as a result of the increase in the volume of waste being dumped, the rapid growth of recreation on the Strait and ongoing fears about threats to fish. Many more people began to scrutinise what was being dumped, how and where it was being dumped and the effects it was having on the sea and the people and animals that interacted with it. The relationships between waste dumpers and commercial fishers and, especially, between waste dumpers and sea-based recreationists began to change. Suddenly, waste dumpers feared losing their lucrative right to consign increasingly complex waste streams to the waters of the inland sea. Like the others, this story has its roots in the late nineteenth century and is still unfolding today.
The Strait's traditional Indigenous settlements were relatively small and spread out enough that their impact on the quality of sea water would have been insignificant except on a very local scale. And the Strait's role as a waste dump aroused little interest during the early years of colonisation. Most British settlers would have been aware of London's epic struggle with the disposal of human waste and industrial effluent in the 1850s, the decade of that city's Great Stink. But in the Strait's new settler towns, the sea could be counted on to absorb waste with no ill effects, in a way that rivers like the Thames in London could not. Settlers' laws in those decades reflected an approach adopted elsewhere in North America: they focused on ensuring access to fresh water for irrigation, industry and municipal water supplies—but not on water quality. Like Indigenous societies before them, settlers worried only about marine pollution as a potential threat to fish. In fact, Canada's Fisheries Act of 1868 authorised Ottawa to protect fish habitat from waste dumping. The new federal Department of Marine and Fisheries was looking into a few cases of harmful dumping of industrial waste in the older provinces by the 1870s, but it had not yet started doing so on the West Coast.
By the 1890s the inland sea had become a valuable waste dump for the Strait's largest settler towns and for resource industries. At the same time, Western scientists and engineers had generally accepted there was a link between water polluted by sewage and the spread of diseases such as cholera and typhoid, and this idea was a driving force behind improving urban sewage systems to protect municipal drinking water supplies. Having access to more water in these municipal systems had led people to use more of it, which soon overwhelmed the capacities of cesspools and septic tanks and increased the danger of surface water contamination. A sewage collection system therefore came to be seen as a sign of a progressive community, and the sea was a great boon to the civil engineers tasked with disposing of this liquid waste. Sewers in towns along the shore could be built to discharge into the sea, where currents dispersed their contents.
Like most North American cities, larger towns along the Strait had built sewer systems by 1914, and most of them, guided by city planners and engineers, dumped their sewage untreated into adjacent waterways. Often this meant the inland sea or near the mouths of rivers feeding into it. This marine sewage disposal was not contentious.
At the time, Vancouver had far fewer problems with water-borne contagious diseases than eastern Canadian cities of similar or larger size. In part this was because the city was newer and less congested, but it was also because the Strait and the Lower Fraser, which surrounded the city, offered inexpensive and effective waste disposal options. Vancouver's first sewers were built in 1890 and discharged into Burrard Inlet, False Creek and English Bay, where it was suggested their nutrient loads might enhance local fisheries. The city grew rapidly, however, and twenty-five years later a new sewerage plan was needed. R.E. Lea from Montreal spent two years studying Vancouver's sewage and drainage challenges and options. In 1913, he recommended new sewage outfalls along the south shores of English Bay, Burrard Inlet and the North Arm of the Fraser. Lea also suggested the city construct separate sewage and drainage water removal systems so it could treat its sewage in the future. The city built the new outfalls recommended by Lea but decided against the more expensive separate systems.
A similar debate over systems separating municipal sewer lines from storm drains was taking place in many North American cities during this period. Towns on the Strait—and most larger North American cities at the time—opted for the simpler and cheaper combined systems. The idea was that rainwater coming into the system from the storm drains could absorb and disperse any waste consigned to it by the sewage system. By 1916, Vancouver's investments in its combined sewers dwarfed those of other towns on the Strait: $4.5 million for 320 kilometres of sewer lines (see Table 3).
Industrial waste from canneries, sawmills and pulp and paper mills was different from sewage. For one thing, it was more likely to be recognised as a wasted resource. But the sea provided the same low-cost waste disposal option regardless. Mines mostly left their waste materials on land, but they generated toxic drainage that quickly reached the sea via surface streams and groundwater.
Table 3. Municipal sewers around the Strait by 19161
Town
Length of sewers laid by 1916
Investment in sewers by 1916
Vancouver
320 km
$4,500,000
New Westminster
80 km
$400,000
Nanaimo
16 km
$200,000
Ladysmith
16 km
$65,000
Powell River
Town sewers installed during the construction of the Powell River townsite, 1910–12; details not available at provincial health department.
Occasional concerns about industrial waste from fishers or recreationists were mostly about waste from canneries starting in the late 1880s, when their operations on the Lower Fraser and Burrard Inlet were expanding rapidly. A decade later, with canneries converting their waste into fertiliser, glue and fish oil, the Board of Trade announced the problem was on its way to being solved. Yet it recurred early in the twentieth century. Writer Geoff Meggs described the situation in 1901: "The river was polluted with the carcasses of hundreds of thousands of fish and the offal from several million more…[while Vancouver suffered] the stench of rotting salmon carried by the tides onto English Bay beaches."2 The year 1901 was a "big year" for Fraser River Sockeye, and the canneries simply couldn't process all the fish delivered to them. Rotting salmon flesh accumulated on Vancouver's beaches again in the summer of the next big year, 1905. As a result, the provincial medical health officer instructed Burrard Inlet canneries to dump their fish offal at least 5 kilometres offshore. And federal officers were tasked with controlling "excessive" dumping of fish waste at the Fraser mouth if it was deemed likely to damage a commercially important fishery.
Farther from Vancouver, other kinds of industrial pollution were viewed as a necessary part of progress. A complaint registered by locals on Howe Sound in 1912, not long after the pulp mill opened at Port Mellon, declared that the new mill was poisoning shellfish. The fisheries inspector demanded that the mill fix the problem, but the owners maintained that their waste stream was already sufficiently diluted and the fisheries department subsequently withdrew its complaint. No similar grievances were recorded at the vast new complex up the shore at Powell River (see photographs here and here). For the time being at least, industrial dumping in the sea, if it was considered at all, was seen as a minor inconvenience.
As more towns on the Strait built new sewer systems and others upgraded existing ones, the volume of waste being dumped into the Strait expanded, but still its role as a waste dump went mostly uncontested. The practical rule of thumb was to get your drinking water as far upstream as possible on a creek or river and protect your source. Then you would dump your sewage as far downstream as possible, ideally directly into the sea below the low-tide line, so the currents would disperse and dilute it.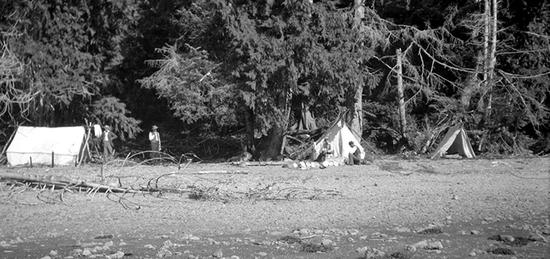 Local outbreaks of typhoid in 1919 further stimulated improvements in sewerage and water systems. A letter to Victoria's chief sanitary inspector from a Parksville resident attributed the outbreak of typhoid there to wells contaminated by septic tanks. The issue was "increasingly vital," said the writer, because "this settlement is now attracting a big holiday public."3 Through the next two decades, authorities in Nanaimo focused on the threat of typhoid from contaminated drinking water even though city maps showed swimming beaches adjacent to sewage outfalls with "heavy bacterial growth with positive faecal contamination."4
In Powell River, typhoid first broke out the year after the town had been con-structed. Its "excellent sewers" spilled into the sea in front of town just below the low-tide line. As long as people swam in Powell Lake, above the townsite, there was no problem. But when they swam at the town's ocean beaches, it was a different story. The polluted beaches were officially discounted as a cause when an epidemic of acute gastroenteritis broke out in the 1930s; however, health authorities took the opportunity to advise the town to either extend its sewers farther into the sea or install a primary treatment plant.
Ironically, most towns around the sea didn't worry much about the impact of sewage on their marine recreation, though they were increasingly concerned about contamination of their water supply, particularly by human waste created by recreational water users. People were encouraged to avoid lakes and rivers that supplied drinking water and to seek recreation only in the sea, especially in summer, when the supply of fresh water was lowest and most vulnerable to contamination.
In Vancouver, engineers had designed the sewer system with marine outfalls located directly on the Strait to maximise sewage dilution and dispersion. Controversy arose just after World War I over sewage dumping on the grounds of the Jericho Golf Club, near Spanish Banks on the south shore of English Bay. But the most serious and persistent problems were on False Creek. The city's government had disregarded earlier recommendations to stop dumping sewage into this tidal basin in the middle of the city, and by 1927 sixteen sewage outfalls were spilling into False Creek. The result was chronic problems with pollution at the city's most popular swimming beach at English Bay. By the early 1940s, raw sewage from some 600 hectares of the city core was still being dumped into False Creek despite an outbreak of typhoid in the 1930s that was caused by this very sewage.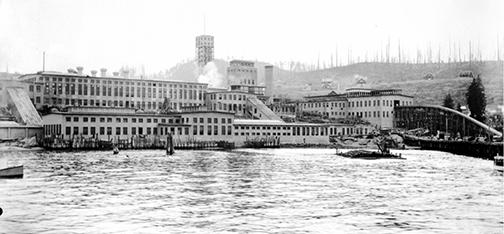 As in eastern North America in earlier years, resource industries that grew up around the Strait during the interwar years were often located where fresh water was available. For example, the Strait's first pulp and paper mills used prodigious quantities of fresh water to carry away the waste they produced at each stage of manufacturing. These mills generated over 350,000 litres of wastewater containing everything from wood fibres to residual chemicals for each ton of pulp produced. Writing about the biggest new plant on the coast in 1934, summer cruiser Francis John Barrow noted, "A new evil smell every hundred yards or so from the large paper works…We left Powell River without regret."5 Yet the Strait's pulp and paper mills operated for sixty years before federal authorities made any sustained effort to curtail their waste dumping practices.
The Strait's mines also operated in a regulatory vacuum. Provincial and federal authorities sometimes attempted to persuade miners to respect certain waste man-agement norms, but the results of these sporadic efforts mostly depended on voluntary compliance by industry. The province's Department of Health intervened regarding water management at Britannia in the 1920s, but its concern was only to ensure the town's water supply was drawn from streams high enough to avoid being contaminated by mine waste. The government was not otherwise concerned with controlling that waste—or its effects on the sea.
Fish processors were also subject to very modest government control. Early in the 1940s, the province began receiving complaints about a rendering plant operated by BC Packers at Deep Bay, south of Courtenay. The secretary of the local Liberal Party association wrote to the provincial Minister of Health in 1941 describing "terrible fumes and smells…[that] travel all over the district" in the warmer months. Every resident in his district, he said, would sign a petition against the plant. The local MP's letter to the Commissioner of Fisheries in Victoria described a smell "one hundred times worse" than a pulp mill. It was causing nearby residents to vomit and ruining local tourism. A petition signed by ninety neighbours demanded that something be done to end the unbearable stench. In mid-1941, the Chief Sanitary Inspector informed the Provincial Health Officer that these "odour nuisances" were being produced mostly by exhaust gases from the rendering plant. Scows of rotting dogfish and offal waiting to be off-loaded at Deep Bay were also foul, he admitted, but "not considered serious enough to cause complaints at any great distance." The inspector recommended BC Packers do something only about the exhaust odours. The Chief Sanitary Inspector then met with executives at BC Packers, who told him that their plant was part of the war effort, responding to "the urgent request of the Dominion Government," but they agreed that it might be possible to reduce the odour. By late 1941, despite cooler weather, the Chief Sanitary Inspector reported "no lessening of the odour nuisances in the surrounding area [and]…the company has made no attempt to abate the nuisance."
Complaints about the odour from the Deep Bay plant continued through 1942; locals were still vomiting and were forced to stay indoors with their windows and doors shut. Citizens near Nanaimo also complained about a scow load of rotting dogfish apparently destined for Deep Bay but left on their shore for a month. By 1943, the "vile stench" had spread and people downwind were getting sick as far away as Qualicum Bay. Still, the government continued to favour BC Packers. After three years of this intense olfactory assault, a letter to Victoria from BC Packers' general manager admitted, "I cannot say that we have met with a great deal of success" in controlling the odours at Deep Bay. Spraying formaldehyde on the carcasses hadn't worked as well as they had hoped. Another approach, involving treatment of the rotting fish with sulphuric acid and chlorine, had proven more effective, he said. But it was too expensive to use very often and so would be used only during "the peak of production." He welcomed any other suggestions the health officials might have.
In another letter to a fisheries official, the BC Packers executive admitted that controlling the smell would require more investment than his company was prepared to make. He reminded the official that the plant's fish meal and oil were a vital contribution to the war effort. And he insisted that BC Packers was a good corporate citizen that had spent thousands of dollars to improve both its manufacturing processes and employees' living conditions. He concluded that the company had explored "all the known means of endeavouring to overcome this odour, some of which is inherent in the nature of the fish itself." These odours were part and parcel of living beside meatpacking plants, gasworks and pulp mills and, inevitably, were "offensive to some people." Even in San Francisco and Monterey, he pointed out, "the smell of cooking fish is very noticeable and offensive to some." He didn't mention whether such odours were ever a problem in Vancouver's tony Shaughnessy neighbourhood, where he lived.6
Such casual dismissal of public complaints was destined to grow more difficult in the future. The sheer volume and increasing variety of waste being dumped into the Strait was on a collision course with the evolving sensibilities of an expanding and ever more affluent population living around it. Progressively fewer people living around the Strait would depend on its resource industries for their livelihoods, while more would enjoy its recreational possibilities. In other words, most people would begin to expect different things from the sea.
Rapid industrialisation and urbanisation in many parts of the world after 1945 led to dramatic physical, biological and chemical changes in the Earth's aquatic environments. And these changes increasingly affected people's understanding of, and interactions with, this water. Rather than thinking of their biophysical environment as simply being affected by human activities, many people began to see it as affecting them. It was an emerging world view in which humans were an influential component of broader "ecosystems." For example, rather than focusing exclusively on biological agents of disease, public health specialists and the public in general became increasingly aware of other environmental sources of disease such as agricultural pesticide residues in food and water, and radioactive contamination resulting from the atmospheric testing of nuclear weapons. Around the Strait, the focus began to shift in the 1970s and '80s to include not only micro-organisms bred in sewage and the vast streams of waste fibre from mills but also things like the complex organic pollutants escaping from pulp mill waste that, like pesticide residues, could accumulate in microscopic quantities in the tissue of marine organisms and humans, with serious health effects for both.
The degradation of the world's seas and large lakes was one of the most disturbing post-war trends. Although generally less damaged than freshwater environments, coastal zones such as the Strait of Georgia were worse off than open oceans. Many of them were surpassing their capacity to safely "assimilate" waste, threatening the engineers' time-honoured "solution to pollution by dilution." By 1970, many Mediterranean and Caribbean beaches and a growing number farther north were experiencing regular late-summer algal blooms. Enclosed seas were particularly prone to eutrophication, a condition caused by the accumulation of nutrients derived from human waste and the runoff from farmers' fields; these nutrients in turn spurred luxuriant growth of aquatic vegetation that reduced the amount of dissolved oxygen in the water and killed fish. In industrialised areas, meanwhile, people were increasingly aware that dangerous chemicals and metals spilling from factories, mills and mines were being absorbed by fish and shellfish, and then by the humans who consumed them.
The Great Lakes and the Atlantic coast of the US seemed to be in crisis by the mid-1960s. Cleveland's Cuyahoga River spilled bacteria into Lake Erie at up to 1,200 times the level deemed safe for swimmers, and only three beaches on the lake's south shore were still swimmable. Boston, the lower Hudson River and Chesapeake Bay all faced deepening, high-profile ecological crises. All three were coastal areas with complex physical and human geographies similar to those of Vancouver, the Lower Fraser River and the Strait. By the early 1960s most New Yorkers viewed their portion of the Hudson River as an open sewer and avoided eating fish from it or even walking beside its stinking banks. Public health officials agreed and had closed 250 kilometres of the river's most popular recreation areas to swimmers, all the way from New York City to Albany.
Local critics were quick to compare the declining state of the Strait with such degradation elsewhere. Speaking before a crowd at English Bay, Roderick Haig-Brown declared: "The Baltic Sea is polluted, the Mediterranean is polluted, the Strait of Georgia can be polluted." And he urged those listening: "We can do our part by keeping our waters clean and productive."7 In a manuscript entitled Pollution for Profit, he noted ominously that it would cost a billion dollars to clean up the Hudson; the Potomac, another billion; and that both were warnings to people living on the Strait. The pollution of Ladysmith and Vancouver harbours, or the Fraser mouth, did not stay in those places, he stressed. Instead, the Strait's counter-clockwise currents carried the Lower Mainland's growing pollution north to the Discovery Islands and then along the eastern shore of Vancouver Island. To illustrate this point he told the story of a woman who had jumped off the Pattullo Bridge on the Lower Fraser whose body later washed ashore on Quadra Island.8
Many local governments and industries contested these growing calls to reduce municipal and industrial pollution in the Strait. Of course, they aimed to avoid the cost of constructing more elaborate waste disposal systems. But why such resistance to changing to more environmentally benign approaches? Linda Nash, in Inescapable Ecologies, has suggested North American culture was "built on, and absolutely dependent on, a sharply alienating, intensely managerial relationship with nature." Besides, even if engineers, accountants and the leaders they advised might be willing to change their business-as-usual approaches, their options were limited by previous design decisions. For example, towns with combined municipal sewage systems that wanted to improve their sewage treatment by separating the storm drains from the sewage pipes faced enormous challenges. But perhaps a greater challenge was the idea that the best solutions were "efficient" ones. Using the Strait as a dump for the steadily growing waste stream was an "efficient engineering solution" because sewage outfalls into the sea were easy to build, and it was an "economically efficient solution" because the marine waste dump was inexpensive to use and manage.
Pollution's changing significance
Much early debate over liquid effluent resulted from changing views of the sig-nificance of this pollution. Local scientists and engineers were accustomed to gauging the significance of different waste streams by measuring various parameters of water quality and determining how much waste could be absorbed into the sea without harming commercially important fish, particularly salmon. Haig-Brown, NGOs and other critics began suggesting the significance of different waste streams needed to be judged over larger areas, longer time frames and more affected organisms, including people. An increasing number of writers around the Strait, from Malcolm Lowry and Earle Birney on Burrard Inlet to M. Wylie Blanchet in Desolation Sound and Jack Hodgins on Vancouver Island, were also sympathetic to this ecological world view. Governments, however, were slow to catch up.
In the years after World War II, the province was responsible for controlling the pollution of streams flowing into the Strait. As in a lot of other places in those years, many departments were involved and each of them acted independently. For example, the Provincial Health Officer was responsible for administering the Health Act and overseeing sewer construction. The Fish and Game Branch was responsible for protecting freshwater fish. Although these departments were often dealing with the same polluters, because of their piecemeal approach none of them exercised much actual control. Growing sewage pollution problems in the sea off Vancouver, however, finally highlighted the need for more effective pollution control. And as a result, Victoria created the Pollution Control Board (PCB) in 1956.
Ottawa was responsible for controlling marine pollution. Its Fisheries Act pro-hibited activities detrimental to marine fish populations, including the dumping of organic materials such as sawdust, pulp mill fibre or canneries' offal in quantities that could reduce water oxygen levels enough to kill fish. It also outlawed the dumping of toxins including mining and smelting wastes, pulp mill liquors and oil products. Such control was seldom exercised during the 1950s. The worsening municipal pollution off Vancouver, however, did mobilise federal authorities.
The 1953 Rawn Report analyzed the feasibility of Vancouver's prospective sewage projects. Like a study carried out forty years earlier, the Rawn Report was unable to accurately predict the complex tides and currents in the sea around Vancouver or anticipate episodic pollution of beaches by nearby sewage outfalls. To better predict this behaviour and the Strait's resulting capacity to assimilate waste, federal scientists and oceanographer Michael Waldichuk began a decade of detailed studies in Burrard Inlet and the open Strait in 1957.
By far the largest influence in changing public perceptions about the Strait, though, was Roderick Haig-Brown, who emerged as a powerful voice against pollution. Addressing a regional gathering of the tourist industry in Spokane in 1967, Haig-Brown declared that all forms of pollution were "use of public property for private profit" and were often a waste of valuable materials. He estimated that even the newer generation of sulphate pulp mills wasted a half to two-thirds of the raw material they used. And he called for taxes on their wasteful, polluting operations "to stimulate much more aggressive examination of ways to put this enormous waste to good use." These mills, he said, should be obliged to return their organic wastes to the forests. Domestic sewage should also be applied to the forests rather than fouling aquatic environments. Haig-Brown spoke of "bills now due and overdue" after a century of rapid, ruthless resource exploitation that had polluted local waters with devastating effects on recreation, fisheries and aesthetics. The Strait and Puget Sound, he told his followers, were overtaxed "finite resources" in need of proper management and protection and whose capacities as "cesspools" were limited.9 Two years later, he stated that BC was "within sight of destroying or seriously damaging some of our finest assets, before we have had the time or the intelligence to put them to intensive use." These assets included the Lower Fraser and the Strait of Georgia. What was needed, he declared, was a "sharp change of thinking."
The province, said Haig-Brown, was doing "just about nothing." In his opinion, Victoria was wondering, "How much pollution can we get by with?" instead of how to better control it. At the same time, he singled out municipalities as the greatest polluters but conceded that industry was "not far behind" and was sometimes worse because of "the toxic nature of their effluents." To compensate for the province's "gross neglect," Haig-Brown called on Ottawa to take the lead in controlling pollution on the Strait, though he recognised that the federal government could have little impact without provincial cooperation. Joint federal-provincial action was unlikely, he cautioned, "without the strongest public pressure, relentlessly maintained." And he urged academics and the environmental movement to fill this niche. If all these players made the right moves, he concluded, "within a decade it should be possible to control all pollutions to rigid minimums and put most of the waste to constructive use."10
The engineers' dilution approach to the Lower Mainland's sewage flows had attracted increased scrutiny as pollution built up in the Fraser estuary and occasion-ally spilled over onto Vancouver beaches. And this clear discrepancy between what the public was being told—that marine pollution was being controlled effectively—and what they could plainly see—that their beaches were frequently closed because of high coliform bacteria counts—stimulated protests, cast doubt on "expert judgements" and generated much media attention. By the end of the 1960s, a report from Nanaimo's Fisheries Research Board (FRB) station finally challenged conventional wisdom about the Strait's longer-term capacity to assimilate waste based on new evidence that currents on the sea floor, where the waste was coming to rest, were far slower than surface currents. Many observers in the late 1960s and early 1970s had come to believe that industrial pollution was the greatest threat to the West Coast fishery. For this reason, the most important rationale for controlling industrial pollution throughout this period was to reduce harm to fish, particularly economically valuable fish. In contrast, the main rationale for controlling sewage pollution was to stop transmitting seaborne bacteria to humans.
The provincial government was on the defensive. Its loosely organised Pollution Control Board had been reformed twice, in 1963 and 1965, and a new Pollution Control Act was passed in 1967. Three ministries—Lands, Forests and Water Resources; Health; and Municipal Affairs—had been made jointly responsible for overseeing the PCB. In 1969, the PCB's senior minister, Ray Williston, who was Minister of Lands, Forests and Water Resources, issued a statement assuring the public that untreated sewage discharge to enclosed or confined bodies of salt water was prohibited wherever there was doubt about the "adequacy of the tidal flushing effect." He stated that discharge of untreated sewage in fresh water was also prohibited and forbidden in any designated recreational body of water or on beaches "regardless of the flushing or assimilative capacity of salt water bodies." Williston further assured citizens that the Ministry of Health would protect them by upholding its standards for all waters being used for waste dumping. The PCB, he said, would ensure that any party receiving a permit to dump liquid waste would respect "prescribed effluent standards."11
Three months later, UBC scientist and rising politician Patrick McGeer sent a brief to Vancouver's city council questioning the competence of the PCB and the Greater Vancouver Sewerage & Drainage District (GVS&DD) in ensuring the safety of the city's beaches. The PCB recommended a maximum of 1,000 coliform bacteria per 100 millilitres of sea water at Vancouver's beaches, yet the American Public Health Association and the Conference of State Sanitary Engineers suggested this level was the boundary between "poor" and "very poor" water quality. And the World Health Organization recommended a limit of 200 to 500 coliform bacteria per 100 millilitres in "developed countries." McGeer challenged the PCB's assumption that bacteria didn't survive in salt water. In fact, he reported, Vancouver beach water contained only a third to two-thirds as much salt as the open sea, and bacteria thrived in such brackish environments. Furthermore, the beaches received a plume of water sweeping up from the Fraser mouth, and year-round coliform levels in this plume near the Iona sewage plant's outfall averaged 24,000 bacteria per 100 millilitres. He explained that the GVS&DD readings were taken in deep water whereas the city's, which had yielded coliform counts three times higher, were taken from the surface and shoreline water, where people actually swam.12
McGeer and Williston agreed that improved pollution control standards would likely impose financial and technical difficulties on local governments and in-dustries. Williston pointed out that the public had "often been reluctant to provide the necessary funds or give pollution control their proper position of priority in planning fund allocation." McGeer reminded Vancouver's leaders that the right level of pollution control was a judgement call that required distinguishing between what was "ecologically necessary" to protect humans and what was merely "desirable" but might not be affordable. Thomas Berger, a Vancouver lawyer and leader of the province's opposition New Democratic Party (NDP), was less inclined to compromise. He declared that pollution control in the province was a myth and that pollution was out of control.13
Industries and municipalities continued to claim their right to pollute and pushed back against demands for new standards, even as marine pollution peaked on the Strait's public and political agendas in the early 1970s. Municipal governments pointed out they could not meet higher standards without substantial new investments to modify their existing combined sewage and storm sewers. After heavy precipitation, they said, storm runoff overwhelmed the new sewage treatment plants and currently the only "economically viable" response was to discharge the whole combined stream untreated. The PCB accepted this explanation and amended its new, stricter policy early in the 1970s to allow these "exceptional" releases of untreated sewage.14 Once again, opposition politicians were more confrontational. Harry Rankin, the lone communist on Vancouver's city council, published a manifesto entitled Pollution—Suicide or Survival, in which he excoriated the province and municipalities for the current situation. "The standards and tests established…are so inadequate as to be almost ridiculous. They have been deliberately designed to allow the pollution producing industries to carry on without fear of interference," he wrote. "Government officials and the PCB are assiduously spreading the propaganda smokescreen that society as a whole is responsible for pollution and not industry." Furthermore, he said, "The PCB refuses to require industry to prove that its effluents won't cause undue harm; instead it requires anyone who objects to prove that the effluent is causing damage."15
Rankin scorned the provincial Minister of Recreation and Conservation, Ken Kiernan, who had recently joked: "We are polluting the atmosphere every time we breathe" and accused individuals and groups seeking pollution control of "emotionalism" and "a loss of perspective." It was, said Rankin, like saying that "if we want pollution controls, we must give up spending money on roads, schools, and hospitals, close down our industries and go back to living…on deer and salmon."16 Instead, Rankin maintained that the way to control sewage pollution had been "known for a very long time…[but] it costs money to do" and that in the absence of provincial leadership or adequate municipal responses, it was up to Ottawa to solve the problem. "The federal government can, and should, offer both leadership and a significant measure of subsidy. Federal standards should be high and specific," he declared, yet Ottawa was simply "going through the motions of taking a stand against water pollution [despite] the new Canada Water Act." That legislation "is so full of loopholes that it cannot be taken seriously…[It] does not set out firm standards as to just what polluted water is, nor does it project any specific ways in which polluted water can and should be cleaned up." The result, Rankin felt, was that "industries can pay fines and keep on polluting." And furthermore, he charged, there is "no provision to help municipalities…to build sewage treatment plants, aside from some vague promises about loans."17
Perhaps not surprisingly, Rankin found the union movement's growing concern about pollution "one of the most heartening developments." Maritime pollution was so serious, he said, that the United Fishermen and Allied Workers Union (UFAW), led by another old communist, was worried about the fishing industry's survival. Rankin claimed the UFAW Union under Homer Stevens had been "sparking" campaigns "to save our waters" for many years.18 Rankin was partisan and didn't have to negotiate or compromise, of course, but there was much truth to his criticisms.
An NDP government elected in 1972 promised to "change the system." Its newly appointed Minister of Lands, Forests and Natural Resources, Bob Williams, promised to use "economic disincentives" to discourage polluters.19 Several non-governmental organisations, especially the Scientific Pollution and Environmental Control Society (SPEC), kept the pressure on the new government. Roderick Haig-Brown was eloquent, opinionated and well informed, but SPEC had affiliates in most major towns around the Strait by 1972 and was becoming good at capturing headlines. In 1970 it had targeted MacMillan Bloedel, at the time the owner of large pulp and paper mills in Nanaimo and Powell River. SPEC had depicted the forest industry giant as Tyrannosaurus rex, "the king of polluters," and made headlines with an abortive stink- bomb attack on a Vancouver meeting of the Council of Forest Industries—to remind the industry of the stink of pulp mills. To raise awareness about the Strait-wide impacts of the Lower Mainland's sewage, SPEC dropped floating bottles near sewage outlets at the Fraser mouth and later recovered them near Comox and on the Strait's southern islands. In April of 1973 it urged the new government to designate Howe Sound as a recreation area protected from further industrial or port development. That same year it called on an intergovernmental panel on oil spills to tighten shipping controls on the Strait. And a year later it urged the provincial government to ensure secondary sewage treatment at Annacis Island on the Lower Fraser, to protect the "$600 million salmon fishing industry." In 1975, the PCB upheld SPEC's appeal to halt plans to discharge sewage into Ganges Harbour on Saltspring Island.
By the late 1970s, the first wave of environmental concern about the Strait had passed. Public and media attention had shifted first to the oil crisis of 1973 and then to the economic downturn that followed.20 Although SPEC remained active into the 1980s—conducting a tour of the Lower Fraser in 1981 to highlight its "filth and pollution" and protesting the disposal of industrial sediments from the floor of False Creek into the Strait two years later—its membership dwindled. Marine pollution again became mostly the domain of experts.
Many local government experts did remain focused on water quality issues in the 1980s out of concern that they might affect marine recreation. B.F. Talbot, the Greater Vancouver Regional District's senior assistant engineer, responded to concerns about high coliform counts raised by the Eagle Harbour Yacht Club in 1985. The bacteria counts in the waters off West Vancouver were high in late spring and early summer. Citing Department of Fisheries and Oceans research, Talbot explained that "slippery" fresh water from the (polluted) Fraser's peak flows was riding over heavier salt water and sweeping north to Eagle Harbour.21 The spring freshet, it seemed, was flushing the bacteria out of the Fraser and into the Strait.
As Vancouver hosted hundreds of thousands of visitors for Expo 86, city staff sought advice about how to monitor beach water quality from staff in other coastal cities around the Pacific. They wanted to know: Did their counterparts in San Diego and Sydney have jurisdiction over recreational water-quality monitoring? If so, what parameters did they consider significant enough to measure, when and how frequently? How did they decide when beaches had to be closed? Did they have separate storm and sewage systems or problematic combined sewers, like Vancouver's? Over a thirty-year period, the "significance" of marine pollution in the Strait had shifted from the purely scientific to the ecological, and these changing interpretations continued to shape what the public saw as dangerous pollution and how it should be addressed. However they were defined, progress on the issues remained slow and difficult.
Oil drilling and pollution on the Strait
Stories about oil spills on the Strait were infrequent before World War II, although spills of various petroleum products appeared to have become relatively common by the interwar years, when shippers and industry took little care to avoid them. Hamilton Mack Laing, for example, complained to a colleague in Ottawa in 1928 about "our latest water bird disaster" after loggers at Deep Bay south of Courtenay accidentally dumped more than 2,000 gallons of crude oil into the bay. The result was 40 miles of shore littered with oily and dying birds or, as he put it, "thousands of birds cashed in." Why, Mack Laing asked, could federal regulations convict a hunter for shooting "scooter out of season" but not nab a logging company for killing thousands of them?22 It was a good question, and such impunity diminished after 1945 as the public and different governments grew more concerned about drilling for oil around the Strait, shipping oil across it and spilling oil into it.
Oil exploration had taken place sporadically around the Strait without noticeable public concern since 1902, when the Colonist newspaper described an "oil expert's" favourable report on oil prospects in North Vancouver. Canadian Collieries drilled unsuccessfully for oil on Saturna Island in 1958.23 A decade later, as advances in offshore drilling technology raised the possibility of drilling for valuable new deposits of oil on the floor of the Strait, a jurisdictional dispute flared between Victoria and Ottawa over who owned the mineral rights under the water. Ottawa claimed that it held the rights because it governed maritime space. The province maintained that it held the rights to the near-shore waters because these were enclosed by provincial land and therefore an extension of it. Victoria pointed to precedents such as grants that had been made by the colonial government to seabed off Nanaimo and then a succession of grants made by the province to sea floor at other locations around the inland sea.
The conflict was reminiscent of earlier struggles over cannery licensing, as both Ottawa and Victoria claimed jurisdiction over offshore minerals and both issued permits for undersea seismic exploration on the Strait in the early 1960s. In 1967, the Supreme Court of Canada ruled that Ottawa was solely responsible for subsurface minerals below the low-tide line, but the province did not accept this ruling and continued to issue permits. As late as 1970, the Vancouver Parks Board was still petitioning Victoria to cancel provincial oil-drilling permits that threatened Vancouver's beaches. Alderman Harry Rankin challenged assurances from both the provincial and federal governments that drilling would be allowed only where they could guarantee no associated pollution. He argued, correctly, that no one could give such guarantees and that they would be "as worthless as they are meaningless."24
When West Vancouver's Jack Davis was appointed the federal Minister of Fisheries, he stated there would be no oil and gas drilling on the inland sea. The Strait, he maintained, was "obviously a priceless asset from a recreational point of view and…a funnel through which a hundred million dollar fishery moves." A press release from his office that year announced: "The combination of property and recreational values in the Strait of Georgia is so great that its possible contamination with oil could not be countenanced."25 SPEC and the Sierra Club of BC applauded Davis's stand and joined the City of Vancouver in calling for the province to revoke all drilling permits. In a letter to Frank Richter, the province's Minister of Mines, SPEC claimed oil drilling represented a "great and immediate" threat to Greater Vancouver and adjacent islands, insisting "the health and well-being of our people must take top priority over any other consideration."26 Ottawa prevailed and no drilling occurred, even as the federal-provincial jurisdictional dispute over the Strait's seabed simmered through the 1970s.
Various petroleum products had long been shipped across the Strait. Spills had already been occurring before World War II and they continued afterwards as industry expanded. For example, the provincial Fish and Wildlife Branch received complaints about vessels continually spilling oil and pumping oily bilge into the seas off Cowichan and Maple bays in 1946. Duncan's Chamber of Commerce worried this oil was killing ducks, fouling beaches and fishing grounds, reducing real-estate prices and damaging budding shoreline tourist camps. Although the province was trying harder to control the pollution of streams by the late 1940s, it could do little about such marine spills because they fell under federal jurisdiction.
Marine oil spills on the Strait began to receive broader attention by the mid-1950s as Canada prepared to sign the International Convention for the Prevention of Pollution of the Sea by Oil and incorporate its statutes into the Canada Shipping Act. Initially, local attention focused on oil products spilled or dumped during the operation of vessels, especially in ports. A federal Ministry of Transport (MoT) report in 1955 confirmed that Vancouver-area oil refineries had the necessary shore facilities to deal with "oily residues" from vessels arriving at Vancouver and New Westminster, and no new facilities were needed. Ship owners, however, complained the new system made it difficult and "exceedingly expensive" to dispose of their oily residues and they looked to the National Harbours Board (NHB) for a solution. The NHB didn't find one, and ships continued to dump oil and oily waste around the Strait. The MoT's Marine Regulations officer complained to the Coastwise Operators Association in 1960 that waste oil from their ships was drifting ashore, fouling beach and fishing gear, and killing thousands of seabirds each year. He sent the association a copy of the federal Oil Pollution Prevention Regulations, which were meant to control oil discharges from ships, and "earnestly requested" its members' compliance. Four years later, the ministry again consulted ship and towboat operators about extending the federal prohibition on dumping marine oil to include light diesel fuel.27
Although concerns about ships dumping oil products remained, new worries surfaced about more substantial spills from tankers transporting large volumes of crude oil. Until 1954, this unrefined petroleum had been imported by rail and ship from California to refineries in the Lower Mainland.28 Then the Trans Mountain Pipeline began to carry crude from Alberta's new oil fields, and for the next decade, limited amounts of this oil were shipped out from the Strait.
Oil shippers on the Strait sailed into a perfect storm in the late 1960s, however. Vividly illustrated stories of oil spills on the postcard coasts of Cornwall, Brittany and southern California were fresh in the public's mind as plans were being developed to ship crude from new oil fields in Alaska to the southeast corner of the Strait, just inside Washington. In anticipation of increased traffic on the Strait, the US Department of Commerce and the US Coast Guard commissioned a study to help identify "promising techniques" for controlling and preventing damage from oil spills. Puget Sound and the Strait were considered together and described as joint components of "an immense salt water inland estuary" displaying "combined and interrelated characteristics of a bay, estuary and coastal region."29
The study deemed the existing impacts of sewage and industrial effluent to be "highly localised" and to present "no immediate danger to the ecological balance" of either the Strait or Puget Sound. Large oil spills were potentially more dangerous, however, as oil would not be easily absorbed into the salt water and would break down slowly even under "satisfactory" conditions, which might not be present after a spill. The Strait and the Sound, the study concluded, were unique in several ways. First, the prevailing pattern of currents, tides and winds meant that oil spilled in Puget Sound could spread across the Strait, exposing the shores of countless inlets, fjords and islands to damage. The region was a critical rest stop for migratory birds, and its many coastal marshlands would be especially vulnerable. Finally, commercial fisheries would also be severely damaged by oil spills in certain seasons. To complicate matters further, these waters were governed by two countries and further managed by many local and regional authorities.
Public fears about tanker spills continued to grow on the Canadian shores of the Strait into the early 1970s. Tales of possible "American pollution" flowing into Canada were especially compelling during the Vietnam War years, when anti-American sentiment was high even as some of the most eloquent critics of the Strait's expanded tanker traffic were American. In the US, Friends of the Earth maintained that a collision, sinking or grounding involving oil tankers in these waters was a "statistical certainty…just a matter of time." They cited recent research from the Woods Hole Oceanographic Institution suggesting the impacts of an oil spill on marine organisms could be far greater than once assumed, and might be permanent.
Haig-Brown, for example, described the location of the Cherry Point refinery, amid sensitive shoreline habitats near Blaine, Washington, as "totally inept" and representing a "fantastic hazard" to the Strait. In June 1972 before an assembly of small boats on English Bay, he announced: "Crude oil has spilled massively." He was referring to a spill of about fifty barrels at Cherry Point. The mayor of Surrey (and future provincial premier) Bill Vander Zalm upped the ante, pointing out that it could just as easily have been 500 or 5,000 barrels. The inept response to this spill infuriated environmentalists and demonstrated that authorities had "no experience, no knowledge, no plan" for dealing with any spill.30 As oil from the Cherry Point spill began to wash up on Canadian beaches, a local environmental newsletter described it as White Rock's "baptism in oil" and pointed out that the damage would have been far worse in winter, when the beaches hosted thousands of birds. Furthermore, the article continued, not without some hyperbole, there was "now every reason to believe that the Cherry Point refinery was located where it is precisely because of advantages expected from allowing spills to wash into Canadian waters." To help "fight the tankers," readers were asked to send donations to the Canadian Wildlife Federation.31
The following month, Victoria signed a memorandum with Washington state committing both governments to "work toward a joint monitoring and inspection program" and "plans of actions to cope with oil spills and exchanges of information and mutual aid." As geographer William Ross in Victoria noted at the time, "a perception of crisis" had emerged following media coverage of oil spills elsewhere and of the very minor ones on the US shore of the Strait, and it was this fear that had led to the agreement. Ross declared, "Existing institutions are still either so powerless that they are unable to reduce the impact of international oil pollution or they lack the specific jurisdiction to do so"; only public opinion around the Strait had forced BC to enter into talks with the mostly uninterested officials in Washington state, where oil industry expansion was still the priority. Regardless, these modest steps—which Ross characterised as cosmetic—marked a high point in regional recognition of marine oil pollution as an international problem. British Columbia subsequently developed its own plans for a disaster fund to pay for activities related to a potential trans-boundary oil spill, but it remained to be seen, concluded Ross, whether upcoming United Nations conferences on the environment and the Law of the Sea might help bring in the required "new order."32 (They did not.)
Local capacity to manage "all-Canadian" oil spills was discussed through the 1970s, with concern focused on the increasing but still modest volumes of crude being shipped out of Vancouver, the issue of waste oil spilled from ships and, in particular, the movement of petroleum products along the coast. By 1971, an impressive body of mostly federal laws governed marine pollution by petroleum products (see Table 4), yet correspondence from this period suggests that authorities were a long way from effectively controlling how ships handled spills on the inland sea.
Crude oil exports through Burrard Inlet were sporadic before 1970, but they increased as it became more profitable to move Alberta crude to California by sea. A report for Environment Canada estimated the total port capacity for shipping oil at around 13 million barrels a year in 1971 and suggested that it was likely to rise to 30 million barrels annually by 1985. Such exports of crude oil that left the port for a single destination were relatively easy to monitor compared with the movements of refined petroleum products around the coast, which were dispatched to many diverse users of these products.
Table 4. Laws governing oil spills on the Strait to 197133

| Date | Law |
| --- | --- |
| 1868 | Federal Fisheries Act, amended 11 times by 1970 |
| 1886 | Federal Navigable Water Protection Act |
| 1917 | Federal Migratory Birds Convention Act |
| 1956 | Canadian government's acceptance of the International Convention for the Prevention of Pollution of the Sea by Oil (1954, London Conference) and incorporation into the Canada Shipping Act |
| 1965 | Second London Conference amends the 1954 Convention in 1962; in 1965 Canada accepts the amended convention and incorporates it into the Canada Shipping Act |
| 1967 | Provincial Pollution Control Act |
| 1969 | Amendments to the anti-pollution sections of the Canada Shipping Act |
| 1971 | Further amendment of the Canada Shipping Act to reflect International Convention on the Establishment of an International Fund for Oil Pollution Damage |
Once crude oil had been refined into various end products such as gasoline and kerosene, it became potentially more threatening to marine life because of the greater toxicity of many of these refined products. By 1970, coastal shippers of petroleum products were obliged to meet federal MoT standards for their ships' hulls, machinery and navigational equipment. The next year, as public worry about oil spills continued to grow, the MoT requested advance notice of all marine shipments of "oils as cargo" on the West Coast. Vancouver's harbourmaster, R.E. Holland, complained the same year that vessels were still deliberately or inadvertently spilling various oil products and oily residues into the sea off Vancouver. He reported that ships' masters and engineers continued to plead ignorance of local regulations, and he requested that the Vancouver Chamber of Shipping "once again advise all Agencies of the seriousness of these offences and stress the importance of advising the vessels prior to their arrival in Vancouver."34 After small spills in Vancouver Harbour and Nanoose Bay near Nanaimo during the movement of oil between ships and shore, Victoria amended its Petroleum and Natural Gas Act and Pipelines Act in 1972 to allow the province to intervene when necessary to control damage from such spills. The legislation didn't address the causes of these spills.
In 1973, the Vancouver Sun reported that "BC's worst spill," 450 tons (around 3,000 barrels) of bunker oil, "the filthiest of them all," had quickly spread across 90 kilometres of coastline after an Irish freighter ran aground in Blackfish Sound.35 Although this spill had occurred north of the Strait, Melda Buchanan, an environmental activist in Comox, wrote to Ottawa to find out what the federal government was doing to prevent such accidents from occurring on the inland sea. Jack Davis, Canada's first Minister of Environment, assured her that accident prevention was the prime objective of his government's oil pollution control policy. The federal government had clean-up equipment in Victoria and Vancouver and "joint contingency plans" with US authorities to deal with an "international event." Ottawa, Davis told her, was "pursuing the best possible means of protecting our coastal waters from oil damage."36 His reply, in fact, failed to address most of Buchanan's concerns.
William Ross accused British Columbia of "refusing to recognise responsibility for its own shores and waters." He speculated the province might be trying not to duplicate federal efforts or that it might be avoiding the significant costs necessary to prevent oil pollution. He also wondered if Victoria might be attempting to force the federal government to reconsider its ban on offshore oil drilling in the Strait. Whatever the case, the province's mostly hands-off approach made it difficult to implement a comprehensive plan to control oil pollution in coastal areas. A letter from M.L. Richardson, director of the Chamber of Shipping of BC, to the regional director of the federal MoT, H.O. Buchanan, not long after the spill on Blackfish Sound spoke of "complete confusion amongst the Shipping Agents and Operators in BC as to the procedures to be followed in the event of an oil spill." This confusion existed, he said, because they had no specific instructions from the MoT or any other government agency. The prompt reply? If there was confusion, "It is not the sole fault of the MoT." The Oil Pollution Prevention Regulations, wrote the federal representative, had been in force for many years.37
In fact, no major oil spill occurred on the Strait in this period, and the public began to lose interest in the topic as its priorities shifted. Had governments needed to respond to such an event at the time, their actions would certainly have been poorly coordinated and would have fallen far short of what was needed to prevent severe ecological damage. Until they slipped from people's minds, fears of loss along the shoreline had been amply justified.
Forest industry pollution and pulp mills on the Strait
In the post-war era, log storage and pulp and paper production were the forest industry's biggest sources of marine pollution. Once trees were harvested, the logs were assembled in booms and floated to the mills to be processed. So much wood was being cut at some times of year that the mills couldn't keep up, and log booms might sit on the water for weeks in inlets and bays, especially around Vancouver. By the mid-1970s, almost 2 million cubic metres of timber was in "water storage" each year, waiting to be processed in Lower Mainland sawmills. Forty percent of Howe Sound's foreshore, an area of almost 10 square kilometres, was devoted to log booming.
The biggest problem was that the bark shed from the endless abrasion of boomed logs accumulated on the sea floor. Fish and other aquatic animals depend on dissolved oxygen in water to live. In a healthy system, this oxygen is put into the system when marine plants photosynthesise and stream flows bring in new oxygen. Quantities of bark accumulating and breaking down, however, caused a very high biochemical oxygen demand (BOD)—it used up oxygen in sea water. The bacteria that decompose this sort of organic material rely on oxygen to do their job, which meant less oxygen was available for fish and other marine animals. The booms also reduced the light available for photosynthesis performed by bottom-dwelling marine vegetation. Finally, as all the bark—plus wood chips, sawdust and wood waste spilled from barges or stripped from logs by shoreline mills—became waterlogged and sank to the bottom, not only did it destroy marine habitat but it poisoned bottom-feeding organisms that ingested this woody material. Combined with dredging, mining and overfishing, these effects had contributed to a much-reduced salmon spawn on the Squamish River and eliminated Howe Sound's once vast herring spawns.38
Most efforts to control forest industry pollution around the Strait in this period focused on pulp and paper production. The industry had expanded rapidly in the 1950s, and new mills were built at Crofton, Nanaimo and Campbell River on Vancouver Island. Despite growing scientific knowledge about pulp mill pollution, federal authorities mostly chose to regulate along the coast using a "research and negotiation" strategy. Into the 1970s, federal officials were constrained by limited authority and information, and by generally uncooperative provincial and local governments. Ottawa attempted to work with the industry on strategies for protecting fish from mill pollution without actually enforcing laws that prohibited the discharge of effluent known to be dangerous to fish.39
A post-war research program at the federal government's Pacific Biological Station in Nanaimo focused on pulp mill effluent. Its investigations aimed to determine coastal waters' ability to "assimilate" pulp and paper mill waste without harming valuable fish species. It originated from earlier research by oceanographer J.P. Tully on the Alberni Canal on the west coast of Vancouver Island. Tully had concluded that the extremely high BOD associated with a sulphite pulp mill's effluent would cause unacceptable damage to the marine environment found at the head of the canal; the proposed development in Alberni would have to be a kraft mill. Federal researchers on the other side of the Island continued to work with the pulp and paper industry, now expanding around the Strait. Michael Waldichuk began carrying out oceanographic surveys near sites where new mills were proposed or existing ones proposed to expand. He documented what he judged to be the effectiveness of the physical dispersion of pulp mill effluent in different oceanographic contexts. Waldichuk concluded that mills with significant tidal flushing, such as existed off Powell River and Nanaimo (see photograph here), resulted in relatively little pollution. He developed a system for classifying different coastal bodies of water according to their oceanographic features and their capacity to "assimilate" industrial waste.
Other federal research looked at the impact of Vancouver Island's newer kraft pulp mills on oysters. Waldichuk suggested in the mid-1950s that oystering around Crofton would be little affected by the new mill, as long as effluent was dispersed out into the narrow channel between Crofton and Saltspring Island. However, after the mill was built in 1957, local oystermen protested that its waste was damaging their production. An unpublished 1964 report from Nanaimo's Fisheries Research Station agreed with them. Yet two years later, the province's Pollution Control Board approved the Crofton mill's expansion and the mill's owners bought some of the local oyster leases. Apparently reaching their own conclusions based on the Crofton experience, the provincial Marine Resources Branch noted in 1969, "Oyster culture is not compatible with pulp and paper activities."40 In 1973, the province's Inspector of Fisheries would confirm that the Crofton mill had in fact damaged twelve local oyster leases and "compromised" 80 hectares of foreshore. By then, the local oyster industry had disappeared.
Through most of the 1960s, however, there appeared to be little concern about pulp mills' effects on oysters, or anything else, on most parts of the sea. It was generally understood that a town such as Crofton should absorb pollution in exchange for prosperity, that the pulp mills' sulphurous atmosphere was "the smell of money." The only reference to water quality in a 1967 history of Port Mellon, for example, concerns "dirt" residues taken into the mill's machinery after heavy rains that had overloaded the filtering capacities of its freshwater intakes. A history of Powell River from the same period similarly makes no mention of the mill's prodigious pollution. It does mention, however, the province's first concerted effort to raise money for cancer research, an initiative launched in 1946 under the leadership of Powell River Paper Company chairman Harold S. Foley. The company's resident manager, R.M. Cooper, led a local cancer fundraising initiative four years later. By this time it had become quietly acknowledged that Powell River had a high cancer rate, though the company only confronted the issue of carcinogenic complex organic compounds in its waste stream in the late 1980s.41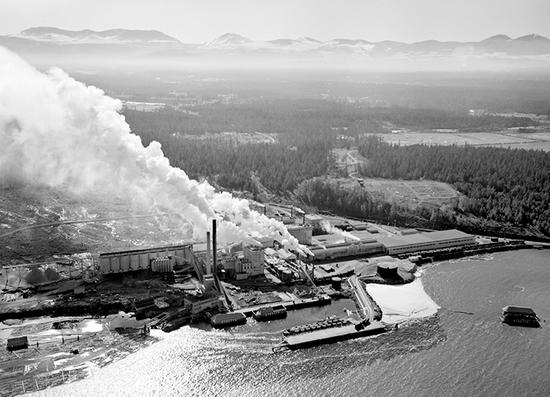 By the late 1960s, the public had become less tolerant of pulp mill pollution. And though the PCB had extended its jurisdiction to include industrial pollution control in 1965, its apparent inability to control pulp mills and other polluters made it an easy political target. Haig-Brown told Imbert Orchard in 1969 that the Strait's growing and "entirely unnecessary" pulp mill pollution was "killing all local life." The effluent from pulp mills, he explained, was largely made up of chemically complex solids that were hard to manage. The standards meant to control this pollution were "extremely lax," though he saw "some indication" that they were tightening. And he recognised that newer kraft mills were less damaging than the older sulphite mills because of the lower BOD in their waste stream.42 Yet this waste was still copious, and much of it still accumulated on limited expanses of sea bottom, where it destroyed everything. Even worse, some of this waste could be dispersed over a larger area when disturbed, causing its "evil influence" to spread farther.43
An article in the Georgia Straight newspaper in 1970 cited SPEC's alarming statistics from Eastern Canada and new federal fisheries research on the Strait. The Ontario Water Resources Commission had recently called the pulp and paper industry the "greatest pollution problem" in North America. In BC the industry produced more liquid waste than any other economic activity, even more than municipal sewage plants. A kraft mill producing a thousand tons of pulp a day (about 20 percent less than was being produced at Nanaimo) discharged 270 million litres of liquid effluent per day. This generated BOD equivalent to the sewage of a city of 200,000 people and was highly toxic to fish. Of BC's seventeen "major mills," the six on the Strait accounted for 40 percent of effluent province-wide. The Powell River and Nanaimo mills alone generated close to half of this effluent (see Table 5). These figures were alarming, but qualitative differences between the effluents of different mills were also important.44
Table 5. Volume of effluent per day from coastal pulp mills, 197045

| Mill (industrial process) | Effluent (million gallons/day) |
| --- | --- |
| Powell River (sulphite) | 75 |
| Harmac–Nanaimo (kraft) | 72 |
| Elk Falls–Campbell River (kraft) | 56 |
| Crofton (kraft) | 54 |
| Port Mellon (sulphite) | 32 |
| Woodfibre (sulphite) | 31 |
| Four new mills in the Upper Fraser watershed | 140 |
| Total effluent from BC's 17 major pulp & paper mills | 811 |
A few people living in pulp mill towns had begun speaking out by 1970. In the isolated company town of Powell River, a courageous local teacher named Colin Palmer prepared a public brief for the town's new Anti-Pollution Association. Palmer stated that the paper mill, now the largest in the world, consumed more than twice as much water as New York City and dumped 50 million gallons of untreated effluent daily into Malaspina Strait (a conservative estimate compared with SPEC's figures in Table 5). The sea, Palmer said, was stained brown for fifteen kilometres. Black liquors and solid debris being dumped into it perpetually marred local beaches. SPEC's Cowichan branch took on the mill at Crofton the same summer, accusing it of "careless dumping of pulp chips, belching sulphurous smoke visible from thirty miles away" and of dumping 50 million gallons of effluent daily into the sea. Vancouver's Harry Rankin explained that the problem lay with a provincial government that was unwilling to spend money on pollution control or force industries to install pollution control equipment. The large pulp and paper producers were "foreign owned," he said, and told the government what to do. They were not interested in investments that might diminish their profits. The result was that the PCB, rather than protecting the public from pollution, was instead protecting polluting industries from public criticism.46
The Strait's dirty mills achieved international notoriety. French oceanographer Jacques Cousteau visited Vancouver in October 1970 and announced that the United Nations Food and Agriculture Organisation (FAO) had put the Strait of Georgia on its list of "notoriously contaminated areas." Pulp and paper mills "dump an incredible amount of very toxic material into the water and are among the worst polluters in the world," he said. If the Strait was not set aside as a marine park, Cousteau warned, there would be no life left in it by 1990.47
Such views on the mills' impacts were not uncontested. Dr. Timothy Parsons, a biologist at Nanaimo's Fisheries Research Station, declared the Strait was not polluted and denounced both Cousteau and the FAO. Charles Keenan, former chief of the province's PCB and a "water management consultant," presented a brief entitled "Dollars and Common Sense" to a PCB inquiry the same summer that Cousteau visited. Keenan explained that his views were based on his "many years of close association with government and industry." He insisted that the province's existing industrial pollution legislation was "excellent and workable" and that people simply needed to learn to coexist with pulp mills. Pollution was a problem and always would be, but the situation was hardly the "environmental disaster" that "pressure groups" and the press were depicting. Keenan criticised "voluntary and…ad hoc pressure groups" for "meddling in affairs of which they had no expert knowledge," suggesting that these groups did more harm than good.48 The "dollars" in Keenan's title were important. While the new mills in the interior of the province had been designed to reduce the quantity and toxicity of their effluent, the older mills on the Strait had not, and retrofitting them to reduce these problems would be costly.
Political pressure for change was growing, however. Federal politician Jack Davis, an engineer himself, declared he was "on the side of the conservationist—on the side of life itself." He promised in 1970 that Ottawa would end the pulp and paper industry's aquatic pollution within ten years. The provincial government, almost twenty years in power and losing favour with the electorate, also confirmed it would "get tough" with the pulp and paper industry at last. Even older coastal mills, it said, would be obliged to adopt some form of effluent treatment.49
The provincial and federal governments did introduce new effluent standards over the next few years, which led to prolonged negotiations with each mill. To ensure no mill would have to close if it couldn't afford to meet the higher standards in the short term, individual "compliance schedules" were set out based on the age of the mill, its location and its prospective upgrading costs. Writing a decade later, Charles Keenan described baffling jurisdictional overlaps and duplications in the complex new regulations. The result of what he called the "environmental anarchy" unleashed in those years was confusion and conflict over ostensibly province-wide or national standards.50 Yet the mills, slowly and unevenly, complied with the new provincial and federal standards. Responding to indications that zinc in pulp mill effluent accumulated in oysters near the Strait's mills, the industry, together with Victoria and Ottawa, began to monitor metal levels in shellfish in 1973. A 1980 study of the Port Mellon mill (see photograph here) confirmed that its effluent, even diluted by the sea, was highly toxic to fish and was killing juvenile salmon up to 350 metres from the mill's waste outfalls.
Despite these gains, government research on the Strait's pulp mill pollution con-tinued to overlook some of the most ecologically damaging dimensions of mill waste. As early as the late 1960s, Haig-Brown and others had suggested people ought to be looking for more "subtle, insidious and ruinously accumulative…effects of pollution."51 Some federal fisheries reports in these years recognised that the techniques scientists used to evaluate effluent toxicity were not permitting them to make accurate forecasts of its effects and that more research was needed into the biological effects of pollution, such as had begun elsewhere in North America.
New evidence was emerging about the longer-term effects of highly toxic substances present in relatively small quantities in different types of industrial, municipal and agricultural effluent. After widely reported incidents such as the flushing of hundreds of tons of toxic sediments down the Hudson River towards New York City in 1973, the public learned that complex organic compounds (such as polychlorinated biphenyls, or PCBs) don't just sicken or kill fish but also accumulate in their tissues and can cause birth defects and cancers in people who eat them. By the late 1970s, local research led by the Westwater Research Centre at UBC focused on heavy metals (such as mercury), pesticides (such as DDT) and other complex organic compounds in the highly polluted waters of the Fraser River estuary. From their research and many other studies around North America it was clear by the 1980s that PCBs, dioxins and furans, which all fall into the category of highly toxic "persistent organic pollutants," were present at dangerous levels in pulp mill effluent. Veteran oceanographer Michael Waldichuk came to recognise the need for longer-term ecological studies into the effects of the Strait's pulp mill waste.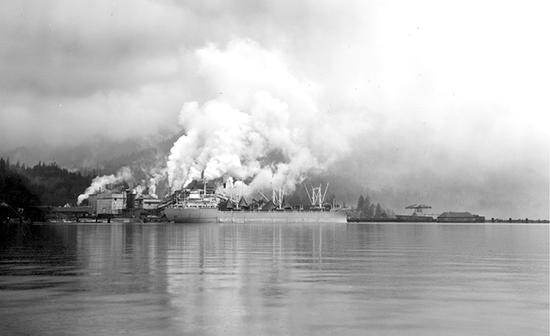 In 1987 the US Environmental Protection Agency (EPA) released studies demon-strating that dioxins were a by-product of pulp bleaching. Present in very small amounts that were hard to detect and apparently ubiquitous in the pulp mills' effluent, these forms of pollution persisted and accumulated in the environment for decades. Not long after the EPA study, the Canadian Wildlife Service announced it had found dioxins in a great blue heron colony near the Crofton mill. The mill's owner, BC Forest Products, insisted there was no need to worry about dioxins because they were present in the effluent only in very tiny quantities. The Vancouver Sun meanwhile described dioxins as "the most poisonous contaminant created by man." Crofton mill workers didn't trust the company and did their own sampling. And when federal scientists began looking for dioxins and furans in the marine environment the following year, they found high levels in prawns, shrimp and crabs around the older mills at Port Mellon and Woodfibre, and the commercial crab fishery on Howe Sound was closed. At this point, the Canadian pulp and paper industry was congratulating itself for its success in reducing the quantity of effluent it was dumping. The focus, however, had shifted to the chemical quality of this organic waste. And this new understanding undermined the strategy of using the "assimilative capacity" of tides and currents to disperse industrial waste, though the approach continued to prevail for domestic sewage.
Pulp mills on the Strait had been remarkably slow to reduce the quantity of their effluent, and most had done little to change its quality. With few exceptions, total levels of BOD and suspended solids (small particles that remain suspended in water) in the waste streams of most of the mills on both shores changed little between 1980 and 1990—and some went up (see Table 6). By 1989, only Powell River among the mills on the Strait had started even primary effluent treatment, in which heavier solid materials are allowed to settle out of wastewater, while lighter materials like oil, grease and light solids are allowed to float to the surface, then all are physically removed from the wastewater. Meanwhile, studies had begun to show "significantly above average" rates of mortality from cancer and other diseases among pulp and paper mill workers in other regions of North America and Europe.52 And this scare over the long-term effects of complex organic pollutants encouraged more companies to treat their primary effluent as a way to bring down the levels of dioxins and furans they were dumping (see Table 7).
In 1990, Environment Canada reported that BC's pulp mills were "ahead of the nation" in reducing their pollution and eliminating dioxins. However, others pointed out that dioxin contamination from BC's mills was still among the worst in the world. The province promised tough new pollution regulations for pulp mills, requiring that their discharges of complex organics be reduced to 1.5 kilograms per metric ton of pulp produced by 1994. All coastal mills agreed to this limit except MacMillan Bloedel's Powell River plant, which pleaded that financial difficulties impeded it from making a firm commitment to effluent reduction. As Powell River's plant was the province's single largest source of complex organic pollutants, the government rejected this plea. Soon, the mill reported dramatic reductions in the amount of toxins it was releasing into the marine environment (see Table 5 and Table 6).
Table 6. Rates of effluent discharge at pulp mills on the Strait, 1980–9153

| Mill location | BOD5 1980 (tons​/day) | BOD5 1990 (tons​/day) | TSS 1980 (tons​/day) | TSS 1990 (tons​/day) | AOX 1989 (tons​/day) | AOX 1991 (tons​/day) |
| --- | --- | --- | --- | --- | --- | --- |
| Crofton | 53.4 | 46.3 | 22.7 | 18.1 | 14.4 | 3.4 |
| Campbell R. | 41.1 | 51.4 | 21.3 | 32.5 | 13.4 | 2.6 |
| Nanaimo | 20.6 | 24.1 | 13.0 | 10.3 | 8.2 | 2.5 |
| Port Mellon | 13.8 | 9.7 | 10.5 | 5.8 | 3.1 | 0.8 |
| Powell River | 28.9 | 30.3 | 29.1 | 14.3 | 28.8 | 1.8 |
| Woodfibre | 20.8 | 19.2 | 44.0 | 3.1 | 2.5 | 1.2 |
Table 7. Dates of initiation of primary & secondary effluent treatment at pulp mills on the Strait54

| Mill location | Start of opera­tions | Location of effluent discharge | Date of initiation, primary treatment | Date of initiation, secondary treatment |
| --- | --- | --- | --- | --- |
| Crofton | 1957 | Stuart Channel | 1992 | 1992 |
| Elk Falls | 1952 | Discovery Passage | 1992 | 1992 |
| Harmac | 1950 | Northumberland Channel | 1993 | 1993 |
| Port Mellon | 1908 | Thornborough Channel, Howe Sound | 1990 | 1990 |
| Powell River | 1911 | Malaspina Strait | 1978 | 1992 |
| Woodfibre | 1912 | Upper Howe Sound | 1992 | 1992 |
The public, however, was not fully reassured by the mills' relatively quick response to these new threats. Calling the persistent nature of the toxins a "creeping Chernobyl," journalist Stephen Hume described an interview with Cortes Island oyster farmer Grant Webb in 1991. The Powell River mill 30 kilometres to the south of Webb's oyster farm had been spewing dioxins into the Strait for eighty years. The newer Campbell River mill, about 40 kilometres to the west of his beach, recently claimed to have reduced its use of chlorine (a key source of complex organic pollutants) by 70 percent. Webb lamented, "Now they're poisoning us by a third instead of by a full dose." His dismay over this invisible pollution, Hume noted, was destroying "his belief in the pristine quality of life that brought him…to Cortes Island in the first place."55
Mining pollution on the Strait
The mining industry was a relatively minor player on most stretches of the sea by the 1960s and was virtually unregulated. However, mining waste became a more high-profile issue there in the late 1960s and early '70s, with locally important mines at Britannia on the Mainland, Gillies Bay on Texada Island and Campbell River on Vancouver Island feeling the heat. An early SPEC campaign attacked plans to dump more than 2 million gallons of effluent from the Gillies Bay iron mine into the Strait. In 1970, Roderick Haig-Brown and Harry Rankin (strange bedfellows indeed) criticised the Buttle Lake copper mine on Vancouver Island. Rankin declared that miners were "pouring their poisonous tailings into our waters, destroying marine life."56 These tailings had been linked to high levels of heavy metals in local salmon and trout by 1971 and were the subject of ongoing studies for the next twenty years while the mine continued to operate. The Britannia mine closed for good in 1974, but its toxic legacy lives on even today, despite millions of dollars being spent on remediation.
Regulations introduced in the early 1970s required changes in the way miners extracted and transformed their ores, but no one was happy with the province's regulations. The miners resented the restrictions on their ability to dump tailings in the fast and easy ways they were used to. Critics of the new regulations viewed them as largely cynical gestures with minimal substance that failed to stem the flow of toxic substances from mine waste.57 The province was under some pressure to respond to these criticisms but—as with the Strait's pulp mills—Victoria was reluctant to impose significant new costs on industry.
In 1973, the Deputy Minister of the Department of Recreation and Conservation complained that the Pollution Control Board's accepted levels of water-borne metals, cyanide and fluoride that were lethal to salmon. He also charged that the PCB's guidelines made no reference to potential problems caused by sediment from mine tailings, which could contaminate freshwater and marine environments. According to other government agencies, the PCB ignored the context in which it was permitting pollution; it also disregarded the possible cumulative effects, the relative sensitivity and dilution capacity of each "receiving environment," and the interests of competing resource users. The cumulative effects from multiple polluters on industrialised shorelines such as Howe Sound and Discovery Passage made it difficult to effectively control individual contributions from mines and other polluters in such areas.
Municipal sewage dumping outside the Lower Mainland
Larger cities such as Vancouver and Nanaimo had built sewer systems before World War I, but many smaller communities still relied on wells to obtain their drinking water and septic fields to manage their human waste. Early in the post-war period, Vancouver Island communities from the Cowichan Valley north, and those on adjacent islands, began to experience growing problems with septic tanks contaminating their drinking water. This problem was especially acute in summer, when tourists, campers and cottagers all used wells and septic tanks. Industrialist H.R. MacMillan contacted the Central Vancouver Island Health Unit in 1948, worried about sewage contamination of the well water at his Qualicum Beach summer home. Chief Health Inspector C.R. Stonehouse replied that the health unit was promoting the sterilisation of contaminated well water with chlorine. In an internal memo he said he hoped that his staff might be able to use the opportunity to convince MacMillan to reduce the water pollution from his mills too.58
Where sewers replaced troublesome septic fields in smaller towns, they succeeded in solving local contamination. For example, Parksville approved a municipal sewage system in 1963 to alleviate septic tank pollution of its beaches. The plan was to collect and dump the town's sewage, untreated, from outlets 2,400 metres offshore and 240 metres deep. Qualicum still depended on septic fields into the 1970s, but it opted for sewers after pollution warnings were posted on its beaches in 1973. That town's sewers were connected to Parksville's deep-water outlets, and one local history credits the new sewers with stimulating rapid population growth in both towns. Where sewers had been built earlier, however, they were beginning to create new problems. Disposing of untreated sewage in the sea had often been seen as a good solution, but this practice was becoming less acceptable by the late 1960s. For example, sewage discharged from an air force base had polluted public beaches in nearby Comox. In Comox Harbour, there were concerns about the impact of sewage on the local shellfish industry.
The PCB ruled in 1967 that all new municipal sewage outlets would have to provide at least primary treatment before discharging the sewage, and existing outlets would need to ensure at least this level of wastewater treatment within eight years. The PCB then set provincial standards for municipal waste treatment and introduced a permit system for all discharge points in 1971. These new regulations were creating new headaches for smaller communities like Comox. A 1975 report from the province's new Environment and Land Use Committee (ELUC) mostly muddied the waters in the Comox Harbour case. Water quality in the harbour, it said, was "similar to other coastal waters" (which were in fact of diverse quality) but might be of concern to growers and consumers of shellfish and to swimmers. Theoretically, at least, there was a danger of people contracting hepatitis and other diseases, though to the committee's knowledge no definite cases had arisen "as a result of exposure to the waters of Comox Bay to date, either through eating shellfish or from direct recreational use of the waters." The report did confirm, however, that coliform counts in the harbour exceeded the acceptable limits for safe shellfish harvesting. By then, much of the harvesting of oysters and clams had shifted to nearby Baynes Sound.
The ELUC report on Comox Harbour was slightly more coherent about possible responses to the situation. The committee opposed secondary sewage treatment (that is, treating the effluent to remove dissolved and suspended organic compounds through biological processes, following primary treatment) because this process would "only reproduce artificially and expensively what the Strait of Georgia has proved to do naturally and cheaply." Furthermore, stated the report, treatment had "little effect on…chemicals originating from agricultural and other land use, and which may or may not adversely affect the marine environment." A more promising option, the committee said, might be land-based sewage disposal, but it would have to do more research. In any case, noted the report, minimal water-quality standards for the marine environment were needed and the community should be committed to maintaining these standards.59
The Comox Valley's population grew steadily into the early 1980s, when public pressure mounted to end sewage contamination in the harbour, on nearby beaches and in Baynes Sound. In a report to the PCB, the engineers overseeing construction of the district's new sewage treatment system explained which options they had considered, what they had decided and why. It was written in the familiar style in which "experts" justify decisions already made while trying to create the impression of objectively analysing the pros and cons of each option, before selecting the one that is the specialty of the experts. The land-disposal approach, they claimed in this case, would require too much land and too much money to operate. Instead they proposed, once again, a long outfall pipe sending sewage deep beneath the Strait several kilometres north of town after a "partial primary" treatment. Their proposed design, they said, would protect the oyster beds of Baynes Sound because waste from the new outfall would reach those waters only after being swept back and forth by three or four tides, ensuring enough "mixing and biological die away" that "the water would be unrecognisable as having a sewage content."60
Proponents of the new Comox facility recognised that local citizens would probably not trust their proposed government monitoring programs, or government enforcement of pollution standards for their waters. They blamed such public skepticism on "notable examples" of poorly managed industrial pollution and the fact that "many treatment plants around the province have exceeded permit limits." They also noted a "general concern that the total accumulative [sic] effect of all discharges into the Strait of Georgia would eventually destroy the marine environment." Responding to concerns that "no local monitoring could assess the long term effect of wastewater discharges on the Strait of Georgia as a whole," they suggested that a centrally operated government lab monitor water quality around the Strait, with each individual polluter contributing to its operation.61 Their modest suggestions were not pursued.
Marine sewage disposal around Vancouver
In the late 1940s, Vancouver's engineering staff still subscribed to R.E. Lea's proposition that water sweeping north and east from the Fraser River had a beneficial effect on water quality in Burrard Inlet. They focused on lowering the pollution in False Creek by dumping more of the city's waste into the North Arm of the Fraser. Yet, with numerous outfalls dumping raw sewage into the North Arm, high tides had begun to regularly push raw sewage and industrial waste up the river, while low tides carried filthy river water into English Bay. The province's Attorney General, Robert Bonner, described the Lower Fraser in 1958 as "an open sewer draining the whole valley."62 Some sixty sewer outfalls discharged raw sewage into the river or onto the urban shoreline farther north. Between Fraser River water, the still fetid waters of False Creek and various other outlets (see Figure 11), the city's swimming beaches were under assault.63
An American civil engineer named A.M. Rawn had been engaged earlier in the decade to help solve these problems. A former general manager of the Los Angeles County Sanitation District and chairman of the California State Water Board, Rawn believed in the extraordinary value of marine disposal of municipal effluent; it was "a picture of such great allure as to capture the imagination of the dullest," he claimed. In a paper delivered to the First International Conference on Waste Disposal in the Marine Environment in 1959, Rawn summarised the philosophy that guided his work: "The great economy inherent in the discharge of urban sewage and industrial wastes into near shore water for final disposal is apparent to all who will investigate. [The ocean's] vast area and volume, its oxygen laden waters, its lack of potability or usefulness for domestic and most industrial purposes, present an unlimited and most attractive reservoir for waste assimilation." Moreover, he continued, this sea disposal option allowed engineers "to relegate the entire job of secondary sewage treatment to a few holes in the end of a submarine pipe and the final disposal of effluent to the mass of water into which the fluid is jetted…without material cost or maintenance and none for operation."64 While chemical treatments might be important in fresh water with limited assimilative capacity, the "indiscriminate application of secondary treatment to ocean discharges," he said, was "improper." Rawn did recognise, however, that ocean dumping could well have negative effects on marine ecosystems over the longer term; they would have to wait and see.
To resolve Vancouver's increasingly intolerable situation, federal oceanographers, the Hydrographic Service of Canada and UBC's Oceanographic Institute all supported Rawn during a year-long survey of tidal flows and weather patterns in the Fraser estuary and adjacent Strait, as well as in English Bay and Burrard Inlet. Rawn's 1953 report confirmed that the future of Vancouver's beaches was at stake: "Unless corrective measures are taken to bring about more proper disposal of sewage, the conclusion is inescapable that the degree of contamination will increase as the volume of sewage flow increases until large areas of the beaches will no longer be safe or even decent to use."65 In fact, Vancouver's situation was not so unusual. In the 1950s, over 5 million Canadians lived in towns facing similar sewage pollution problems. Only about fifty of the 300 municipalities surveyed by the Canada Mortgage and Housing Corporation in 1957 were treating their sewage, and most of those fifty carried out only primary treatment.
A key objective of Rawn's strategy was to protect swimming beaches because people belonging to local groups such as the Lower Kitsilano Ratepayers' Association and the Vancouver Parent-Teacher Association were worried about their families' health and had begun holding protests. The President of the BC Physical Fitness Association expressed his resentment to the Province newspaper in 1957. "In our health conscious age," he wrote, "pressure to have our sea fouling sewage system improved has to come from private citizens…who, it seems, are to be 'fobbed off' by glib statements to the effect that the city health authorities have been 'aware of the situation' for years…Who is responsible for community health and sanitation? If ever Vancouver needed a strong hand to direct its health and fitness policy, it is certainly now." Echoing the public sentiment, he continued: "Our present sewage system is still little more than a vast outdoor sea lavatory…Unfortunately, our children and tourists have to bathe in [and swallow] this sewage soup called seawater."66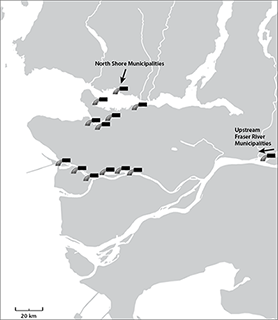 Rawn's plan was relatively simple: stop all direct flows of sewage into English Bay and divert them south while gathering the sewage already being dumped in the Fraser into a single collection system to deliver it to Iona Island, where the Fraser's North Arm reaches the Strait. There it could be dumped into the sea after primary treatment. Another primary treatment plant was proposed at the mouth of the Capilano River, on Burrard Inlet's north shore. Rawn's strategy involved identifying some shores—particularly English Bay—as places to be protected for recreation, whereas others—especially off the mouth of the Fraser and Capilano Rivers—would be designated waste dumps.
Rawn's recommendations were not implemented quickly, and public frustration grew as local and provincial governments appeared to be doing nothing in the midst of a deepening crisis. When authorities closed city beaches during the hot summer of 1958, the Vancouver Sun said that the Rawn plan, and the province's recent creation of the PCB, were like "setting up a fire alarm system, then doing nothing when the fire broke out."68 The reality was that not all local governments wanted to incur the costs involved in Rawn's recommendations. Richmond opposed the plan, fearing its shore would bear much of the pollution resulting from the primary treatment plant to be built on Iona Island. The PCB, which had been established to break the logjam, approved the Rawn plan, but Richmond appealed the decision. When the beaches shut down due to sewage pollution, Vancouver's mayor, Frederick Hume, implored Premier W.A.C. Bennett to give an early go-ahead for the Iona Island treatment plant. Bennett replied that they were still considering Richmond's appeal and had asked the BC Research Council's Dr. Gordon Shrum to carry out further studies.
Finally, after spending $20 million, the Greater Vancouver Sewerage & Drainage District (GVS&DD) claimed in 1965 that it had reduced the "noxious load" pouring into English Bay by half a billion gallons a year, or 750,000 pounds of "solids," and the appearance of bathing water had "greatly improved" as a result. Coliform levels at the beaches didn't go down significantly, however. The GVS&DD explained that storm sewers on English Bay and False Creek were still dumping raw sewage during heavy rainfalls. As well, a growing number of boats were dumping their own waste into False Creek and the bay. Most important, the GVS&DD surmised that increasingly polluted water from the Fraser was sweeping into English Bay.
The head of the GVS&DD confirmed: "The major battle…removing sewage discharged directly into English Bay, is behind us. The program now…calls for the construction of a large trunk sewer to intercept all sewage originating on Vancouver's south slope which discharges to the North Arm of the Fraser River. This will be carried to the treatment plant." Furthermore, he said, "The effect of this development will be carefully weighed and assessed and the Sewerage District will then proceed in the elimination of outfalls from its member municipalities upstream as the need arises."69 Simply put, the GVS&DD would implement this approach, then see what further adjustments were needed as its impacts became better understood.
As early as 1958, critics of Rawn's plan pointed out that the enclosed Strait of Georgia did not have the assimilative capacity of southern California's open ocean. R.W. Pillsbury, an assistant professor of biology at UBC, described the Strait as "a fairly large lake of sea water with extremely narrow inlets and outlets two hundred miles apart." He pointed to findings of limited exchange between the surface waters of the Strait and the open Pacific. Effluent from Rawn's proposed Iona Island treatment plant, Pillsbury suggested, was unlikely to go far from Vancouver's beaches.70 Yet a decade later, G.H. Bonham, the city's health officer, denied that there were any health risks for swimmers, except those foolish enough to swim near sewage outfalls. As the situation at Vancouver beaches remained ambiguous and as pollution in the Lower Fraser became ever more severe, public awareness and concern about all forms of pollution soared. And these concerns, stimulated by critical voices outside government, ushered in new standards even as new concerns emerged.
Officials in Vancouver were once again on the defensive. They reported that most of the city's beaches were safe for swimming early in the summer of 1969. English Bay (see photograph here) and Spanish Banks continued to meet their standard of 1,000 coliforms per 100 millilitres of sea water, though the south shore of Burrard Inlet, False Creek and the North Arm of the Fraser all exceeded that level. Two weeks later, politician and medical researcher Patrick McGeer criticised city health officials for failing to post warnings at "grossly contaminated" beaches on the Fraser and at Wreck Beach near the mouth of the North Arm. McGeer reported he had "posted" Wreck Beach personally after his spot check found coliform counts of 15,000 per 100 millilitres.
The city had also failed to post warnings on the beach at Lumberman's Arch in Stanley Park, which lay a few hundred metres from the Brockton Point sewage outfall. That drain still wasn't linked to the Iona system, and it discharged most of the raw sewage from downtown Vancouver. Although highly publicised reports spoke of human feces fouling log booms and fishermen's nets on the Lower Fraser River, False Creek remained the biggest concern. It was an open sewer in the heart of the city, adjacent to its most popular swimming beaches, with coliform counts of up to 100,000 per 100 millilitres. Such levels revived old fears of typhoid—nineteen cases had in fact been reported in the city in recent years, including three fatalities. All were traced to people eating crabs caught, rinsed or cooked in False Creek water.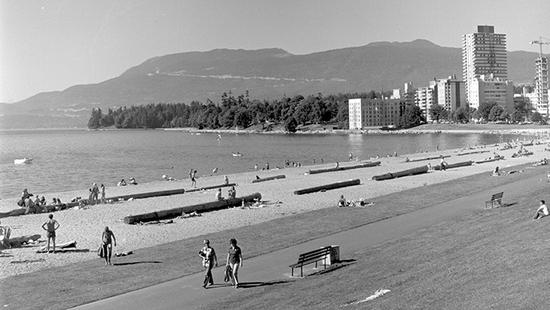 Local citizens' groups, especially in Kitsilano, had been among the first to speak out about polluted beaches in the 1950s. A decade later, SPEC, which was based in Kitsilano and was supported by young UBC biologists, drew attention not only to the untreated human waste pouring into the sea off Vancouver, but also to local industries using municipal sewers to dispose of their waste. Dealing with these isolated industrial "point sources" was relatively easy; the bigger issue was how to address the lingering problem of the city's combined sewers. To eliminate the contaminated "first flush" meant separating the storm sewers from the sanitary sewers, which would be costly for the city, its builders and its citizens. By 1970, however, the city required that all new building construction and new subdivisions construct separate sewers, and that old sewer lines being updated be replaced by separate sewers. The new lines were still being tied into combined trunk sewers, but the long-term plan was to replace those with separate lines too.
In fact, the city and the neighbouring municipalities made significant progress in controlling sewage discharges over the next few years. The PCB had already announced in 1968 that all future sewage outlets on the Fraser River below Hope would require no less than primary treatment and chlorination. On the Middle and North Arms of the Lower Fraser, effluent from all future sewage outlets would require secondary treatment and chlorination, as would organic industrial effluent. By 1975, all existing sewage discharges into the Lower Fraser would also require secondary treatment, which the newly opened Annacis Island Sewage Treatment Plant would provide. Vancouver's sewage was also being treated by then, though only primary treatment, at the Iona Island plant at the mouth of the river.
Despite these improvements, sewage pollution in English Bay and Burrard Inlet was still a problem. Seagoing vessels could discharge their waste directly into the water, and because marine waterways were a federal responsibility and Ottawa had no specific legislation to address the issue, no one enforced any pollution control on these vessels. Vancouver's health officer had raised the issue with his federal counterparts in 1972, and they had suggested he speak with the National Harbours Board. City officials also encouraged the province to adopt uniform regulations for effluent from shoreline marinas, but the province declined on the grounds that it did not have enough staff to enforce such legislation. The following year, the city's health department complained about "the potentially dangerous situation with respect to pollution of Vancouver harbour from pleasure crafts and live-a-boards." It noted that the number of vessels "had increased dramatically over the last few years and will increase even more [with] the proposed marinas in the False Creek area."71 The province had enacted regulations that prohibited boats from discharging their waste on the lakes in BC's interior, but no such legislation existed along the coast.
Although the city had spent fifteen years and many millions of dollars to upgrade its sewer system and improve the quality of local sea water, fecal coliform counts in English Bay were higher than normal during the summer of 1986, partly because of increased boat traffic resulting from Expo 86 (see photograph here). The city had done everything it could, said its engineers, to control discharges from docked vessels but could do nothing about boats moored offshore. Ottawa still did not require holding tanks on vessels in Canadian waters, and most ships still discharged untreated sewage directly into the sea.
Ottawa said it was considering measures for various classes of vessels. New amendments to the Canada Shipping Act would give each province the power to decide which local waters could be protected from vessels' sewage discharge. Other regulations would require tour and charter boats to install holding tanks for their waste, but issues related to pleasure craft had to be resolved first. Finally, regulations might be introduced to govern waste dumping by ocean-going freighters and cruise ships, such as those that moored in English Bay and Burrard Inlet. Because of the international ramifications, however, progress on these latter regulations was expected to be slow.
False Creek and the Fraser mouth remained the focus for most concerns about the Lower Mainland's marine environment into the 1980s. A Vancouver Sun article in 1980 described a massive fish kill on Sturgeon Bank, at the mouth of the Fraser, which was attributed to severe oxygen depletion in the water due to sewage. Less than a year later, Vancouver's new Iona Island Wastewater Treatment Plant was judged to be in violation of the province's Pollution Control Act. The city and the province had agreed that a "deep sea outfall" was needed to better disperse the plant's growing effluent stream, which was not only killing fish but also still polluting Vancouver's beaches. However, the new plan was based, once again, on dispersing the sewage into the Strait after primary treatment rather than building a costlier secondary treatment facility.
The plan went ahead despite objections from SPEC that the proposed $50 million project to extend the pipe 8 kilometres into the Strait offered no guarantees that lightly treated sewage would not drift back to the shores of English Bay and did nothing to correct the main sewage disposal problems—"industrial and household toxic chemicals washed into the system and the lack of effective treatment plants."72 A brief prepared in 1985 by an umbrella group known as the Fraser River Coalition had pointed out that California and Oregon were experiencing "grave problems" from sewage dumping in the Pacific and that the seas off Point Grey didn't have nearly the flushing powers of the open ocean. The group had encouraged the city to aim for the best solution instead of the cheapest one and suggested that it adopt primary, secondary and tertiary sewage treatment to remove toxic chemicals being disposed of in the municipal sewage system. Ultimately, the city was concerned about the cost of secondary treatment and possible malfunctions that might be caused by peak flows more than four times greater than average that would come through the city's remaining combined sewers during heavy rains and spill untreated sewage at the river mouth. Ken Hall, a UBC civil engineer who had studied the effects of pollution at the river mouth, declared the city was deceiving itself with its 8-kilometre pipeline and solving one problem by creating others down the line.
Every summer in the 1980s, the city's health department received a steady stream of computer printouts detailing various water quality measurements at the city's most popular beaches. The summer of Expo 86, health officers confirmed water quality was good at the city's most popular beaches, far better than it had been in the late 1960s and early 1970s, and safe to swim in according to federal and provincial standards, except for Sunset Beach at the mouth of False Creek. The former industrial lands farther into the basin were being transformed into high-density housing and were also the site of the world's fair.
Although no public beaches existed on False Creek, the inlet's redevelopment, which had begun in the 1970s, was already leading to "incidents of swimming, windsurfing, zodiac football, etc. in spite of the medical health officer's declaration that the water was unfit for swimming."73 City officials realised they faced two distinct challenges in controlling pollution there. The first, water pollution from domestic sewage, was diminishing as a result of the city's new sewers. The second, "bottom sediment pollution," could be resolved only with expensive dredging. Especially in the east basin of False Creek, toxic sediments—mostly from previous sawmilling operations—had essentially killed the sea bottom, which meant that it could no longer recover naturally. For the time being, children in particular were discouraged from participating in water sports there and everyone was advised to avoid contact with the intertidal zone or the sea bottom below the low-tide line.
By the 1980s, the sewage system the city had inherited from Rawn in the 1950s, one that depended on the power of marine dilution, had changed very little. Each successive strategy had simply moved the sewage a little farther into the inland sea, a little farther away from Vancouver's beaches, with as little treatment as the city could get away with.
Although political action on pollution control took place only slowly after World War II, public and scientific perspectives reflected a more dramatic global shift. Instead of viewing the Strait as a vast uncontrolled marine waste dump, people began to see it as a "vulnerable marine ecosystem" that provided economically valuable fish habitat and precious recreational space. Growing evidence of the damage being wrought by pollution in aquatic environments was convincing people that the steadily growing volumes of industrial and domestic waste ought to be better managed.
By the 1980s, environmental managers had begun touting the "precautionary principle": the idea that decisions made in the present should not risk future harm to people or the environment. Yet this principle was seldom put into practice with decisions regarding the Strait, where the governments and engineers responsible for designing and operating waste disposal systems remained focused on short-term, "cost-effective" solutions to current problems. For them, the Strait was, and remains, the perfect low-cost waste receptacle.
__________
1. Government of Canada, Water works and sewerage systems of Canada, Commission of Conservation (Ottawa: Mortimer, 1916), TD 227 C35 1916, City of Vancouver Archives.
2. Meggs, Salmon, 69.
3. Letter of 10 October 1919 from Miss Winifred Philpot, Parksville, BC to Chief Sanitary InScientific Pollution and Environmental Control Societytor, Provincial Board of Health, Victoria, GR-0132: BC Dept. of Health and Welfare, Originals 1898–1957, Box 25, File 13: Water, British Columbia Archives.
4. File 25, Water Nanaimo District, 1924–36, GR-0132, British Columbia Archives. Correspondence through the 1920s and into the 1930s reveals much abiding concern about the threat of typhoid.
5. Toktie Logs: 9 July 1934, MS-1636 Francis John Barrow collection, British Columbia Archives.
6. GR-0132: BC Dept of Health and Welfare. Originals, 1898–1957, Box 7, British Columbia Archives: The exchange of letters between residents, the provincial health department and BC Packers executives starts in April 1941 and continues until August 1943.
7. R. Haig-Brown, "To the Small Boat Fleet Gathered in English Bay, Sunday, 11 June 1972," BC Environment News 1, 2 (July 1972), 7, RHB papers, BN 146-5, University of British Columbia Library, Rare Books and Scientific Pollution and Environmental Control Societyial Collections.
8. Handwritten 16-page untitled manuscript dated 1969, BN 55-8, University of British Columbia Library, Rare Books and Scientific Pollution and Environmental Control Societyial Collections; R. Haig-Brown interview 1969, Imbert Orchard records: T0834: 0002 of Description Number AAAB0925, British Columbia Archives.
9. Handwritten 16-page manuscript of speech in Spokane to Pacific North West Tourism Association 18 April 1967, RHB papers, BN 55-6, University of British Columbia Library, Rare Books and Scientific Pollution and Environmental Control Societyial Collections.
10. R. Haig-Brown, Pollution for Profit. Handwritten manuscript, 1969, RHB papers, BN 55-8, University of British Columbia Library, Rare Books and Scientific Pollution and Environmental Control Societyial Collections.
11. Press release of the Pollution Control Board of BC, 14 March 1969, File 146 B 1 4, City of Vancouver Archives.
12. In 1963, 1964 and 1965, the discrepancy between GVS&DD and the City of Vancouver average coliform readings at Kitsilano Beach was 230 versus 700, 430 versus 1,100 and 230 versus 790, reScientific Pollution and Environmental Control Societytively. McGeer meanwhile suggested a maximum acceptable count in beach water of 240 per 100 millilitres, in Patrick McGeer, "A Brief to the Mayor and Aldermen, City of Vancouver re: The Pollution of Vancouver Waters," 24 June 1969; and A. Goldie & C.J. Keenan, Pollution and the Fraser (Victoria: Pollution Control Board, 1968), cited in McGeer, "A Brief," all in File 19 G 4 2 C, City of Vancouver Archives.
13. Press release for an address by Ray Williston, Minister of Lands, Forests and Water Resources, 23 October 1969, cited in McGeer, "A Brief"; Iain Hunter, "Berger calls Loffmark unhorsed pollution fighter," Vancouver Sun, 1 Feb 1969: 13.
14. Memorandum dated 29 April 1970 from Deputy Minister of Water Resources to Mr. F.S. McKinnon, Chairman, PCB, regarding storm overflow discharge from combined sewerage systems, GR-1118: BC Marine Resources Branch - Box 12, File 29, British Columbia Archives.
15. Harry Rankin, Pollution: Suicide or Survival (Vancouver: Broadway Printers, 1970), 13–15, in File 46 A 2 19, City of Vancouver Archives.
16. Ibid., 16.
17. Ibid., 16–17.
18. Ibid., 24.
19. News release, 1 November 1972, from Minister of Lands, Forests and Natural Resources, GR-1118: BC Marine Resources Branch - Box 12, File 29, British Columbia Archives.
20. Gary Gallon, "Scientific Pollution and Environmental Control Society's Roots," in twentieth anniversary edition of Scientific Pollution and Environmental Control Societytrum (Winter 1989), 5–10, MSS 1556, Scientific Pollution and Environmental Control Society Fonds, Box 729 D 6, File 4, City of Vancouver Archives; J.W. Parlour, and S. Schatzow, "The mass media and public concern for environmental problems in Canada, 1960–1972," International Journal of Environmental Studies 13, 1 (1978), 9–17, cited in Arn Keeling, The Effluent Society: Water Pollution and Environmental Politics in British Columbia, 1889–1980 (PhD thesis, Department of Geography, UBC, 2004), 320.
21. R.E. Thomson's 1981 "Oceanography of the BC Coast" and the DFO's 1983 "Current Atlas Juan de Fuca to Strait of Georgia," both cited thus in letter of 19 Dec 1985 from B.F. Talbot, Senior Assistant Engineer, GVRD, to J.R. Rawsthorne, Commodore, Eagle Harbour Yacht Club re: water quality in Eagle Harbour, File 243 D 6 5, City of Vancouver Archives.
22. Richard S. Mackie, Hamilton Mack Laing: Hunter-Naturalist (Victoria: Sono Nis Press, 1985), 150.
23. "Testing For Oil" British Colonist, 15 October 1902, 1; Gulf Islands coal report: Buckham's summary of "bore holes" includes reference to the Saturna Island drilling, MS-0436, Alexander Buckham, Box 65, File 14, British Columbia Archives.
24. Rankin, Suicide or Survival, 9.
25. Dept. of Fisheries, "Jack Davis forbids seismic exploration in Georgia Strait," press release of the Department of Fisheries, Pacific Region, Vancouver, cited in Nelson, Seaspace, 140.
26. City of Vancouver Archives File 594 C 9 13, Undated copies of telegrams from Robin Harger, Vice President, Scientific Pollution and Environmental Control Society, and Irving Stowe, Director, Sierra Club of BC, to Jack Davis and Frank Richer.
27. Anonymous report dated 21 June 1955 on "Pollution of the Sea by Oil" from the Department of Transport, File 567 E 6 10, Ottawa, City of Vancouver Archives; Letter of 4 Oct 1956 from W.A. Sankey, Secretary of the Vancouver Chamber of Shipping to Capt. Johnson, Port Manager, National Harbours Board, Vancouver, File 567 E 6 11, City of Vancouver Archives; Letter of 18 July 1960 from Alan Cumyn, Director, Marine Regulations, Dept. of Transport, to the Coastwise Operators Association of BC, Vancouver, File 567 E 6 11, City of Vancouver Archives.
28. These were refineries of the sort that fuelled novelist Malcolm Lowry's nightmares on Burrard Inlet.
29. Battelle Memorial Institute and Pacific Northwest Laboratories, "Oil Spillage Study: Literature Search and Critical Evaluation for Selection of Promising Techniques to Control and Prevent Damage," report prepared for Department of Transportation and US Coast Guard, Clearinghouse for Federal Scientific and Technical Information (Washington: US Department of Commerce, 1967), cited in Ross, Oil Pollution, 60–61.
30. R. Haig-Brown, "Small Boat Fleet," "Pollution and fisheries. Some Broad Comments," notes for address to Fisheries Council of Canada—27th Annual Meeting, Quebec City, 10 May 1972, 8-page typewritten manuscript, RHB papers, BN 138-2, University of British Columbia Library, Rare Books and Scientific Pollution and Environmental Control Societyial Collections.
31. Colin Clark, "Oil Spill!" BC Environment News 1, 2 (July 1972), 9, RHB papers, BN 146-5, University of British Columbia Library, Rare Books and Scientific Pollution and Environmental Control Societyial Collections.
32. William Ross, Oil pollution as an international problem; a study of Puget Sound and the Strait of Georgia, Western Geographical Series No. 6 (Victoria: University of Victoria, Dept of Geography, 1973), 201–4, 228.
33. Adapted from Nelson, Seaspace.
34. Letter re: Oil Pollution, 15 Jan 1971, from R.E. Holland, Harbour Master, NHB Port of Vancouver to W. Sankey, Secretary, Vancouver Merchants Exchange, File 567 E 6 12, City of Vancouver Archives.
35. Ron Rose, "Giant oil spill defies cleanup," Vancouver Sun, 26 January 1973:1.
36. Letter dated 15 March 1973 from Jack Davis, Minister of Environment to Melda Buchanan, Melda Buchanan Collection of the Comox Archive and Museum Society.
37. Ross, Oil Pollution, 209; letter of 9 March 1973 to H.O. Buchanan, Regional Director of Ministry of Transport, Vancouver, from M.L. Richardson, Director of Chamber of Shipping of BC re: Oil Spills; reply from Buchanan to Richardson on 15 March 1973, File 567 E 6 13, City of Vancouver Archives.
38. Armitage, Around the Sound, 203; Nelson, Seaspace, 103–6.
39. Keeling, Effluent Society, 224.
40. Letter of 5 March 1969 re: Crofton Pulp and Paper from R.G. McMynn, Director, to W.R. Redel, Director of Lands, Department of Lands, Forests and Water Resources, Parks Branch, GR-1118, BOX 16 - File 6 SFL-05 BCFP, British Columbia Archives.
41. The local RCMP detachment faced problems when officers refused assignment to their Powell River office, located adjacent to the mill, after high rates of cancer were remarked among staff. Two young local women, Ena (Clarke) Stewart and her best friend, devoted long-distance ocean swimmers, both died suddenly of liver cancer within a few months of each other in the late 1950s, after years of swimming near the mill. There were undoubtedly others.
42. The old sulphite mills were also being converted to kraft processes and would all be kraft mills by the 1980s.
43. R. Haig-Brown interview, 1969, Imbert Orchard records, T0834: 0002 of Description Number AAAB0925, British Columbia Archives; Pollution for Profit, handwritten 16-page manuscript dated 1969, RHB papers, BN 55-8, University of British Columbia Library, Rare Books and Scientific Pollution and Environmental Control Societyial Collections.
44. Scientific Pollution and Environmental Control Society Brief: "A big pulp mill spews as much waste as a city of 100,000," Georgia Straight, 19–26 August 1970; Scientific Pollution and Environmental Control Society Fonds MSS 1556, Box 729, A2 file 6, City of Vancouver Archives: Article cites the following report by R.E. McLaren and K.J. Jackson, "The Impact of Water Pollution on the Uses for Water—Fisheries," Canadian Fisheries Report 8–12, 1966.
45. Adapted from Scientific Pollution and Environmental Control Society brief, "A big pulp mill."
46. Barry Broadfoot, "Pollution inquiry expert discounts pulp mill threats," Vancouver Sun, 21 August 1970:15, Scientific Pollution and Environmental Control Society Fonds MSS 1556, Box 729, A2 file 6, City of Vancouver Archives; "Angry group wages pollution battle," The Province, 3 Sept 1970, 27, Scientific Pollution and Environmental Control Society Fonds, op. cit.; Rankin, Suicide or Survival, 13.
47. Alan Mettrick, "Georgia Strait isn't polluted," Vancouver Sun, 21 December 1970: 35.
48. Barry Broadfoot, "Pollution inquiry expert discounts pulp mill threats," Vancouver Sun, 21 August 1970: 15.
49. "Davis cites new legislation—Pulp water pollution end forecast." Vancouver Sun, 5 Oct 1970: 13; "Conform or close," Canadian Pulp and Paper Industry Magazine 23 (3 March 1970), cited in Keeling, Effluent Society, 249.
50. Charles J. Keenan, Environmental Anarchy: The Insidious Destruction of Social Order: A Legacy of the Sixties (Victoria: Cappis Press, 1984), 80–88, cited in: Keeling, "Effluent Society":250.
51. R. Haig-Brown, Pollution for Profit.
52. Stephen Hume, "Extreme view on pulp pollution gets some hefty support," Vancouver Sun, 4 June 1990.
53. Adapted from T.C. Lemprière, "Environmental impacts and economic costs: A study of pulp mill effluent in BC" (MSc. thesis, University of British Columbia, 1995).
54. Ibid.
55. Stephen Hume, "Shellfish farmers brace for a 'creeping Chernobyl,'" Vancouver Sun, 30 December 1991.
56. Rankin, Suicide or Survival, 5–6.
57. Their perception of cynicism was accurate. Working in the new field of environmental consulting in the early 1980s, I was with a firm that did many of the studies required by the province's mining industry to obtain permits in that decade. My boss imparted a simple strategy for ensuring clients' success with the regulatory agencies: "Look 'em in the eye and lie like a bastard."
58. Letter of 2 July 1948 from C.R. Stonehouse, Chief InScientific Pollution and Environmental Control Societytor, to Central Vancouver Island Health Unit, Nanaimo, BC, re: Water sample—H.R. MacMillan, Summer Home, Qualicum Beach, GR-0132: BC Dept. of Health and Welfare Originals, 1898–1957- Box 26, Files 1, Water—Nanaimo—Central Vancouver Island Health Unit (1941–1952), British Columbia Archives.
59. "Summary Report of Water Quality Evaluation of Comox Harbour and Associated Environs," ELUC Provincial Interagency Evaluation of Comox Harbour. March 1975 (unbound report), GR-1002, BCELUC Secretariat, Originals 1972–1980, Box 28, Ports and Harbours ELUC Secretariat, 1975, British Columbia Archives.
60. Letter of 23 April 1981 from Associated Engineering to Chairman and Members of Pollution Control Board, Victoria re: Regional District of Comox Strathcona Pollution Control Permit, PE 5856, Summary and Rebuttal of Appeal Hearing Held at Comox, 7–9 April 1981, 8–16, "Save our Strait from Sewage" file, Melda Buchanan Collection of the Comox Archive and Museum Society.
61. Ibid.
62. "How's Pollution on the Fraser?" Vancouver Province, 2 October 1958, cited in Keeling, Effluent Society, 89.
63. Erwin Kreutzweiser, "City to Eliminate Polluted Beaches," Vancouver News Herald, 18 August 1949; "Controversy Rages over Beach Pollution," Vancouver News Herald, 19 August 1949; "City's Beaches Disease Free," Vancouver News Herald, 22 August 1949, all cited in Keeling, Effluent Society, 46, 66.
64. A.M. Rawn, 1960, "Fixed and changing values in ocean disposal of sewage and wastes," in E.A. Pearson, ed. Proceedings of the First International Conference on Waste Disposal in the Marine Environment, University of California–Berkeley, 22–25 July 1959, cited in Dolin, Political Waters, 58–59.
65. Letter of 17 May 1958 from Bruce Forrest of the Lower Kitsilano Ratepayers' Association to Premier W.A.C. Bennett re: appeal of the Municipality of Richmond pending on approval of the Iona Island primary treatment sewage plan, citing the 1953 Rawn Report, File 594 G 2 18, City of Vancouver Archives.
66. Letter of 22 April 1957 from Harcourt Roy, President of BC Physical Fitness Association to the Editor, Vancouver Province re: Water Pollution, File 594 G 2 18, City of Vancouver Archives.
67. "City beaches stay open—new talks due Monday," Vancouver Province, 1 August 1958, 1, File 36 A 7 109, City of Vancouver Archives; "Must beaches be barricaded before the council acts?" Editorial, Vancouver Sun, 6 August 1958, 4, op. cit.
68. "City fumbling beach issue," Editorial, Vancouver Sun, 4 August 1958, 4, File 36 A 7 109, City of Vancouver Archives.
69. Statement Regarding English Bay Water Quality by Commissioner of Greater Vancouver Sewerage and Drainage District, dated 17 September 1965, File 146 B 1 2, City of Vancouver Archives.
70. "Some last, lingering doubts," Editorial, Vancouver Province, 23 October 1958, File 36 A 7 109, City of Vancouver Archives.
71. City of Vancouver memo from City Clerk to Medical Health Officer re: Water Pollution in Vancouver Harbour, 1973, File 19 G 4 2, City of Vancouver Archives.
72. "Water for Tomorrow—Time for Action" Scientific Pollution and Environmental Control Society Fonds MSS 1556 Box 729 D 5, File 14, City of Vancouver Archives.
73. Manager's Report to the Standing Committee on Finance and Administration, 31 October 1984, re: False Creek Water Quality—Improvement Options, File 239 E 6 5, City of Vancouver Archives.