Introduction
The Strait of Georgia, together with the Strait of Juan de Fuca to the west of it and Puget Sound to the south, are now known collectively as the Salish Sea, in recognition of the Indigenous culture that developed over millenniums on the shores of these linked bodies of water. The focus of this book is the Strait of Georgia, what we can term the North Salish Sea, a discrete inland sea that is some 300 kilometres long and, on average, about 40 kilometres wide. It is delineated from Puget Sound and the Strait of Juan de Fuca by a string of small islands that straddles today's Canada–US border. It can be reached by ship from the open Pacific Ocean only through narrow passages between these islands or others along the northern edge of the sea.
Many more islands line its periphery and the mouths of deep fjords along its northeastern shore.
Oral historian Imbert Orchard noted that the Strait's coastline is "complicated…[with] so many island and mountain peaks—to say nothing of bays, narrows, inlets, sounds and channels—it's not at all easy to grasp."1 Two centuries before, British navigator Peter Puget, sailing with George Vancouver in the 1790s, had remarked: "High snowy mountains, unfathomable inlets…steep rocky shores…The change in so small a distance is truly wonderful, even at the termination of these inlets high snowy mountains rise immediately at their back."2 The sudden changes in elevation from coastal mountain peaks to the adjacent sea floor in places like Desolation Sound are the greatest in North America. In many places, cliffs, steep promontories, rocky islands and treacherous reefs punctuate forbidding shorelines. Elsewhere, flat stretches, known as the Nanaimo Lowland on Vancouver Island and the Georgia Lowland on the Mainland, spread up to 25 kilometres back from the sea. The rich delta of the Fraser River is an extension of this Georgia Lowland.
Geologically speaking, the Strait of Georgia and Puget Sound lie within a coastal trough that extends from southeastern Alaska to the Gulf of California, formed more than 150 million years ago when converging continental plates caused a downfolding of the Earth's crust. Over time, the remains of countless marine organisms and sediments eroded from the surrounding mountainous land accumulated in this depression and were formed under pressure into sedimentary rocks. The plates continued to collide and fold until a few million years ago, sometimes exerting such pressure that the rocks melted and then cooled to form igneous intrusions. The depression that forms the Strait assumed its present form about a million years ago.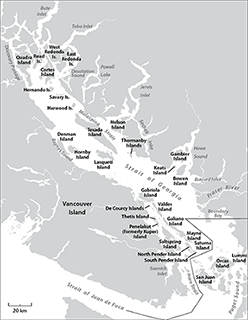 The Strait today is surrounded by uplifted sedimentary and igneous rock that forms the Vancouver Island Mountain Range to the west and the Coast Range to the east. Vast lobes of ice from the Cordilleran ice sheet have advanced and retreated at least four times in the last million years, and the repeated combination of rivers of ice and melting glaciers has left deep U-shaped coastal valleys, interrupted drainage patterns and unconsolidated deposits of material. Through the more recent glacial period, even as ice covered all but the highest peaks, extensive volcanic activity continued in the Coast Mountains. Other geological processes—including down-warping, glacial scouring and erosion—have continually modified the landscape. Savary, Harwood and James islands, for example, were all created when moraine material from melting glaciers was swept down the valleys onto outwash plains. Fjords along the Mainland coast continued to be deeply scoured by glaciers, while the main channel of the Strait remained relatively stable. The Strait is deepest—430 metres—off the east coast of Gabriola Island, but is only 55 metres deep on average. More recently, as the climate warmed and the glaciers retreated, the rising sea flooded coastal lowlands, and land depressed by ice slowly rebounded. The current equilibrium between land and sea was established around eleven thousand years ago.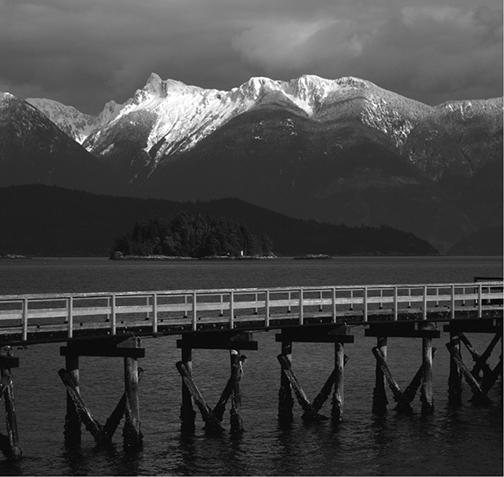 These geological changes all affected the local climate on the Strait, though its cool dry summers, mild wet winters and relatively long growing seasons result mostly from its mid-latitude location and the warm currents sweeping across the Pacific. The mountains of Vancouver Island and on Washington state's Olympic Peninsula, across the Strait of Juan de Fuca, protect the region from most Pacific storms: the winds in the Strait normally range from 7 to 25 kilometres per hour, though storms occasionally bring gusts in excess of 90 kilometres per hour. The waves rarely reach over 2 metres high. More hazardous to navigation is fog, which can roll in over the northern Strait especially in winter, and over the southern islands in late summer.
Unlike this relatively uniform and temperate climate, the sea itself is highly changeable around the Strait. Twice a day it is swept by tides that rise and fall up to 6 metres. In some places, these tides gently expose and then flood flat beaches; in others, they drive roaring tidal rapids through narrow channels. Local currents shift endlessly around the Strait, though they tend overall to circulate counter-clockwise; they can run at over 15 kilometres per hour through southern channels, while those in the north can exceed 25 kilometres per hour. Seeing these narrow passages change quickly from millponds into raging torrents is an experience not soon forgotten, particularly if witnessed from a small boat. Yet water flushes far less through the Strait than in the open Pacific Ocean because the island barriers at the northern and southern ends restrict how much the water can move and mix.
Water temperatures in the Strait can range from 0°C in winter around the estuaries, where fresh water from the rivers meets salt water from the ocean, up to 24°C in summer in parts of Desolation Sound, where the tides circulate far less. Generally the water in the Strait is clearest and saltiest at its northern and southern ends, but rising and falling water levels in surrounding streams—especially the Fraser River, which contributes 80 percent of the fresh water that flows into the Strait—can cause these values to fluctuate. This is especially true when high waters on the Fraser in spring and early summer affect the clarity, salinity and temperature of the Strait's waters far to the north and south of the river mouth.
Given the great range of marine and shoreline habitats, it's no surprise that the Strait supports over 200 species of fish, some 300 species of invertebrates, more than 130 species of marine birds and 16 kinds of marine mammals. Similarly, the region's roughly 500 species of marine vegetation range from tiny phytoplankton to giant kelp forests. A key element of the Strait's great biological productivity is its river estuaries, particularly the Fraser's, which contribute many of the nutrients necessary to support the Strait's diverse food chains. From zooplankton to salmon, seabirds to whales, the salt marshes and other wetlands around the estuaries act as nurseries for the young of a wide range of sea life, including critical intermediate feeders such as herring and other forage fish.

Humans are inextricably linked with the other species living in and around the Strait. First settled after the retreat of the Wisconsin ice sheets about 10,000 years ago, the region long supported a large human population that depended upon the Strait's copious and diverse marine life to survive. Archaeologists cannot agree whether the first migrants came by land or sea, but they do concur that by about 3,000 years ago a highly developed culture had evolved in the area. As many as 50,000 or more Indigenous people lived around the Strait of Georgia in the mid-eighteenth century.
European navigators, mostly Spanish, British and Russian, first visited the northeast Pacific coast seeking trade routes, but they also found abundant sea otter, whose pelts could fetch a fortune in China. Late in the eighteenth century, following land and sea trade routes from Mexico and Alaska, the smallpox virus also arrived. Captain Vancouver's crews witnessed the devastating impact of this frightening disease on the Strait's Indigenous settlements in the 1790s. The coming decades brought more waves of smallpox and new endemic diseases such as measles and influenza. Salish speakers of the Strait appear to have been particularly hard hit, suffering the effects of disease combined with aggression from neighbouring tribes.
Table 1. Demographic change on the settlers' Strait: local populations, 1881–19813
1881 Population of BC: 49,459 (~ 2/3 on or near the Strait)
Victoria area: Victoria: 5,925; North and South Saanich: 488
Vancouver Island, north of Victoria: Cowichan (and Saltspring Island): 848; Nanaimo & "Noonas" (Nanoose) Bay: 2,803; Comox/Alberni: 271
Vancouver area: New Westminster: 1,500
1901 Population of BC: 178,657 (~ 60% on or near the Strait)
Victoria area: Victoria: 20,919
VI, north of Victoria: Cowichan area: 3,613; Nanaimo area: 12,715; Comox area: 3,493
Vancouver area: Vancouver: 27,010; New Westminster: 6,499; Richmond: 4,802; Delta: 5,074
Islands (1891 figures): Gabriola: 125; Mayne: 197; Saltspring: 436
1921 Population of BC: 524,528 (~ 2/3 on or near the Strait)
Victoria area: Victoria: 38,727; Saanich: 14,693
VI, north of Victoria: Duncan area: 7,445; Ladysmith: 1,967; Nanaimo area: 9,068; Comox area: 14,018
Vancouver area: Vancouver: 117,217; New Westminster: 14,495; North Vancouver city & district: 10,602; West Vancouver: 2,434; Port Moody: 1,030
Mainland, north of Vancouver: Howe Sound: 3,844; Powell River area: 3,599
Islands: "The Islands" (southern): 3,804
1941 Population of BC: 817,861 (~ 2/3 on or near the Strait)
Victoria area: Victoria: 44,068
VI, north of Victoria: Duncan area: 13,835; Ladysmith: 1,706; Nanaimo (city only): 6,635; Courtenay: 1,737; Cumberland: 885
Vancouver area: "Greater Vancouver": 351,491, of which Vancouver: 275,353; New Westminster: 21,967; North Vancouver city & district: 14,845; West Vancouver: 8,362
Mainland, north of Vancouver: Powell River area: 7,624
1961 Population of BC: 1,629,082 (~ 2/3 on or near the Strait)
Victoria area: Victoria: 54,941; Saanich and Central Saanich: 51,828; Sidney: 1,558
VI, north of Victoria: Duncan town: 3,726; Lake Cowichan: 2,149; Ladysmith: 2,173; Nanaimo: 14,135; Parksville: 1,183; Qualicum Beach: 759; Courtenay: 3,485; Cumberland: 1,303; Comox: 1,756; Campbell River: 3,737
Vancouver area: Vancouver metropolitan area: 790,165, of which Vancouver: 384,522; Richmond: 43,323; New Westminster: 33,654; North Vancouver city & district: 64,627; White Rock: 6,453; Surrey: 70,838; West Vancouver: 25,454; Port Moody: 4,789
Mainland, north of Vancouver: Squamish: 1,557; Gibsons Landing: 1,091; Sechelt: 488; Powell River area: 13,368
1981 Population of BC: 2,744,467 (~ 2/3 on or near the Strait)
Victoria area: Capital Regional District: 249,473
VI, north of Victoria: Cowichan Valley Regional District: 52,701; Nanaimo Regional District: 77,101, of which Nanaimo: 47,060; Parksville: 5,216; and Qualicum Beach: 2,844
Vancouver area: Vancouver metropolitan area: 1,268,183, of which Vancouver: 414,281; Burnaby: 136,494; North Vancouver city & district: 99,319; Delta: 74,692; West Vancouver: 35,728; New Westminster: 38,550; White Rock: 13,550; and Port Moody: 14,917
Mainland, north of Vancouver: Squamish Regional District: 18,928; Sunshine Coast Regional District: 15,503, of which Gibsons: 2,594 and Sechelt: 1,096; and Powell River Regional District: 19,364
Islands (mid-1970s): all "Islands Trust" islands: ~ 10,0004
Early in the nineteenth century, as Indigenous populations reeled from the onslaught of exotic diseases for which they had neither immunity nor treatment, a few outsiders began to live in the area. The Hudson's Bay Company built trading forts at Victoria and Nanaimo, and on the Fraser River. These would have been exciting and lucrative places for Indigenous people to visit. In 1849, when the British established a Crown colony on Vancouver Island, the Strait was still a very long voyage from Europe or the eastern coast of North America. The men in the forts, however, could see that a protected sea, a mild climate, abundant resources and available land made for a very pleasant place to live. They could also see the masses of fish that swarmed the river mouths and beaches, the timber that surpassed even the most spectacular forests east of the mountains and the promise of wealth from coal and valuable minerals. They knew that railways and steamships were transforming other places and that Anglo-American expansion had just leaped across the continent to California. Two tiny steamships already plied the Strait of Georgia, and it would not be long before steam locomotives reached the Pacific and opened up a new market for Vancouver Island coal. Ocean-going steamships would also soon reach the northeast Pacific Ocean, and they too would need coal. A symbiotic relationship soon emerged between the Royal Navy's growing need for coal and the settlers' need for naval guns to secure their claims to their new land.
Although the Indigenous people along the coast had always thrived on food from the sea, European settlers were expected to deforest the land and then plow it to plant food crops. The absence of deforested and plowed land around the Strait provided a plausible rationale—at least in settler law—to take over virtually all this land in a few short decades. Once the British Empire had declared its domain over the land, local representatives of the Crown could then sell it, and the British settlers who bought it would legitimise the Crown's claim by transforming this land into tidy British farms. That was the theory at least, and a hardy few invested decades of almost unimaginably hard labour trying to make it come true. Although most of the soil, except around a few rivers, turned out to be very poor, the timber was rich, the mining lucrative, the climate gentle, the landscape breathtaking and the fishing and hunting exceptional.
By the end of the nineteenth century, the Strait of Georgia had become a significant new outpost of Eurasian settlement in the Americas. An "all-Canadian" transcontinental railway linked markets in California and around the Pacific to new ones in eastern North America, and a growing fleet of steamers plied the inland sea. Both means of transportation helped transform the Strait, introducing the order and predictability of the industrial age. Lighthouses, buoys and publications predicting marine weather and tides all made marine travel safer, cheaper and more convenient. Such changes helped usher in a virtual resource rush around the inland sea.
Great expansion in economic activity went hand in hand with rapid growth in the settler population (see Table 1) and gave rise to a network of new settlements around the Strait. By the 1890s Indigenous people were a minority in their traditional homeland, and they were almost fully dispossessed and marginalised by the time World War I started. The Strait's many arms helped keep Indigenous communities apart, as did the government's Indian reserve system with its allotment of small tracts of land where Indigenous people were now expected to live. Never did the Indigenous people here rise up en masse to protest their dispossession as they did elsewhere, but they never stopped resisting it. And they remained a critical component of the local labour force well into the next century, working in settlers' mines, canneries, mills and fields.
The bloom on the rose had begun to fade by 1914, however, as the Strait's settlers sent thousands of boys to the greatest of Europe's wars. Until then, settlers on the inland sea had gone from strength to strength for decades. The naval base near Victoria still guarded the entrance to the Strait, but Vancouver had become its heart. After the arrival of the railway, that smoky mill town between Burrard Inlet and the mouth of the Fraser River grew rapidly, as Victoria's city fathers had feared it would. By the time the Panama Canal opened in 1914, Vancouver was drawing resources from all over the Strait and beyond, transforming them a little and shipping them out alongside Canadian grain and minerals from the rest of BC.
Signs of settlers' overexploitation of the Strait's resource wealth were already apparent to some before the Great War. A railway-building accident on the Fraser in 1913 had catastrophic effects on salmon runs that were already being overfished. A few vocal critics had begun to denounce the profligate harvesting of coastal forests, and their criticisms gradually appeared in government documents. But a sharp economic downturn, also in 1913, followed by the savage European war, then a global economic meltdown and another truly global war all impeded progress in resource conservation or righting historic injustices on the Strait. The rich resources of the inland sea still sustained many people between the two world wars. The sea also continued to absorb all waste consigned to it, including vast streams of organic and chemical waste from newly built pulp and paper plants on Howe Sound and Malaspina Strait, and copious quantities of sewage from rapidly growing towns all around the Strait. Just as urban sewers were seen as an efficient way to keep toxic human waste away from people and streams, pulp and paper plants could be seen as a profitable way to reduce the dangerously heavy fogs created by the burning of waste wood left over from the forest industry. And the sea appeared to have an infinite absorptive capacity.
Meanwhile, the Strait matured as a place for recreation and restoration during these years. Harried urbanites could find temporary relief relaxing by its shores, a short steamer or train ride from the city. People could savour the joys of the Strait's dry, mild summers by swimming in the sea or riding excursion boats to shoreline hotels. Summer camps opened for city children, while those who could built summer cottages for the whole family. Others from farther afield also found solace and places to recreate and re-create themselves in creative ways. Broken men from both wars restored themselves on its quieter shores. Growing numbers of people shared the joys of sport fishing.
After World War II, a new world order emerged with Anglo-America at the centre of the global economy. The Strait became an appendage of this North American imperial power, as it had been of the British Empire, and the region experienced another period of unprecedented economic growth and prosperity during the thirty years after the war. A growing network of roads and ferries offered car drivers access to peninsulas and islands that could previously be approached only by sea. Seaplanes reached remoter places, hastening the demise of the coastal steamers in the 1950s but increasing opportunities for settlement, resource extraction and recreation. As leisure activities assumed a larger role in many people's lives and livelihoods, beaches, seaside parks, summer camps and cottages, and small boats around the Strait all became more important than they had been. With them came growing alarm about the increasing pollution and the real-estate developers who threatened people's enjoyment of these pleasures. Indigenous people neared the bottom of their abyss as their jobs in fishing, farming and forestry gradually disappeared.
A new generation of anthropologists, archaeologists, writers and artists brought forward new narratives about Indigenous people in this post-war era. This helped make new space for Indigenous people to tell their own stories, while more people in settler society began to reflect on the Strait's First Nations experience. Writers such as Rachel Carson and local converts such as Roderick Haig-Brown challenged unbridled resource exploitation, calling on governments and citizens to adopt "environmentalism." And they gained support from growing numbers of town dwellers fed up with pollution. Organisations such as the Scientific Pollution and Environmental Control Society (SPEC) became influential for a while and warned of threats posed to the inland sea by mill effluent, sewage, oil spills and "superports."
The five interwoven histories of the Strait that follow flesh out the details of this tapestry. Threading their way through these chapters is a large and colourful cast of characters: navigators and other travellers, Indigenous people and their leaders, workers and entrepreneurs, politicians and civil servants, scientists and engineers, writers and artists, conservationists and environmentalists. And among them all is a recurrent theme: the fear of loss. British colonisers early on feared that Americans might seize control of their rich new Strait, for example, whereas Indigenous people feared the loss of access to their traditional lands and resources. Many later worried about overharvesting of fish and wood, while others grew increasingly alarmed about pollution in the waters around them. Pollution and various other influences were increasingly viewed as threats to citizens' enjoyment of the vast recreational values of the Strait.
Despite these many changing fears, the stories that follow are not traditional gloomy environmental histories about relentless decline and looming threats. Instead, they highlight the diverse and forever-shifting ways in which the Strait has affected the people who live around it, and how they have affected the Strait. The stories will hopefully help to make the Strait a richer place for readers—a more real and multi-dimensional place. They may contribute to building the kind of nuanced understanding that we, as a community of shoreline people, need if we are to effectively manage and care for this complex and precious sea and its shores, now and into the future.
__________
1. "Timberline," MS-0364 box 4, folder 1, Imbert Orchard Papers, "People in Landscape, series I (Gulf of Georgia)," British Columbia Archives.
2. Peter Puget, A log of the proceedings of HMS Discovery, January 4, 1791 to January 14, 1793, Public Records Office (London), Group: Admiralty: 61, cited in Doreen Armitage, Around the Sound: A History of Howe Sound-Whistler (Madeira Park, BC: Harbour Publishing, 1997), 30.
3. Government of Canada, Census of Canada, 1880–81 (Canada Census and Statistics Office, Volume 1. Ottawa: Mac-Lean Rogers, 1882); Government of Canada, Census of Canada, 1890–91 (Ottawa: S.E. Dawson, 1893); Government of Canada, Fourth Census of Canada, 1901 (Ottawa: S.E. Dawson, 1902); Government of Canada, Fifth Census of Canada, 1911 (Canada Census and Statistics Office, Volume 1. Ottawa: C.H. Parmelee, 1912); Government of Canada, Sixth Census of Canada, 1921 (Ottawa: F.A. Ackland, 1924); Government of Canada, Eighth Census of Canada, 1941 (Ottawa: Edmond Cloutier, 1950); Government of Canada, 1961 Census of Canada (Ottawa: Dominion Bureau of Statistics, 1962); Statistics Canada, 1981 Census of Canada (Ottawa: Ministry of Supply and Services, 1982).
4. The permanently populated islands represented in the Trust were Saltspring, North and South Pender, Galiano, Mayne, Saturna, Thetis, Gabriola, Lasqueti, Denman, Hornby, Bowen and Gambier.