A Message from the Canadian Letters and Images Project
By Dr. Stephen Davies, Project Director
We at the Canadian Letters and Images Project feel very fortunate to have been chosen by BC Almanac and the CBC to be supported by the proceeds of the sales of this book.
The Canadian Letters and Images Project at Vancouver Island University is an online archive of the Canadian war experience, both home front and battlefront, from any period in Canada's past. The project began as a means to put a human face to war and to remind us that war is ultimately about people, most of them ordinary and largely forgotten. Through the digitization of contemporary letters, diaries, photographs and other related materials, the Canadian Letters and Images Project permits Canadians to tell their story, and Canada's story, in their own words and images. Since its inception in August 2000, we have digitized more than fifteen thousand letters from Canadians across the country, as well as thousands of photographs, scores of diaries and a sweeping range of miscellaneous items connected to the war experience. These are all freely available to anyone through the project website at www.canadianletters.ca.
What makes this project unique is that as an online archive we do not keep any of the materials. We ask only to borrow the materials from Canadians across the country for copying and scanning, and then return them to the families. In this manner we have brought into the public domain valuable archival materials that otherwise would never have been seen. We hope that readers of this book will contact us if they have any materials they could share in this manner.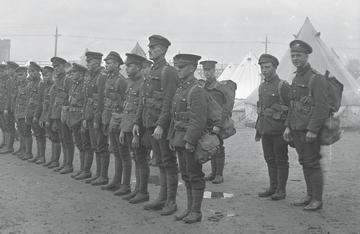 Wartime letters are like voices from the past, connecting generations across time. Correspondence helps us to put a human face to war, to poignantly remind us that those largely forgotten Canadians are far more than statistics or names on a cenotaph. The letters remind us that they too were once young, with loves and dreams, hopes and ambitions.
Correspondence permits us to share the experiences of war as the participants themselves saw it, history in the raw, without a lens of later interpretation. Such are the letters of a young soldier from Kamloops, British Columbia, Sydney Amyas Winterbottom. On April 23, 1917, he described his experiences at Vimy Ridge:
Dearest Mom and Dad:
Well, I suppose you have guessed by now, I went over the top on the first day of the big push. Our battalion were very lucky as regards to casualties, only 16 killed… Well I will try to describe this push. On the evening of the eighth of April, we moved into our jumping off trenches… About Five in the morning, the first division of Canadians went over the top. They didn't charge as the length to our objective was two and a half miles. They simply walked until they were near the point and then charged… We went over about eight o'clock. You should have seen how Fritz's trenches were smashed by our gunfire. We kept going always behind our barrage of shrapnel. All we had to do was follow up the barrage. It did the work…
But soldiers' letters are not just about battle. They encompass the full range of Canadian wartime experience. The same letter is also revealing about one of the most fundamental aspects of soldiering, the connection of soldier to home and loved ones:
I felt all through it that I was jake because I knew you all at home and the relatives had prayed for my safety. Therefore I knew I was fine and dandy. I received your nice parcel of louse proof underwear, cigs, and gum. Thanks ever so much for them. If I return home don't expect to see the lad who left you as I have changed. A little older looking I guess. I also enjoy a good cigar and drink of beer once in a while. But otherwise I'm the same…I hope to be back home toward September to have that deer hunt…
With fondest love
Lovingly, Sid
Winterbottom survived the Battle of Vimy Ridge. But he was killed a few months later in Canada's other great battle of 1917, Passchendaele. Sydney Amyas Winterbottom was only twenty-one.
The financial support provided by the sales of this book will greatly enhance the work of the project. As a not-for-profit project, without any government or corporate funding, the Canadian Letters and Images Project relies solely on the generosity of Canadians to support our work. Over 80 percent of all funds we raise go directly back into the project as student wages. Students are the backbone of this project, which provides them with a unique hands-on archival experience as a part of their education. This is an ongoing project, but we do not have the resources to do everything that needs to be done. The support we will receive from the sales of this book will permit us to hire and train more students, which in turn means we can then bring even more of these unique and important materials online for all Canadians at www.canadianletters.ca.
[To Top]