Chapter 1 - Pioneering through the Ages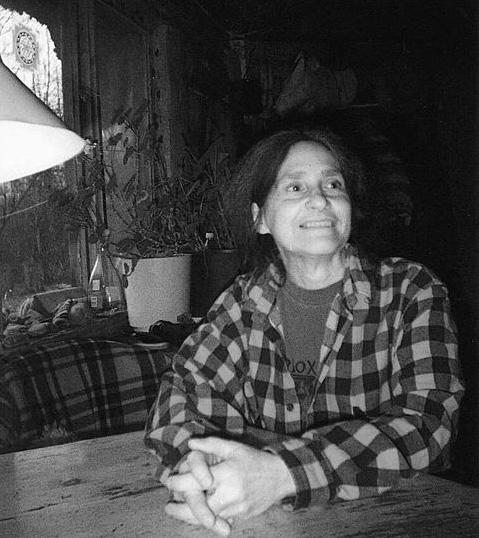 Caril Chasens dwells in the same weather-beaten log cabin she built at McCully Creek with her own calloused hands about 30 winters ago at a place so far off the urban map that most of her fellow British Columbians couldn't find it if they tried. Living in a tent for shelter and later moving into a small lean-to that now sees duty as a recycling shed, she felled trees, bucked the logs with a chainsaw, then dragged them back to the building site with a long-departed Land Rover. Petite and still wiry as she approaches her sixties, her black hair now shot with silver, she winched the logs into place by hand using a come-along and then chinked the gaps between them with moss—although she later found that spun glass insulation tamped into the cracks does a far better job of keeping out the December wind.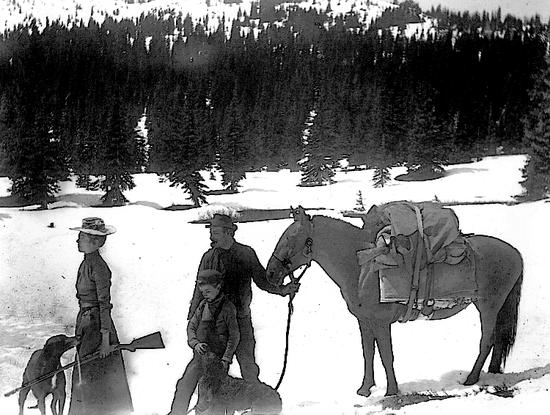 This tough frontier homesteader is a contemporary example of those courageous pioneer women whose often overlooked contributions shaped the cultural landscape, reformed our politics, defined who we are and made BC into a fully realized province. Like the lilies that settlers planted in their gardens, these women brought a domesticating, even exotic, aesthetic that spoke to the assumptions of a male-dominated society on a rough frontier. Yet the experiences of newcomers quickly meshed with the experiences of those who were indigenous and their collective influence eventually proved as pervasive and as hardy as the native fireweed that flourishes everywhere—and most especially in the aftermath of trial and hardship.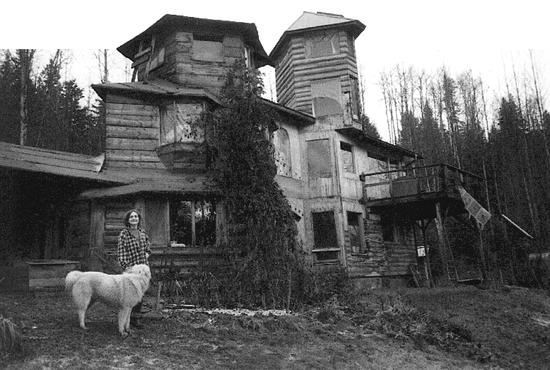 Today, Caril's original hexagonal structure is graced with interesting add-ons, one of them the studio where she creates lustrous three-dimensional metaphors from native woods. A naked human form emerges from a carved birch burl. A wood slab is transformed into a bird perched on a log. A round burl is sculpted into the flat realism of a crab putting its claws up as it skitters sideways through the ripples on a sandy bottom. To reach this artist's modest homestead in BC's remote outback, a visitor by road must be prepared to travel close to 1,200 kilometres north from Vancouver, passing out of the electrified, highly domesticated landscape of the Lower Mainland, through Prince George, westward to Hazelton and north, into a rugged world still illuminated mostly by starlight and sunshine.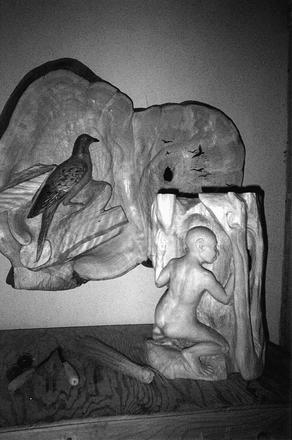 This is a country where householders encounter grizzlies in the garden, a place where myths still have a tangible presence and the landscape itself thrums with artistic intensity. Even the glittering mountains have names and legends. They thunder skyward out of the dark shawl of the boreal forest with its lower elevation embroideries of white birch and crimson ground maple. Below them, in villages like Kispiox, Kitseguecla, Kitwanga and Kitwancool, is found the richest concentration of totem pole art in Canada. The jagged peaks of Hagwilget and the more distant Seven Sisters are high enough to make their own weather. Their crags and icefields trail semi-permanent plumes of cloud and the icy meltwater from their glaciers primes the vast hydraulics of a dark green Skeena River and its cold, swift, salmon-bearing tributaries. But for now, the focus comes down to this logging road, our muddy four-by-four still bouncing and juddering northward over ruts and potholes as the gravel surrenders to dirt and the bridges dwindle to a narrow single-lane span. Telephone poles and cables vanished some time back. Now the bush closes in. Another 50 kilometres of this, up over the ridge and we'd be into the upper Nass watershed.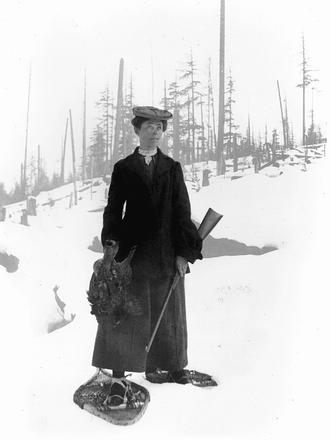 I'm here looking for the woman I hope will provide one of those elusive, living connections between ourselves and the frontier experienced by pioneer women 150 years ago. "Frontier" is a loaded word, of course. It comes charged with the energy of countless justifying icons from North America's paternalistic and colonial past. Traditionally, the frontier is the edge along which "wilderness" defines "civilization." It is also the place where the colonizing culture that presumes itself predestined for dominance most often encounters the unwelcome reality of that dispersed rural "other" that continues to pose vigorous alternatives to urban comfort and refinement. When I set out to try and shape some kind of narrative from the diverse experiences of women whose lives on the geographical frontier had helped bring into being the modern province we call British Columbia, I soon discovered that these women also dwelt on a metaphysical frontier.
Their lives were lived at the boundaries of what would come to shape our notions of a just, pluralistic and egalitarian society, of economic culture and political philosophy as well. And all had one clear thing in common: except for a few exotic celebrities, they were virtually absent from the historic records assembled, for the most part, by their male contemporaries
The records of missionaries, fur traders, literary men, and the keepers of church and government documents, the writings of brothers, sons, fathers, and husbands are the main sources of women's history, point out Beth Light and Alison Prentice in their 1980 collection, The Pioneer Women of British North America, 1713–1867. "Unfortunately, where the women themselves have been totally silent, such records are sometimes our only sources and we must read between the lines for the reality of women's historical lives," they note.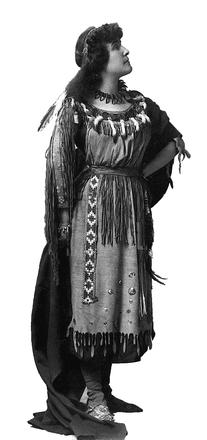 I soon discovered that the story of BC's frontier women was fragmented, scattered and sometimes difficult to find, even "between the lines." Some of it I found in dusty, long unopened record boxes in city and provincial archives, some in museum exhibits, some in microfilmed obituaries and wedding notices, some by dogging used bookstores for long-out-of-print local histories. Until recently, women's own voices often emerged from the history of the day only as footnotes, brief asides, amused anecdotes, secondary references or quotations from forgotten journals, letters, memoirs, household accounts and family stories. Yet, as I stitched my quilt together from these brightly coloured bits and pieces, the narrative began to take on a fascinating and astonishing texture of its own.
"The History of a Country is written from the lives of Men, but from the lives of the Women we learn best of a Nation's soul," observes one rare, detailed, early account of women's stories dating back to 1843 that was found for me, perhaps appropriately, in a quaint glass cabinet at the back of his store by Adrian Batterbury, proprietor of the quirky antiquarian establishment in Sidney named The Haunted Book Shop. Published in 1928 by the Women's Canadian Club of Victoria and out of print ever since (a planned second volume apparently foundered with the stock market crash of 1929 and the onset of the Great Depression), The Pioneer Women of Vancouver Island, 1843–1866 was written "In order that we, and those who follow us, may remember the courage, strength of purpose and nobility of character which governed the lives of the pioneer women of Vancouver Island." Women of British Columbia, the next comprehensive look at their collective history, was undertaken almost half a century later by Jan Gould, the popular Vancouver Island historian. Indeed, before the 1970s—just about the time Caril Chasens was building her cabin—there was little serious study of women's history as a formal discipline. Between the publication of that first volume and Gould's book, the history of frontier women in our province had largely moved out of living memory and into the archival record.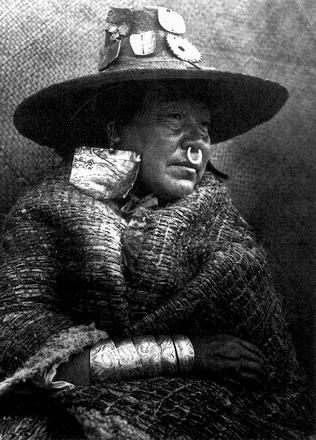 In recent years, however, the rise of an assertive feminist scholarship has brought new perspectives and a new appreciation of women's history to the fore. Today few universities have no women's history component in the curriculum and, in the tradition of BC's own Margaret Ormsby, some of our best historians are now women—Jean Barman, Patricia Roy, Lynne Bowen and the generation that will succeed them. And yet in the bigger sweep of things, the study of women's history remains a relatively fresh phenomenon. On my writing table, the books from which I've gleaned much of the background about BC's remarkable frontier women now number well over 100. Many mention no women in their indexes, even when the books contain references in their narratives—the assumption being, I guess, that nobody would want to look them up. But some offer dramatic first-person accounts of great adventures, of incredible hardships, of courage, of bravery, of tenderness and indomitable will in the face of tragedies and tribulations that would have broken many.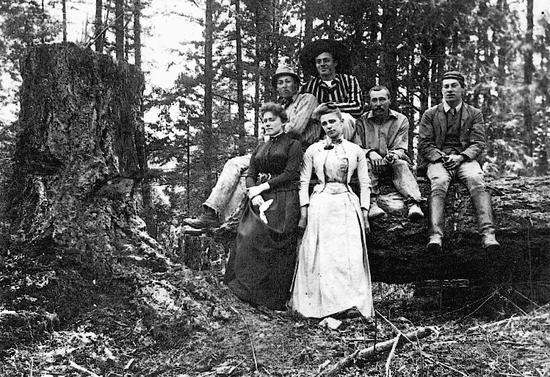 The frontier for women left a complicated legacy of many changeable faces. For First Nations women, it wasn't a frontier at all. It was a contemporary modernity that was about to change forever. To find Native pioneers, you'd have to look back to 6,000, or perhaps even 10,000 or 20,000, years ago. For women from Europe and Asia who came so long afterward, initially crossing the oceans in vermin-infested sailing vessels that had to battle their way around Cape Horn, or beating eastward against the tireless North Pacific trade winds, the frontier ranged from the elegant boudoirs of a new colonial capital to the brothel cribs of brutal mining camps.
The frontier was multicultural long before we invented the word, an amazing mosaic of more than 35 aboriginal nations and languages, of Iroquois, Cree and Ojibway women who came with the fur trade, Scots who travelled the lonely back country like fur-clad ghosts, Métis paddlers, Hawaiians, Chinese miners and Japanese mill hands, Portuguese and Italians, English officers, American merchants, Finnish fishermen and Swedish loggers, German dance hall girls, Blacks turning their backs on a slave state, Sikhs and Hindus, Muslims and Jews, Roman Catholics, Anglicans and Methodists. The frontier for women was found equally in classrooms and medical wards, on the factory floor and at the pithead, in painting, poetry, politics and sports. While much is made today of women's hockey, who remembers that the game in BC was pioneered by a feisty women's team that travelled from Victoria to Dawson City to play in 1904?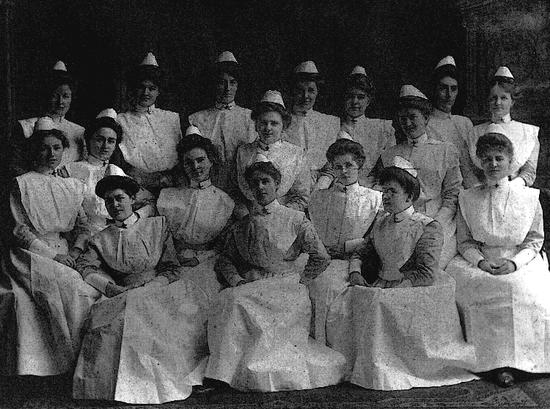 Then there were the questions of where the frontier era ends and whom among the hundreds of candidates to include in the narrative. I decided, somewhat arbitrarily, that World War I marked the great transformation of BC from its rural, agrarian roots to the industrialized urban giant it is today. So I made 1914 the cutoff point. As for whom to mention, that too was necessarily arbitrary because of the volume of material. Generally, I opted for those less well known, except for women whose ground-breaking work insisted upon their inclusion. And to further complicate things, it turns out that the frontier isn't an artifact that's been fossilized in an unchanging past. It's with us yet, in both geographical and metaphysical terms.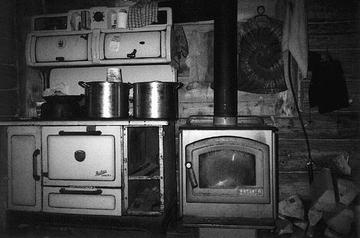 Caril Chasens is an example of this. I found her deep in the forest, far from the entertainments and diversions most of us take for granted, where she lives cheerfully under conditions that most of her big-city sisters couldn't abide. She hauls water for washing and cooking from the tumbling creek beyond her back door, tramping the summer trail with a pair of plastic buckets until freeze-up. Then she switches to the winter trail, which leads to a more distant point where the current in McCully Creek is swift enough to preclude ice formation. Even the most rugged individuals generally balk at chopping their water at 30 below zero. What Caril and her partner Geoff Watling do have to chop are the many cords of firewood and bales of kindling necessary for cooking and heating their cabin during the long, dark, often bitter months they must spend waiting out winter deep in the northern Interior. At the time I met with Caril, winter had been holding off. "In the old days, you had snow by the first of November," she says. "Winters were fiercer then. But this winter's just not happening. It makes it gloomy around here when all the leaves are gone and there's no snow on the ground. Maybe it's global warming. Maybe not. It's amazing how different the climate is from spot to spot."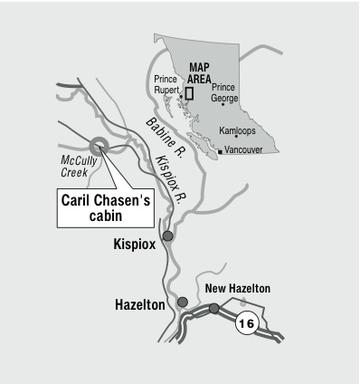 Caril lives well beyond the ubiquitous electricity grid that most of us assume is essential for normal life. To communicate with the outside she uses a radio telephone. The only street lights are the shimmering green and yellow curtains of the aurora borealis. The only electrical energy comes from a small gasoline generator supplemented by some solar panels and it's husbanded for power tools and the computer. There's no dishwasher, no electric range, no baseboard heaters, no PlayStation 2 to while away a dreary evening. "One plus is that you don't give a damn when the power goes out or the phone service quits," says Caril, dark eyes flashing, shrugging a little deeper into her red plaid shirt. "The worst thing is trying to fix your truck and breaking a part and having to drive an hour of gravel to get another one." Behind her, the kitchen counter is fragrant with new loaves. She bakes her own bread every week, one more way of avoiding the fuel costs of that long drive to the nearest convenience store. That's in Kispiox, a Gitksan village of 651 or 553, depending upon whom you ask. "These roads just beat vehicles to death," she says. Indeed, the hulks of several that have already died are out at the fringes of the yard. Willows sucker up through the windows.
And yet, despite similarities that her pioneer sisters from two centuries ago would recognize instantly, any woman who chooses the frontier life in BC in the 21st century has a far different experience from one who lived in the early years of this province. "I'm as much in the 21st century as any woman in Manhattan—a little less worried about bombers, perhaps. I'm marketing my art on the Internet. It connects me directly into the mainstream," Caril says. Her partner, on the other hand, a 20-year veteran of the forest industry who says he reinvented himself as a computer nerd when the bottom fell out of logging, uses the household computer to operate a digital recording studio for musicians scattered up the Kispiox Valley.
"We're not separate from the world here. There was a time when I believed you could get back to nature, get back to that hippy-dippy paradise we thought was over the horizon," she says. "Now, I know, problems are global. I used to think I could get away from them, but you can't. You are part of it wherever you go." In fact, she points out, this very afternoon there's an air quality warning out from Environment Canada for the whole zone between Terrace and Smithers, an area the size of some small European countries. People are warned to avoid strenuous activity outdoors because of the particulate matter in the air from mills and slash burning. "Yes, it's a different way of living out here on McCully Creek but it's definitely not the 1800s," she observes, waving a hand dismissively. "Actually, I'm thankful for that. I wouldn't want to go back there, anyway. It was real crappy for women back then." Born in Dayton, Ohio, in 1945, she came to Canada in 1966 and drifted north until she wound up here, in a curve of this little singing tributary of the Kispiox, surrounded by the forests, mountains and sky that inspire and infuse her art.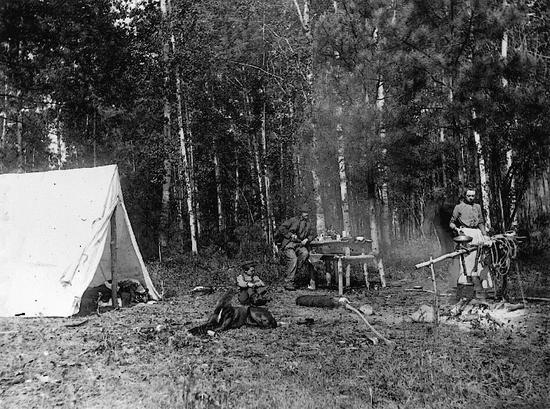 Like Caril, many of those earlier pioneer women came to BC in search of greater freedom, with dreams of a new life beyond the reach of stifling conventions, a chance for greater prosperity, for the opportunity to fulfill themselves creatively and make a better future for their own children than they had faced in Europe, Asia and America. Like her, they encountered unimaginably hard work and difficult conditions, which they accepted, then mastered, then turned to their own advantage. Yet a woman on the frontier today is still within a helicopter flight of first-class medical treatment, even if it means slamming over frozen ruts in a four-by-four to get to a landing site. A century ago, many rural inhabitants might have had to travel a week to find a doctor. For women of childbearing years, this added risks to their lives that most young women today would consider unacceptable. For every 1,000 births, five women and 120 babies would die. In 1871, the average woman could expect to have 6.8 children and the majority of those women lived on rural farmsteads, in logging shows, fishing outports and mining camps—far beyond the reach of medical care and technology that we today assume as a birthright. What they endured is a reminder of the significance of their contributions to the creation of this province.
As for Caril? How far is she from town?
"How far? I don't know," she says, bemused by the question. "I've never measured."
And that, perhaps, is the true measure of a frontier woman—one who's gone so far beyond the comforts and predictabilities of urban life that she can't remember the distance back.