Chapter 2 - Mothers of the Old World
In its official form, the documentary history of women in British Columbia can be said to begin at Tatoosh Island, where a honey-shouldered wedge of cretaceous sediment tilts out of the storm-tossed entrance to the Strait of Juan de Fuca. Bearing the name of an aboriginal chief, this island is the most westerly location in Washington State and therefore a point of pilgrimage for Americans who northwest up the Olympic Peninsula to the territory of the Makah—famous in the past as great whalers, infamous to some in the present for their impertinent renewal of that whaling tradition.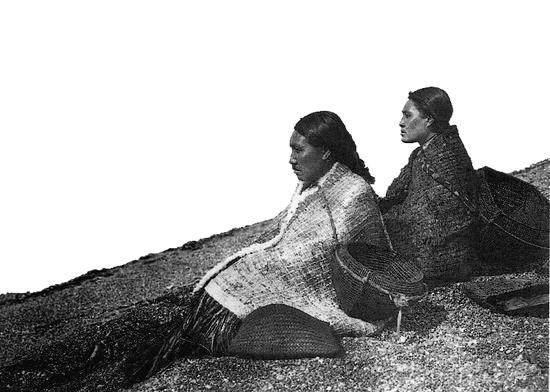 The tourists stop to pick up their $11 recreation permits in the Makah community at Neah Bay, where the pavement finally gives way to potholes and gravel, continue past the fish nets drying in the wind outside an old military base recycled for tribal administration purposes, then park their cars and hike the rest of the way to Cape Flattery along a trail maintained by the band. The footpath winds through waist-deep salal, nodding ferns and a sighing rain forest that was already old when the images of the wives of Chief Tatoosh were graven by a Spanish explorer over 210 years ago. Today, chainsawed tree rounds make stepping stones through soft spots and boardwalks, constructed from planks as thick as Danielle Steel paperbacks, lift walkers over fragile ground and past cedars still bearing marks where bark was stripped to make clothing and baskets for rituals and ceremonies.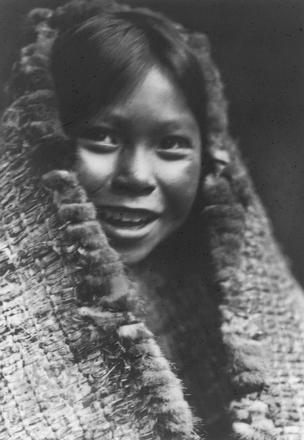 Eventually, hikers emerge at a spectacular clifftop lookout. To the north, the ragged graveyard coast of Vancouver Island continues westward, the shore fringed with white lace, the mountains scabbed with vast clear-cuts and draped in cloud. Below, translucent green swells off the Swiftsure Bank boom into sea caves and cause the whole promontory to shudder underfoot.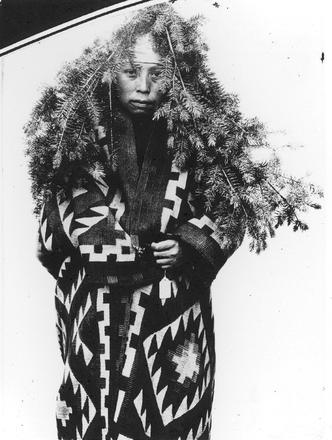 Most visitors come to take in the scenery and look for the bright orange bills of the exotic tufted puffins that nest on the cliffs, maybe even spot a big shark or sea mammal drawn by the abundant marine life that congregates to feed on nutrients welling up from the underwater canyons just offshore. Few of the visitors that I asked knew that it was from this precise lookout that the Makah first saw the ships carrying European mariners who would give us our earliest documentary glimpse of the society of women who occupied the unknown landscape west of the Rockies.
Traders and explorers from the French and American colonies had penetrated deep into the interior of the continent by the mid-18th century, but BC was unknown, unmapped and as remote from Europe as the dark side of the moon. Yet before the first adventurers arrived, this area of the continent was a quilt of nations, their territories defined by geography, by linguistic affiliation, by trading hegemonies, by transportation routes, by political alliances and by war. Women, as they still were for European royalty and had been for Bronze Age warlords, Chinese and Roman emperors, Egyptian Pharaohs, Persian satraps, African rulers and Aztec god-kings, were a crucial factor in forging dynastic alliances by marriage. In short, women of rank were a political commodity as well as a vital and sustaining part of the community. They were also prized booty, frequently taken and held as slaves in war. In fairness, there are some early Russian references from the North Coast, a fleeting description of Haida women and their dress in the journals of Juan Josef Perez Hernandez who sailed from California to the Queen Charlotte Islands in 1774 and a brief account of Nuu-chah-nulth culture by James Cook four years later at Friendly Cove. For the most part, despite their importance aboriginal women are even less of a presence in the documentary record than their European sisters. Even today, after a full generation of feminism and raging gender politics in the academy, entries for women are to be found in few indexes of current anthropological and sociological studies of aboriginal cultures.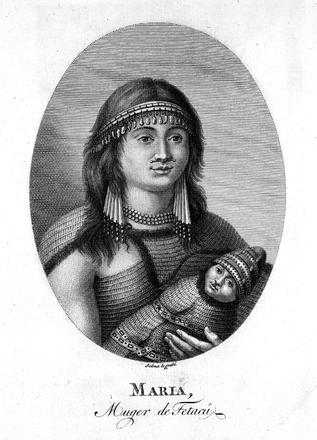 In the sketches of Manuel José Antonio Cardero, however, an artist attached to a Spanish expedition that stopped at Neah Bay in 1792, some of that missing history springs to vivid life in the faces of the wives of Tatoosh. He had three that we know about—evidence of his wealth and stature—and we know that his relationship with them was infused with affection. When he was invited aboard a Spanish ship and offered a cup of cocoa, Tatoosh drank some and then insisted on taking the rest to one of his wives waiting in the canoe alongside—the crew called her Maria—so that she could share in the novel taste.
Back then, of course, there was no BC, no Washington State, no Canada, even the United States of America was a precarious experiment involving 13 tiny colonies on the far side of the continent. But there were the Makah, the southern cousins of the powerful Nuu-chah-nulth nation whose political, linguistic and cultural hegemony extended down the entire western shore of Vancouver Island. So it seems appropriate that any narrative about pioneer women, their lives and their accomplishments should begin at Tatoosh Island because, like the astonishing array of nations and cultures that existed here before the influx of Europeans, Asians, Africans and South Sea Islanders, the society of women sprawls across the artificially imposed boundaries of politics, ethnicity, geography and history.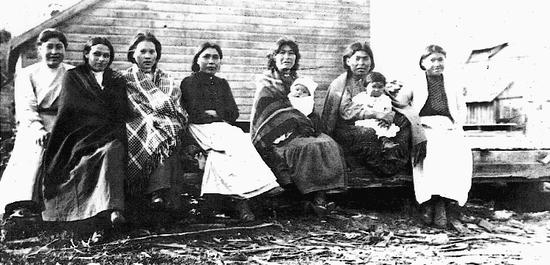 The notion of "pioneer" women in BC is an oxymoron that begins with an assumption that history here is short and commences with the arrival of those whose cultures subsequently came to dominate the social and political landscape. But history here is ancient. Radiocarbon datings from the earliest excavated sites of human habitation in BC average more than 10,500 years before present. Some from a large animal kill in Washington push the date back another 2,000 years. To put that into historical perspective, women had already been looking after their families and maintaining their households in BC for at least 7,000 years by the time Moses led his people out of Egypt.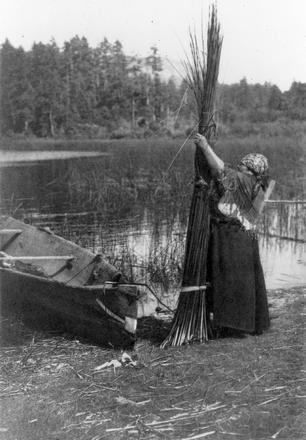 For me, the idea of the earliest pioneer women in BC evokes two images. The first is from a remarkable series of films about the Netsilikmiut of the Central Arctic made half a century ago by the brilliant National Film Board producer and cinematographer Doug Wilkinson.
In a segment entitled "Going to the Weir," the camera focusses on a vast panorama of brown tundra beneath a cold sky. Only after many minutes does the observer become aware that there is indeed something happening. Those specks on the horizon looming larger and then dwindling again in the distance are a family walking toward the camera on their way to a favoured fishing spot. This is how it must have been for the first pioneer women trekking across the land bridge of Beringia, burdened with equipment and supplies, keeping track of children, entertaining them, setting up and breaking down camp while the male hunters ranged ahead in the immense, hostile landscape in search of the next meal, sometimes not returning for days and expecting to be fed and serviced when they did. Work may differ in a wage economy, but divisions of labour respecting the family today are not so different from then, if the sociological surveys can be believed. Women still run most households, particularly with respect to food acquisition and preparation, and manage the nurturing and education of children.
On the other hand, a growing number of scholarly adherents supports the theory that the first pioneers to the West Coast came not by land but by sea. Some North Coast stories among aboriginal peoples make references to a specific number of people crossing from Siberia to Alaska in a skin boat in flight from some dimly remembered tribal conflict—which brings to mind the second image, shared by an RCMP officer on the Arctic Coast. He told of watching a skin kayak with a lone paddler making its way to shore. At the beach, he said, the paddler disembarked, followed by his children, then five dogs and finally his wife—a reminder that the first woman to pioneer here may well have arrived the same way.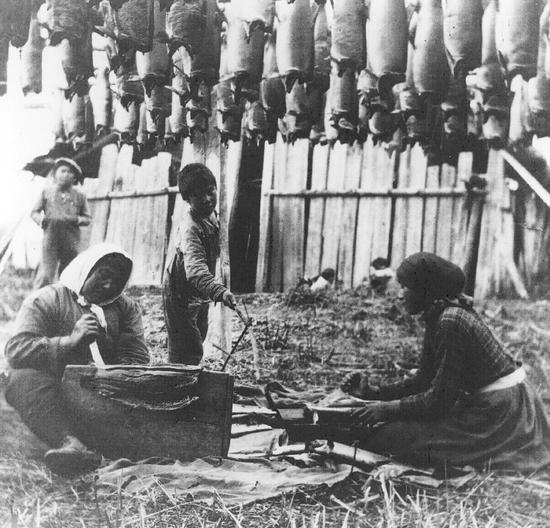 But how did these women live? Indications can be gleaned from the artifacts on display at the Makah Cultural and Research Center in Neah Bay. This stunning assemblage of 30,000 pieces was excavated at the Ozette River, where six houses from a village of 800 Makah were buried in a mudslide 500 years before Christopher Columbus and then exposed again in 1970.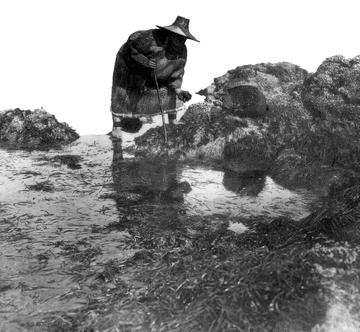 The clay tomb sealed out oxygen and preserved perishables that would otherwise have long ago rotted away. It also created an intimate archeological snapshot of life in each house at the moment of burial—a record made of tools and implements, clothing, furniture, housewares, foodstuffs, ornaments and weapons. They suggest a strenuous life dictated by the coming and going of fish, birds and sea mammals. If the men were whalers and warriors, the women were custodians of family life. In stratified coastal societies that ranked people as nobility, commoners and slaves—a hierarchy not so different from those of the European newcomers—it's probably safe to conclude that aboriginal women had influence, but not power. And that influence would be graduated according to the rank and power of one's family and husband.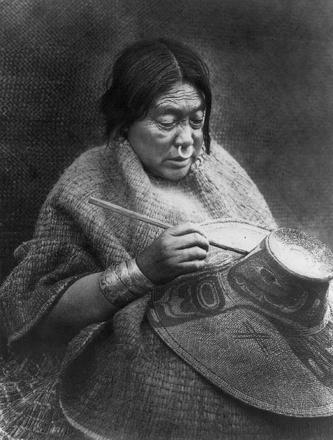 One North Coast woman, the daughter of a chief, took the name "Chief of All Women" when she was married by arrangement to another powerful chief to cement a dynastic alliance. Another, whose name is lost to history, was herself chief of the Nahannis when she intervened to save Fort Liard factor Robert Campbell from starvation in 1837. "She was a fine looking woman above the middle height and about 35 years old," Campbell reported to the Hudson's Bay Company. "She had a pleasing face lit up with intelligent eyes, which when she was excited flashed with fire. She was tidy and tasteful in her dress. At our first meeting she was accompanied by some of her tribe and her husband, who was a non-entity." The Nahanni chief must have been a powerful and respected leader because she openly defied Chief Shakes, who controlled the flow of furs from the Stikine watershed and was forcing trade to the Russians, for whom he served as the regional middleman. It's interesting to note that Campbell's observations focus on her beauty rather than her political power. Perez, too, commented on the beauty of Haida women he observed but also noted that "they gave signs of meekness and good disposition," qualities doubtless desirable to the male-dominated cultures of Europe. A Spanish botanist and naturalist named José Mariano Mozino kept notes when he was dispatched to do scientific work for Juan Francisco de la Bodega y Quadra, who had been sent to explore the "limits to the north of California" in 1792. He described in detail the dress and ornamentation of Nuu-chah-nulth women.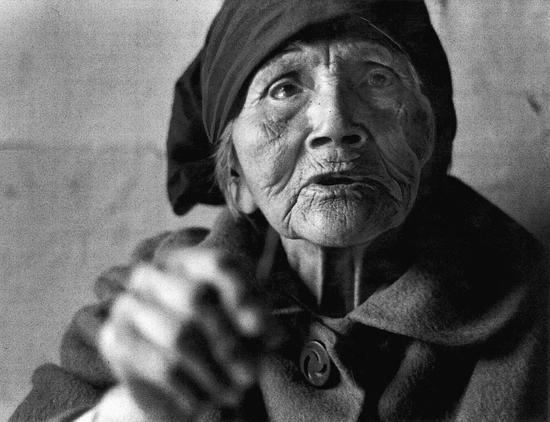 At Birth
I used to help at times of birth, yes,
I used to help all the women around here.
I learned it from my book, my blue doctor's book.
I used to read it all the time.
I made up my mind that if she needs help,
I will help her. I'm not scared.
You've got to be awfully quick. There's two lives there.
The baby and the mother.
Yes, two lives, and what you got to do it with
Those days? You've got to be quick
To cut the cord, keep the bed clean, take out
The afterbirth, discard it, burn it.
Yes, you've got to be quick, fix the baby,
Tie its navel so it will not bleed
To death—cut it about that long.
When it heals there's nothing left, you know.
Then you bandage the mother, pin her up,
Keep her clean, keep her in bed ten days.
The doctor told us this—but if I leave
I guess she got up.
I never had to spank a baby
To make him cry—they always cried.
They were always alive and healthy.
Yes, mother and baby, alive and healthy.
by Mary Augusta Tappage 1888–1978
From The Days of Augusta, edited by Jean E. Speare
But it's the Makah museum—with its assemblage of baskets, each designed for a special purpose, its specialized utensils for food preparation and presentation, its examples of cedar bark clothing, a dog-hair blanket adorned with woodpecker feathers and woven in a plaid pattern reminiscent of old Highland tartans, and even the loom on which such fabric was woven—that tells the most exact and engaging story of women's lives. It's clear that women had a central role in the collection of raw materials for the manufacture of these utensils and in gathering, preparing and putting up foodstuffs for the winter. There were clams to be smoked, berries to be picked, seagull eggs to be gathered, fish to be cleaned, dried and smoked, the mysterious little "Ozette potatoe" to be dug, cedar bark to be stripped and processed, blankets to be woven.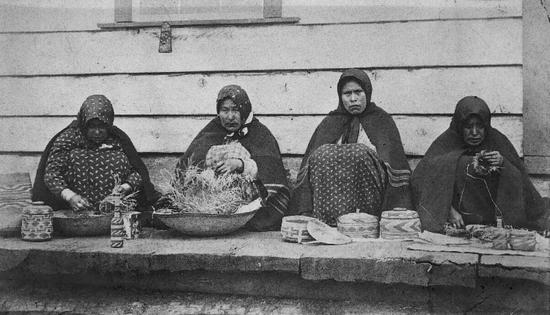 According to Makah custom, much of the food preparation and the protocols of hospitality were supervised by the senior female member of the family. This was complicated, since each dish was governed by rules regarding preparation, presentation, service and appropriate ceremony. She and her subordinates were responsible for ensuring that visitors were served according to the strict privileges of their rank, that small children were fed next and finally that none of the remaining guests left hungry. This responsibility was a daunting one, considering that Nuu-chah-nulth chief Maquinna, for example, expected 36 different dishes to be served to guests at his formal banquets. One of those events sat Captains Quadra and George Vancouver at the same table and helped defuse the tensions that had brought the empires of Spain and Britain to the brink of war over their colonial claims to the West Coast. The name of the Nuu-chah-nulth woman who managed that banquet of international diplomacy that helped lay the foundations for what's now BC is lost to formal history, but like the wives of Tatoosh who greeted the Spanish in what's now Washington, she can certainly be said to have helped pioneer the birth of a new world.
[Previous Chapter] [Next Chapter]