Chapter 8 - Women at Work
Except for the ruin of a stone chimney under blackberry brambles and fading memories in the surrounding community, little remains of the Hudson's Bay Company outpost at Fort Rupert where British Columbia's formal labour history began. It was here, in 1850, that the wives of eight Scottish coal miners brought in to work a seam for the company prodded their husbands to stand up for their rights, prompting the first job action in BC.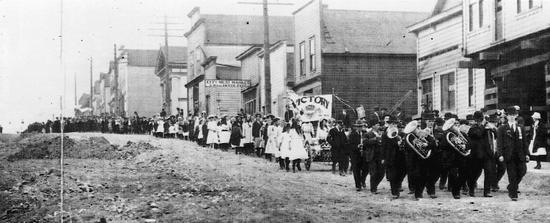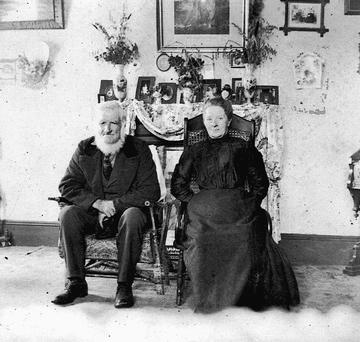 The miners and their families had been enticed to make the dangerous journey around Cape Horn with promises of steady work and daily rations of beef, mutton, beer, grog and new wine. Once they arrived, however, they discovered that things weren't quite as the company had promised. Housing was wretched, they were expected to live off the land because the company could make more money exporting the beef and mutton from its farms at Fort Victoria. (The workers were assured they'd soon come to prefer "wild food.") Their tools weren't suitable, the coal seam proved to be only a hand's span in thickness and the miners, who prided themselves as professionals, were expected to work as common labourers. To make things worse, no sooner had the wives and children landed than a 16-canoe Kwagiut war party hauled up on the beach, erected 16 poles and placed a human head—trophies from their raid on the south coast—on each one. Annie Muir, wife of the mining contingent's leader John Muir, was offered her choice of any two heads. She was not amused.
"Cautioned by their menfolk. . ."
I note that the wives of the miners are the most outspoken and bitterest of enemies to the soldiers. They are often cautioned by their men folks when speaking in reckless tones of the soldiers.
—Undercover Pinkerton agent's report from Nanaimo during The Big Strike of 1912 (quoted in Boss Whistle: The Coal Miners of Vancouver Island Remember by Lynn Bowen, Nanaimo and District Museum and Rocky Point Books, revised edition, 2002
When the miners decided they'd rather move their families to California and take their chances in the goldfields, the company had the men thrown in irons. The captain of the trading ship England, which was standing off the fort, was instructed to refuse passage for their families. The women were having none of that. They gathered their children, defied the company's authority and boldly swept aboard the ship, refusing to be dislodged. Annie later settled at Sooke where the Muirs proved one of the most industrious pioneer families in BC history.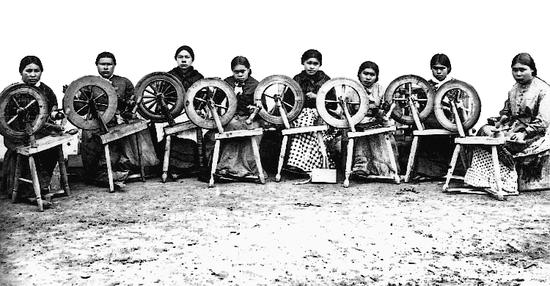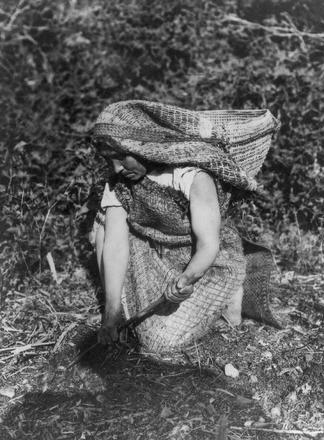 Women like those who came to Fort Rupert more than 150 years ago were no strangers to work, of course. Nor were the women who already occupied the landscape. Helen Meilleur, whose poignant memoir of Fort Simpson, A Pour of Rain, opens a window on the lives lived in and around the coastal fur trade forts, recounts the burden of being a wife in that male-dominated society. "She loaded and unloaded his canoe, cleaned the fish he caught, skinned the animals he trapped, made gear and clothing and mats and baskets she carried," Meilleur wrote of one aboriginal woman she observed as a girl. "She carried home firewood from distances of two miles; she carried baskets and cedar mat rolls full of possessions and cedar boxes full of food," she noted of her childhood observations at the dawn of the last century.
"She rules through the affections. . ."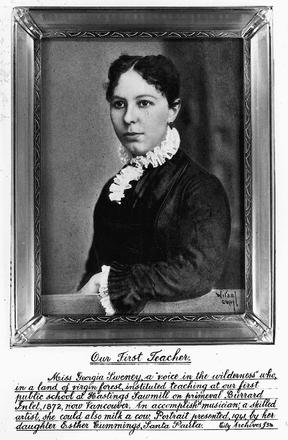 Female teachers, as a rule, possess greater aptitude for communicating knowledge, and are usually better disciplinarians, especially among young children, than males. Woman's mission is pre-eminently that of an educator. Her softening, refining, and elevating influence contributes largely to the success in the classroom. Patient and painstaking, she rules through the affections, her authority being thus based upon love, this trait of character is reciprocated by those with whom she comes in contact.
—John Jessop, Second Annual Report on Public Schools, (quoted in Their Own History: Women's Contribution to the Labour Movement of British Columbia by Betty Griffin and Susan Lockhart, United Fishermen and Allied Workers' Union/CAW Seniors Club, 2002)
And yet, perhaps the perception that things were harder for aboriginal women than they were for the wives of Europeans of the period reflects a cultural bias. Scholar James Axtell, in his study Natives and Newcomers: The Cultural Origins of North America, notes that one of the repressed social problems of the colonial period was that many "white" women captured or rescued by Natives came to prefer their new life and resisted returning to so-called civilization. "The great majority of white Indians left no explanation for their choice," he writes. "Forgetting their original language and their past, they simply disappeared into their adopted society. But those captives who returned to write narratives of their experiences left several clues to the motives of those who chose to stay behind.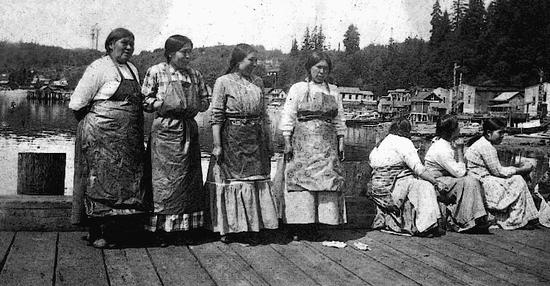 "They stayed because they found Indian life to possess a strong sense of community, abundant love, and uncommon integrity—values the English colonists also honored, if less successfully. But Indian life was attractive for other values—for social equality, mobility, adventure and, as two adult converts acknowledged, 'the most perfect freedom, the ease of living and the absence of those cares and corroding solicitudes which so often prevail with us'."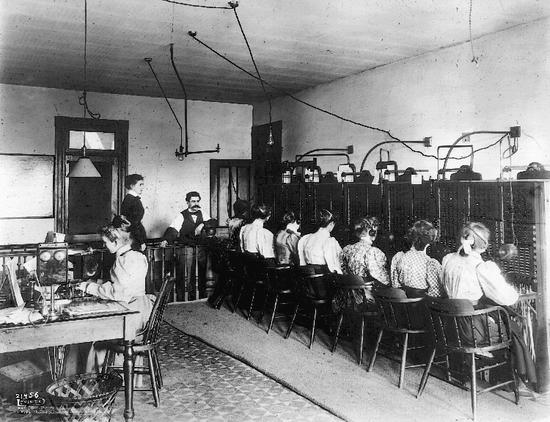 It can also be argued that the crucial moment in 1850 when some strong Scottish women at Fort Rupert defied the powerful Hudson's Bay Company marked a sea change in the role of women at work for both Natives and non-Natives. Pioneer women of all ethnic backgrounds ran ranches, carried the mail, bore children in the bush, hauled freight and shot game for the table as a matter of course, but by 1911 more than 6,000 women in BC—about one in five—had made the transition from subsistence economics to the wage economy and formally entered the workforce. This shift in labour and economics proved to be the early harbinger of a series of changes, later accelerated by two world wars, that would utterly change the structure of British Columbian society and women's roles in it.
For Native women, the transition began when their labour became the assembly-line engine of the fish-processing business in canneries that sought to exploit huge salmon runs returning to remote rivers on the wild coast. At the time, these women were at the cutting edge of technology and mechanization. "Native women cleaned fish and filled cans amid clanking tinning machines, alongside steam vats and tray boilers, near conveyor and transmission belts, amid steam, and pipes, and foremen," observes Rolf Knight in Indians at Work: An Informal History of Native Labour in British Columbia, 1858–1930. "Those canneries may seem primitive by today's standards, but they were the industrialism of the resource frontier." Non-Native women were not far behind. Japanese, Chinese and European women soon moved into the canneries, too, part of a multicultural mosaic that those ignorant of history have come to believe a recent phenomenon.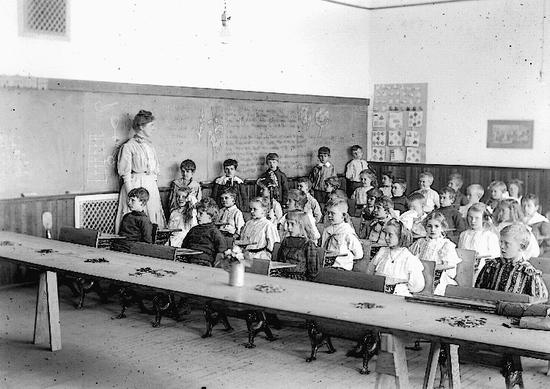 "A storm-tossed ship with a group of drunken miners. . ."
Mabel Blake came to Vancouver in 1913 armed with an English teaching certificate but had to wait until the following January before she found work at Minto on Vancouver Island. She had taught only a few days when a government replacement teacher arrived who had seniority over her. It was back to Vancouver on a storm-tossed ship with a group of drunken miners as fellow travellers. Another offer soon arrived, however, and she went off to Sand Creek School near Grand Forks, in the Kootenays. That fall she found herself in yet another school, this time in a Swedish logging community of five families at Hilltop, situated some 2,000 feet up from Fife, a whistle stop on the Kettle Valley Railway. The schoolhouse was a square building with a large classroom in front, while the teacher's bedroom and kitchen were at the back. Mabel taught all grades, including one or two beginners who had to learn English first.
At her next posting in Bridesville, she had to ride a horse to get to the school, going down a steep bank to the creek below, riding through the creek, then up another bank to the road. It was while teaching there that she met young Juliet Bell, a deaf student who changed her career. In order to help Juliet, Mabel decided to investigate what government programs were available for deaf children. She discovered that classes for the deaf were being held in Vancouver; by the following fall she had joined the staff at what was to become Jericho Hill School.
—from Women of British Columbia by Jan Gould, Hancock House, 1975
And the expansion of urban life around seats of government, seaports and resource industries created demand for domestic servants, nurses, teachers and the light manufacturing of garments among women of European, Asian and aboriginal descent. Later, women occupied positions as telephone operators and retail clerks. Some scholars suggest these women received shabby treatment from a sexist union movement that perceived them as a threat to male prerogatives. Some unionists even lobbied for government restriction of female access to the labour market. However, in December 1911, the labour newspaper The Federationist was arguing vigorously against such short-sighted folly and in favour of giving women the franchise. "Women are going to get the ballot," the paper warned. "They will have power to wield and whether they use it wisely or not depends upon how we educate them."
Indeed, women persevered and continued to fight for the very unions that sought to shunt them into unskilled, low-paying job ghettos. One such ghetto was the teaching profession. But it was here that what proved to be among the most transformative developments for women took shape. In 1872, a new Public Schools Act replaced the moribund system begun by the Hudson's Bay Company. Two years later, almost half the teachers in BC were women and they took their ideas of equality to the most remote reaches of the province.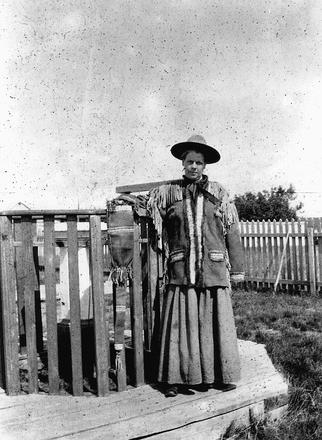 One of them was a spirited campaigner for equal rights for women who had been born in Victoria in 1863 and at the age of 27 became the first female high school teacher in BC. Four years later Agnes Deans Cameron was appointed the first female principal but was fired in 1906 for insisting that women deserved the same pay scales as men in the teaching profession. No quitter, she responded by working as a journalist and by trekking down the Mackenzie River with her niece in 1908, becoming the first woman to reach the Arctic by an overland route. Her book about this trip (The New North, 1910) became a literary sensation. When Cameron died suddenly of complications following surgery for appendicitis in 1912, the Victoria Daily Colonist (May 14, 1912) described her as "the most remarkable woman citizen of the province." She was 48.
By 1909 the tough, resourceful and resilient pioneer women of Cameron's generation had organized themselves into the Women's Educational Club. Betty Griffin and Susan Lockhart point out in Their Own History: Women's Contribution to the Labour Movement of British Columbia that from an early initiative of that organization arose the powerful BC Teachers' Federation, a social and political institution that still has a profound influence on public policy almost a century later. And it all began in Fort Rupert, where the angry pioneer wives of a handful of ill-treated coal miners said "Enough," faced down the bullying of a powerful colonial employer and ignited a women's movement that is still active today.
[Previous Chapter] [Next Chapter]