Chapter 9 - Elite Excess and Riff-Raff Reality
If many pioneers came to early British Columbia in flight from the stifling conventions and social stratification of Europe, others came intent on establishing the same society in the colonies—but with themselves on top. So, less than a decade after the union of Vancouver Island with the mainland, the colony had developed its own Upstairs-Downstairs class structure. At one end of the spectrum was a genteel life of high teas, debutantes, calling cards and fancy balls for gowned ladies and gentlemen in glittering military attire. At the other were the brothels and dance halls where another class of woman tried to survive in a world without safety nets, in a world in which women were not considered legal persons and had few property rights.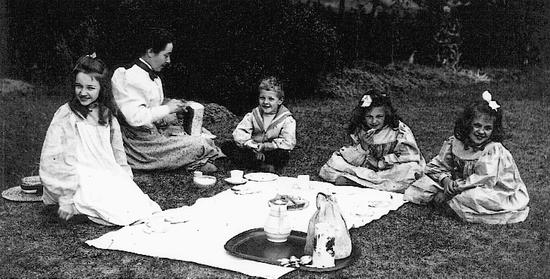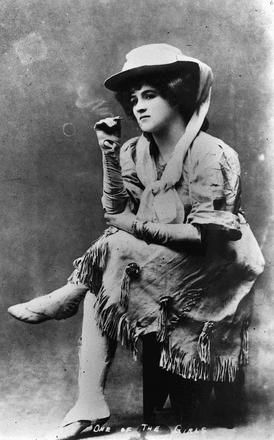 The Victoria police chief's report for 1886 says that in addition to a cruel traffic in female slaves by Natives and 100 women working in Chinatown, there were four brothels in the downtown run by European madams employing 38 women. These brothels were licensed by the city as "dance halls." One long-standing rumour, wrote the late historian Terry Reksten, who cited the police report, held that a passage connected some of these establishments to the exclusive Union Club. Nevertheless, a local newspaper drew an editorial bead on the dance halls as "sinks of iniquity and pollution" where "prostitution and kindred vices, in all their hideous deformity and disease in every form, lurk."
That was Downstairs. Upstairs, "society" women like Julia Trutch, polished wife of Lieutenant-Governor Joseph Trutch, her brilliant sister Caroline O'Reilly, wife of the province's commissioner of both gold and Indian reserves, and the elegant Sarah Crease, wife of Judge Henry Pering Pellew Crease who drafted most of the new province's first laws, were creating their own hothouse culture in Victoria. The snobs of this arriviste establishment now felt comfortable snubbing the likes of Amelia Douglas. The former governor's Cree wife seemed to prefer her social eclipse and a life of relative seclusion from the new social whirl. Reading the racist attitudes toward Natives and the social bigotry revealed in the Trutch correspondence, one can understand why she might have enjoyed her own company rather more than that of the new establishment. Small wonder that Robert Melrose, a working-class fellow at Craigflower Farm, should note wryly in his diary (held in the collection of the Provincial Archives of BC): "Great Ball held at Victoria, riff-raff excluded."
Yet many of these newly arrived pioneer women came from Irish and Scottish families that were themselves excluded from England's upper crust by similar ethnic prejudice. In BC, they suddenly found themselves enriched by cheap land, the torrent of wealth flowing from the gold camps, coal mines, sawmills and ranches and the new markets this wealth created.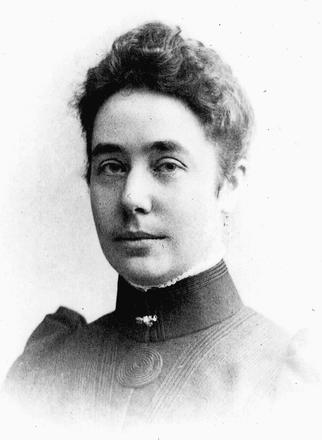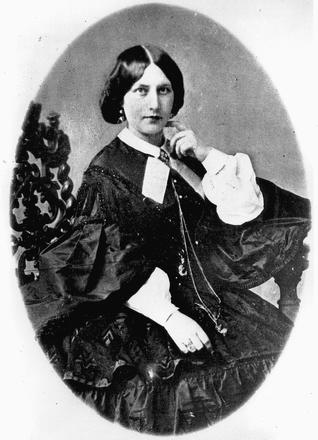 Downstairs
The Prostitutes: On the creek—nine in number—put on great airs. They dress in male attire and swagger through the saloons and mining camps with cigars or huge qwids of tobacco in their mouths, cursing and swearing and look like anything but the angels in petticoats heaven intended they should be.
Each has a revolver or bowie knife attached to her waist, and it is quite a common occurrence to see one or more women dressed in male attire playing poker in the saloons, or drinking whiskey at the bars. They are a degraded set, and all good men in the vicinity wish them hundreds of miles away.
—Victoria Daily Colonist, September 10, 1862, cited in Barkerville by Richard Thomas Wright, Winter Quarters Press, 1998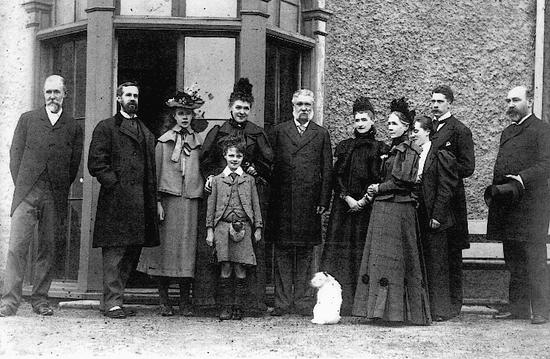 The evidence of a hunger for social status among the upwardly mobile middle class and the aspiring lesser gentry in exile is found both on the skyline of the capital's still exclusive Rocklands neighbourhood—and in the pretentious names settlers gave the new homes they carved from rain forest and rangeland. Joan Dunsmuir's husband, Robert, a coal baron who became BC's first millionaire and one of the wealthiest men in North America, built her a grandiose castle in Rocklands and named it "Craigdarroch."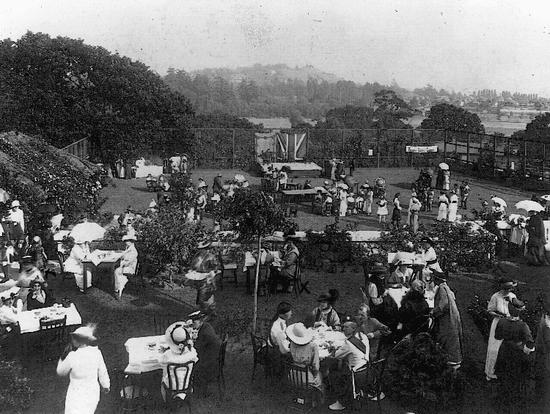 Captain Walter Colquhoun Grant built a great, curved carriage road to his log cabin at Sooke and named what visitors described as a shanty "Mullachard," after his ancestral home. Mary Ann Raby was living on a farm in Saanich when sailor William Thompson found her so irresistible he jumped ship, proposed marriage and, when she accepted, cleared 400 hectares, bought 19 pigs and named his new estate "Bannockburn." There was a Fairfield and a Fintry, a Trebatha and a Roslyn, a Regent's Park and an Armadale, an Erin Hall and a Pentrelew, a Cary Castle and a Hatley Castle—the last also built by the Dunsmuir family with clear instructions to architect Samuel Maclure: "Money doesn't matter, just build what I want." G.P.V. and Helen Akrigg argue convincingly in their British Columbia Chronicle that it was deliberate British colonial policy to "recreate on Vancouver Island the social structure of England, a stalwart squirearchy with the working class properly relegated to an inferior station."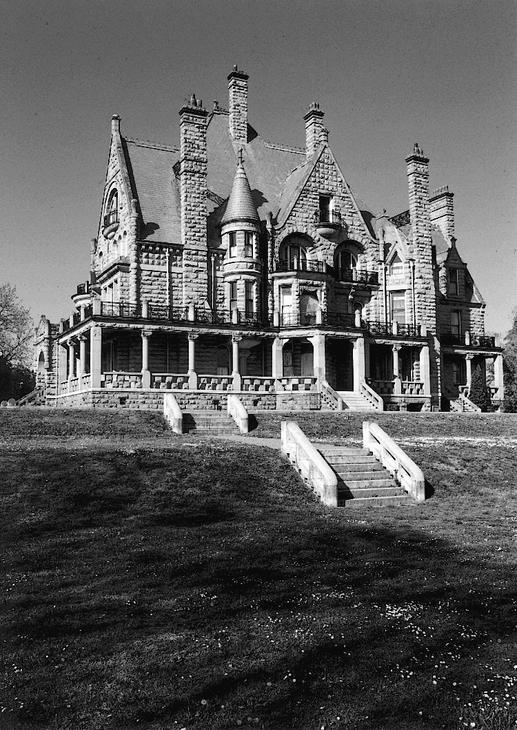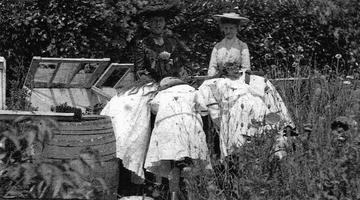 In addition to minor bureaucrats hoping to clamber up the colonial administration to acceptance in England, high society in Victoria was fuelled by an influx of second sons of landowners seeking their fortunes in the colonies, well-connected junior officers of the Royal Navy and adventurous spirits from the aristocracy who saw the new province as a place to experiment with scientific agriculture. For example, Isabel Gordon, the Countess of Aberdeen, settled with her husband on the Coldstream Ranch near Vernon in the Okanagan. Winifred Ashburnam set out for a 200-hectare homestead on Cowichan Lake that her husband had purchased sight unseen. And a member of the Bowes-Lyons—that's the late Queen Mother's family—is said to have wound up teaching music at Cowichan Station following an ill-starred love affair that earned disapproval at home. An urban gentry flourished around the seats of political power and commercial wealth in Victoria and later Vancouver, while a rural gentry took root in the pleasant landscapes of the Gulf Islands and the Okanagan, Cowichan, Comox and Kootenay valleys.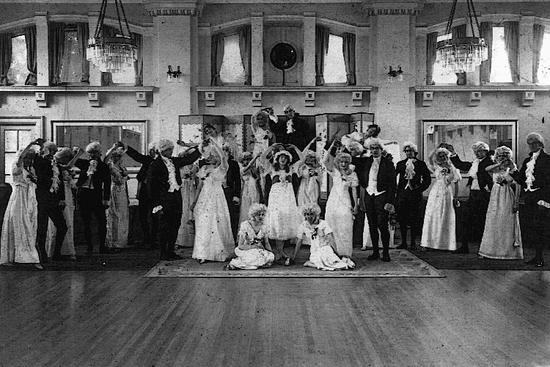 "Everybody came to the ball. . ."
We gave a ball to the fair ladies here; two of the men-of-war the Satellite and Plumper with ourselves, determined to join together and give a grand ball to the ladies of Vancouver Island. . . the only house we could find was the market place, a most dismal-looking place, enough to drive all thoughts of dancing out of ones head, however we got all the flags we could from the ships & turned in 30 or 40 sailors & in a short time a fairy palace of flags was erected, so that not a particle of the building was visible; we then rigged up some large chandeliers & sconces of bayonets and ramrods wreathed with evergreens which when lighted up produced a regular blaze of light & made it quite a fairy scene. We also got up a large supper room in the same style & managed to provide a first-rate supper. Everybody came to the ball from the governor downwards nearly 200 in all & we kept the dancing up with great spirit until half past three in the morning. Everybody was quite delighted with it & it goes by the name of "the Party" par excellence; nobody says ball in this part of the world, it is always party. The ladies were very nicely dressed & some of them danced very well, they would look much better if they would only learn to wear their crinoline properly, it is most lamentable to see the objects they make of themselves, some of the hoops being quite oval, whilst others had only one hoop rather high up, the remainder of the dress hanging down perpendicularly. . .
—quoted from Lieutenant Charles Wilson's journals of service. BC Archives MS-0368
But the heartland of the establishment remained the capital and south Vancouver Island. "San Francisco on the Solent," Emily Carr called it. Terry Reksten describes it as a peculiar hybrid of English social values and American brashness with a population that included English, Blacks, Chinese, Scots, Irish, Germans, Indians and Americans. The social scene was vigorous. For the ladies of the establishment, whether rural or urban, there were polo matches and regattas to attend, there were lawn tennis and croquet—and, of course, the round of balls, garden parties, soirees and levees where their daughters might meet the Royal Navy man with the right family connections in the Old Country. The Cowichan Valley Amateur Athletic Club, for example, boasted the best dance floor in BC. Three hundred or more could dance there and young women would row in from the Gulf Islands, waltz all night with officers from visiting warships and then row home as dawn broke.
For all the socializing, life was intensely focussed on the family. The O'Reillys perhaps best represent both their class and their time. Peter O'Reilly was Irish. He met Caroline at a dinner at the Trutches. She was described as extremely bright, vivacious and a seasoned world traveller. They were married on a snowy day in 1863 and soon had four children. But rank and privilege were no guarantee of protection from the perils that stalked everyone in an age before antibiotics and advanced medical care. Among the touching artifacts from the era held by the provincial archives is Caroline's frantic letter to Peter about the illness of their seven-year-old daughter, Mary Augusta. "My dearly beloved husband," she wrote on October 26, 1876. "I have left writing to the last hoping that I might be able to tell you that our darling is better. I grieve to say I am not able to say so with any certainty. I am in so much anxiety that I feel difficulty to write with calmness." Mary died November 6, 1976, and is buried in Victoria.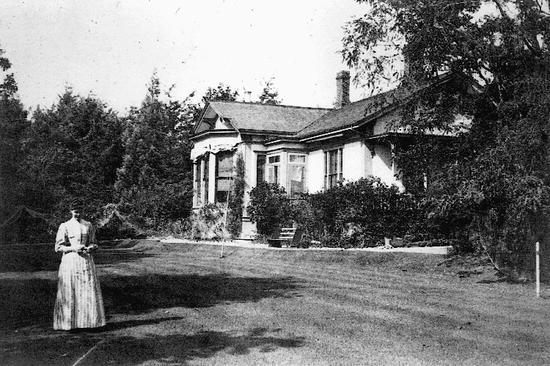 Like most upper-class families, the O'Reillys sent the kids, Frank, Kathleen and Jack, to good schools in England to be educated. When they returned, their home at Point Ellice House was already a hive of social activity for Victoria's elite and was where Prime Minister John A. Macdonald dined during his visit to BC in 1886. The O'Reilly household was also a hotbed of Victorian romance. Daughter Kathleen had blossomed into a stunning beauty. Among her suitors was Royal Navy Captain Robert Falcon Scott, who later led the doomed British dash to the South Pole in 1912. Another suitor was Lieutenant Commander Henry Scudamore Stanhope, heir to the Earldom of Chesterfield. But Kathleen spurned them both and never married. She died in 1945 at the age of 78.
Point Ellice House is a rambling structure on Victoria's Inner Harbour. It is now preserved as a museum where visitors may still take a strawberry cream tea in summer, play croquet on the lawns or walk the lovely gardens with the ghosts of Kathleen, the bold young Scott of the Antarctic, Sir John A. Macdonald, Julia Trutch, Caroline O'Reilly and the other forgotten women of the establishment.
There is, of course, no historic monument to the women consigned to the "dance halls."
[Previous Chapter] [Next Chapter]