6. Recreation on the Restorative Strait
Recreation on and by the sea was firmly established in European culture by the time settlers began arriving on the Strait. The world's first yacht club was started at Cork in Ireland in 1720, North America's first in New York City in 1844, and the Strait would have a couple before 1900. The settlers introduced competitive rowing as well. Events that had begun as races among rowers ferrying passengers on rivers had become popular sport by the mid-nineteenth century both in Britain and eastern North America, and the Strait also proved well suited to rowing races by the late nine-teenth century. Settlers brought the concept of a "sea cure" as well—bathing and other pastimes associated with cleansing, healing and rejuvenating the body that were often prescribed by Britain's eighteenth-century physicians. Whereas England's coastal dwellers had once turned their backs on the sea whenever they weren't working on it, by 1800 they understood it to be a font of physical, intellectual, social and cultural well-being and designed their seaside residences to take advantage of the views.
Recreation on the Strait was not often talked about in the first decades of colonisation, yet the inland sea was recognised early on as a good place for newcomers to restore themselves. The Great Britain Emigration Commission confirmed in 1859 that "no fevers or epidemics of any kind are known among the white populations" of Vancouver Island. An 1866 article in the Colonist—perhaps aimed at drumming up business for the steamships now advertising in the newspaper—encouraged readers to cruise along Vancouver Island's eastern shore. Such trips "for the sake of the scenery alone, would amply repay those having leisure [time off] from business."1 Those from the comfortable classes of Anglo-American society in Victoria began holidaying in the Comox Valley by the 1880s, attracted by its wealth of game and fish. And navigating the capricious tides and winds that had earlier drowned so many gold miners (chapter 1) became another kind of summer adventure for a privileged few who could now ply these waters with their own pleasure boats.
For settlers wanting to start over and make themselves anew far from the traditional Eurasian centres of civilisation, the Strait offered a chance for "re-creation." African-American settlers arriving on Saltspring Island in the late 1850s, for example, declared their determination "to seek an asylum in the land of strangers" so that they might "repose…under the genial laws of the Queen of the Christian Isles"2 rather than those of an oppressive American federation. People coming from afar could appreciate the spectacular coastal scenery and the opportunities for recreation, and by the 1870s, ship owners had become concerned about their sailors jumping ship to join the good life on Vancouver Island. When the Royal Navy's HMS Tribune put into a broad sand beach on Hornby Island, its crew leaped ashore to play polo, dig for clams and swim in the clear water. The captain and another Englishman later married local Indigenous women and pre-empted land around the Tribune's bay.
Into the 1880s, though, settlers' journals and letters from the Strait mainly talk of the hard work of fishing, logging, mining and farming. Many remarked on the good fishing and hunting but even these were still work for most people—a way to feed the family or earn a living. By the early twentieth century, however, those who prospered had begun to find time for outdoor leisure and recreation. For example, the diaries of the Pidcock family from the Comox Valley and Quadra Island began to talk less of the logs they'd hauled to the shore or the hundreds of salmon they'd caught and more about tennis, skating and angling in their spare time, which seemed to be increasing. Other families increasingly took advantage of opportunities to savour the sea's mild climate and exquisite scenery.
The Strait's largest southern islands—Saltspring, North and South Pender, Galiano, Mayne and Saturna—had been settled by 1900, mostly by middle- and upper-class Britons who valued their combination of fine weather and scenery, good fishing and hunting, and proximity to new settler towns. Adventurer Warburton Pike created a "gentleman's estate" on his Saturna Island property, which soon became a gathering place for well-heeled young Englishmen "equally at home with rifle, oyster fork or champagne glass."3 Even islanders of more modest means led lives of relative leisure; their elders in fact worried the lives of these young people might be too easy, failing to prepare young men, in particular, for life off the islands.
Land on these southern islands soon became valuable. Perhaps inspired by Captain Horatio Robertson, an "old China hand" who'd bought Moresby Island in 1888 and populated it with family and household servants who had accompanied him from China, others began to see the southern islands' potential for genteel retirement. A notice in the Colonist in 1893, for example, asked $2,000 for a mile and a half of beach property on Galiano. Obtained through pre-emption and "improved" through clearing some forest and building some fences a few years earlier, this land boasted "a splendid view of the pass and the Gulf of Georgia."4 A Seattle buyer posted an ad in 1903 seeking an island for sale in the southern Strait of Georgia. The damper islands farther north had mostly been pre-empted by settlers who were now farming, fishing, logging and mining, rather than seeking recreation, but even Denman and Cortes Islands had a few bush gentry before World War I.
The Colonist reported that farms were selling well in the southern islands by 1907. "Artisans" were buying some of them, but most buyers were "well to do people with a knowledge of farming."5 Wealthy retirees arrived with fortunes from the Yukon gold rush. Max Enke from Belgium brought in twenty Belgian labourers to work his 320-hectare estate on Galiano. The newspaper also regularly praised the "beautiful islands of the Gulf of Georgia…famed throughout the length and breadth of North America as rivalling the Thousand Islands of the St. Lawrence."6 And a series of articles by early BC writer Captain Clive Phillips-Wooley, a distant relative of Clive of India, confirmed that despite problems finding suitable help, the islands were thriving and already boasted "some of the most beautiful homes in the province." He noted the good steamship connections to the capital and the new Saanich railway, the twice-weekly mail service and the recent advent of gas-powered motor launches, which all contributed to the quality of island life. Telephone connections were also expected soon.
A couple of years after his effusive articles began to appear, the Colonist announced that Phillips-Wooley's own 250-hectare estate on Piers Island, at the north end of the Saanich Peninsula, was for sale. It was described as "a regular sun trap," with pheasants and grouse, salmon and clams: "a rare opportunity for one who is fond of fishing, shooting or boating." The following year the paper announced that this land—"one of the most desirable tracts…in the Strait of Georgia"—had been sold.7
Nearby D'Arcy Island, also located at the north end of the Saanich Peninsula, was populated involuntarily. It served as a leper colony for the City of Victoria starting in 1891. Victoria was then the landing port for immigrants from Asia, and when a handful of newly arrived Chinese were discovered to have leprosy, they were quarantined and then confined to D'Arcy Island indefinitely "to prevent the spread of this loathsome disease among the Asiatic population and its possible transmission to the whites."8 Quisisana Sanitorium was built in 1909 on the shores of Saanich Inlet and catered to more fortunate unfortunates including "post-operative cases, and those requiring change, rest and outdoor recreation [but not] tubercular or mental cases."9
As the Strait became more populated, some people chose to live away from the madding crowd. Early in the twentieth century, creative entrepreneurs described the Mainland shore north of Howe Sound—an area so isolated by impassable fjords that it resembled an archipelago—as the "Sunshine Coast," another place to restore oneself. Oral historian Imbert Orchard spoke of a family that sold its house in Ladysmith shortly before World War I and moved to the wilds of Jervis Inlet to restore the father's failed health. Others chose to buy summer cottages. A particularly North American "rest cure," the first cottages were typically near the Strait's largest towns—on Indian Arm, Howe Sound, Saanich Inlet and Gabriola Island—but accessible only by water. Many were built on the same shores where Indigenous people had until recently harvested clams, camas and fish every summer for centuries.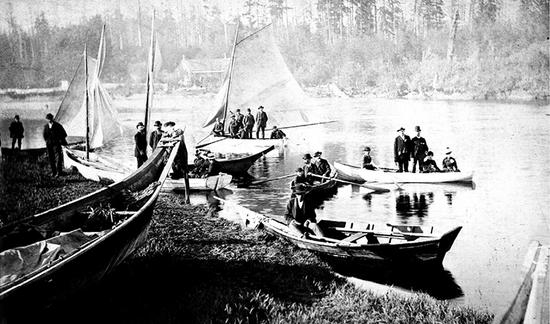 Along with recreational property came recreational activities, especially boating on the sea. Although many people used rowboats in their everyday work, these boats were also used for recreation (see photograph here). Workers on Burrard Inlet staged the first formal rowing races there in 1882,10 and within a decade the Burrard Inlet Rowing Club was formed. Club rowing races became major sporting events in the decade that followed, with the winners taking home hundreds of dollars in prizes. Recreational sailing was already popular around Vancouver by the mid-1880s; sailing races were being organised and heavily bet on during the summer the City of Vancouver was founded, in 1886. Victoria's first yacht club was founded in 1882; Nanaimo's and Vancouver's followed in 1897. By 1900, sailing yachts regularly explored the hidden corners of the inland sea, and races were staged from Vancouver to the north end of the Strait and back.
Alexander MacLaren, a local lumberman and founding member of the Vancouver Yacht Club, launched a 21-metre, 21-ton racing schooner made from local Douglas fir and yellow cedar. The Maple Leaf, as it was called, was a wonder of West Coast shipbuilding equipped with an auxiliary diesel motor and electricity. Others explored the inland sea in powerboats: the Colonist reported that Mrs. Joan Dunsmuir, widow of Vancouver Island magnate Robert Dunsmuir, was touring on the steam tug Lorne in the summer of 1906, a cruise that took her to "many of the beauty spots of the archipelago of the Gulf of Georgia."11
Recreational fishing and hunting also became more widespread around the Strait. Early Campbell River settler Frederick Nunn, still living on his pre-empted land, boasted of the splendid salmon fishing nearby in his letters to family in England. Victoria's merchants worried that the Strait's magnificent sport fishing—far better than in New Brunswick's famed salmon rivers, they insisted—was not being properly advertised. By the 1910s, federal fisheries authorities were under pressure to eliminate commercial fishing in Cowichan Bay, Saanich Inlet and other places that had become popular angling sites. Before the Powell River mill was built in 1912, hunting was so good on the Malaspina Peninsula that it seldom took visiting hunters more than an hour to kill a deer. However, officials in Victoria were already receiving complaints about overhunting, and Indigenous hunters were often identified as the culprits. By 1908, the province had commissioned a fast motor launch to help game wardens patrol hunting on the islands, and the Colonist encouraged it to appoint additional officers to help with the task.12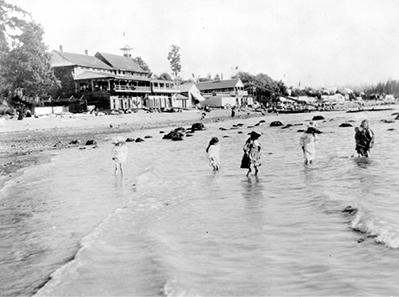 Improving land transportation helped make the Strait a tourist destination. Rail-ways carried locals and visitors to the best swimming beaches, where picnicking and camping became popular. A Canadian Pacific Railway employee working on the northern extension of the Esquimalt & Nanaimo (E&N) Railway on Vancouver Island was so impressed by the beach at Qualicum that he had the area subdivided into a number of 8-hectare lots. A few miles away, the Rath family developed a picnic site near Parksville that later became a favourite commercial campground. And summer camps began to emerge all around Howe Sound, organised for city children and designed to encourage healthy living by the sea while promoting Christian values.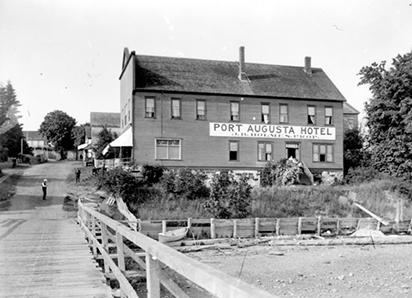 Parks were becoming attractive places to escape the stresses of town life. Vancouver's Stanley Park was established in 1887, the first substantial public park on the Strait. Although it mimicked the pastoral model of parks created in larger cities, Stanley Park was nonetheless defined by the sea around it. The park's sandy beaches and rocky cliffs became as much a draw as its flowers and trees. The city soon expanded its shoreline park space at Hastings Park on Burrard Inlet and around English Bay (see photograph here), but Stanley Park remained Vancouver's principal recreation area and "tourist destination." By 1913, when automobiles were finally allowed to enter, the park was receiving 50,000 visits a week at a time when Vancouver's population was not much over 100,000. Elsewhere on the Strait, James and Moresby islands, south of Saltspring, were sold to a local politician and a "wealthy Englishman,"13 respectively, in 1906, to be converted into private game parks.
Surprisingly from a contemporary perspective, travellers were drawn not only to the spectacular coastal beauty and the fishing and hunting but also to the raw power of the Strait's frenetic extractive industries (chapters 3 and 4). Tours of the inland sea advertised it as "one of the most delightful parts of the world…in the sense of natural beauty, wildness and healthfulness" while including visits to logging sites and the bustling mining town of Vananda on Texada Island. The Colonist described Nanaimo as "the Black Diamond City" for its role at the centre of the Strait's booming coal industry but also as "a beautiful summer resort…overlooking the picturesque Gulf of Georgia."14 The journalists suggested that these contrasts enhanced the appeal of the Strait's working towns.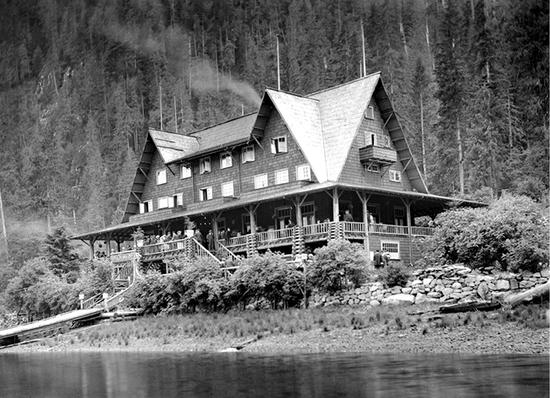 Travellers needed places to stay, and they were offered shelter in a growing collection of hotels (see photographs here and here) around the Strait. For decades, Mayne Island had been a convenient place to stop for a drink and perhaps to camp overnight when travelling between the Mainland and Vancouver Island. In the 1890s it boasted the Point Comfort hotel, which promised respite:
"

The Right Place for Spending a Summer Holiday Pleasantly and Well—Scenery, Accommodation, Hunting, Fishing—Everything to Make Visitors Happy…Greatly needed in the Province of British Columbia heretofore has been some comfortable and quiet resort where the business man in search of needed rest from his many cares, could, without being too far removed from his office, find pleasant means of recuperation. The tourist too, wearied with long journeys, often sighs for some picturesque spot where the bustle and roar of civilisation are left behind and its comforts alone remain…a virtual sportsman's paradise…fishing…hunting…white sand beach…with a wharf being built so passing steamers can stop at the hotel on every trip…15

"
Elsewhere, Parksville's Seaview Hotel opened next to the beach in the late 1880s and Comox had three hotels near the dock by the 1890s. The Thulin brothers operated a hotel at Lund, north of Powell River, by the early 1890s and they opened another in Campbell River a few years later, announcing: "Sportsmen will find…the best HUNTING and FISHING."16 Bowen Island's Howe Sound Hotel, its first tourist establishment, opened just south of Hood Point in 1895 and catered to an eclectic mix of loggers, boaters and "wealthy foreigners." By the following decade, the Cates family had opened the Hotel Monaco on Bowen, offering meals, lodging and their own private park complete with a lagoon, Japanese tea garden, dance pavilion and telephone link to the city.
In the heady days before World War I, all these new parks, cottages, camping beaches, excursion boats and hotels attested to the Strait as a place to restore oneself, escape the pressures of work and regain one's health. In a short story by T.L. Grahame published in the Colonist in 1903, a man from Toronto, employed in Vancouver and vacationing on the shore of what he calls "Gabriano Island," waxes lyrical about the sea:
"

It was a gorgeous riot of colour indescribable, making all the waters over by Howe Sound like autumn peaches on autumn leaves of maple…I stood there breathing my fill of that exquisite panorama. The Gulf lay like a vast mirror of beryl, the young sunbeams flashing joyously from its vast expanse…Texada's purple sierra sharply cut the tender azure of the northern skyline…The air was of that indescribably delicious freshness which comes when sea and mountain mingle their fresh breaths. So there I was, in Nature's very temple, exulting in form and colour and feeling…unashamed to cry in the ecstasy of the moment.17

"
The charmed vacationer then dives in, only to be enveloped in the tentacles of a giant Pacific octopus. Assuring us that he is a big, strong and virtuous Briton, the man also admits to being scared to death. In his tale, then, is the mix of joy and fear that is common to so many views of the Strait. One might see his underwater monster as the threat of losing the Strait as a restorative recreational space, a narrative that would become far more familiar after 1945.
Recreation continued to evolve despite—and partly because of—the grave challenges of the interwar years. More than ever the inland sea offered diversion, now from the grim reality of the wars and the Depression, and a sanctuary from the cities and the industries of the Strait and beyond. And there were now many ways to get to and around the inland sea. The E&N Railway, for example, ran up the coast of Vancouver Island all the way to Courtenay by 1914, stimulating a diverse mix of recreation and tourism there. The Pacific Great Eastern Railway (PGE) hadn't yet overcome the challenging cliffs of Howe Sound, but by 1920 it extended south from the interior of BC to the head of the sound at Squamish and north from Vancouver Harbour to the mouth of the sound at Horseshoe Bay. Both lines supported growing recreation on the water in between. New highways first supplemented and then increasingly replaced the railways (chapter 1). The PGE ended its service from North Vancouver to the beaches of Whytecliff and Horseshoe Bay in the late 1920s, for example, when buses took their place. From these shoreline communities, excursion boats took visitors on day trips to neighbouring Bowen Island. Others crossed the Strait from Vancouver to Newcastle Island near Nanaimo or up Burrard Inlet into Indian Arm. Recreational automobile traffic to the North Shore later increased when the Lions Gate Bridge was built across the First Narrows in 1937. Drivers could now easily reach a Union Steamship Company (USC) resort at Whytecliff, rent cottages there or take a passenger ferry over to Bowen Island.
Steamship companies like USC helped develop tourism on Savary, Hornby and Cortes Islands, corners of the northern Strait until then seldom visited by settlers, except to log. USC also promoted its hotels and guest cottages on the Sechelt Peninsula, which in the 1930s it began to call the Gulf Coast Riviera. Although people complained in private about the forest fire–induced haze over the Strait in summer and the stench of pulp mills, fish plants and sewage outfalls, not much conflict arose between recreational and industrial activities. And little was said about the aesthetic impacts of rampant deforestation of the shoreline around the sea. Complaints and silences about such things were remarkably similar in the otherwise very different diaries of the Pidcock family of Courtenay and Quathiaski Cove, and Francis John Barrow of Victoria. The pressures of global conflict and a deep economic malaise weighed more heavily on many people's minds than deforestation or the smell of rotten eggs.
Prosperous locals with the means to travel the inland sea found "their" Strait was increasingly being enjoyed by well-heeled fellow travellers, especially rich Americans. For example, Barrow and his partner spent their summers through the 1930s on extended cruises around the northern Strait and beyond, searching for petroglyphs, filming life and work on the sea, and thoroughly enjoying themselves. The Barrows, like writer M. Wylie Blanchet, who recorded her family's summer wanderings around the sea in a small cruiser in the same decade, viewed wealthy American boaters as unwelcome intruders threatening their idyllic summer sea. In fact more people were beginning to join them on the sea (see photograph here), though not that many were American. Vancouver's yacht club thrived in these years; the club's move to a new dock on English Bay in 1927 was followed by years of growth. More club members operated powerboats than sailboats, while many larger sailing craft began to carry auxiliary motors; these changes eased access to all corners of the Strait.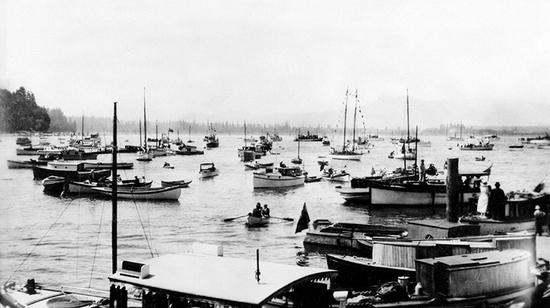 The Strait's fame spread among the international elite, and the inland sea came to be known across much of the English-speaking world. Beaches at the mouth of the Englishman and Qualicum Rivers on Vancouver Island were particularly favoured. After the railway arrived there in 1914, Qualicum Beach became a resort town. Monied celebrities from the King of Siam to writer Edgar Rice Burroughs to actors Errol Flynn and Shirley Temple stayed at the Qualicum Beach Hotel. The Hornby Island Lodge and the Royal Savary Hotel opened during the interwar years, as did another exclusive lodge on the Twin Islands off Cortes in 1939. Qualicum also began to nurture a colony of genteel retirees, and by 1943 a quarter of its population was over the age of fifty-five. In nearby Parksville, Matthew Beattie sought "a tranquil retirement retreat" after a lucrative career in the Far East. He built the Newbie Lodge in 1920 on land purchased from his father-in-law, a settler named Gibbs. The Beatties' gracious home then became a social hub for the area's remittance men, retired soldiers and colonial administrators. The Beatties lost their fortune and their dream home after the Wall Street collapse of 1929.
The islands, too, were popular with retirees. In 1920 General "One Arm" Sutton, a well-heeled British retiree from a life in China, bought Portland Island at the south end of Saltspring Island. An American named Fred Lewis established his domain over nearby Coal Island in the 1930s, "with a fleet of boats, a modern machine shop, wharves, roads, houses and a productive farm." By the 1940s, a visitor characterised the southern islands as being "without visible means of support," a place where "the main industry was undoubtedly the cashing of pension cheques and dividends."18 A North Pender resident in those years suggested the place be renamed Pensioner Island. By most accounts, the islands were "fine places to live but poor places to make a living."19
For many people, both prosperous and of more modest means, the Strait was a refuge to restore themselves and, in some cases, to start again. Barrow described numerous encounters with often eccentric and always intensely individualistic folk in hidden corners of the northern sea. Many were also deeply wounded, and the seclusion of these places and their reputation for a healthy lifestyle drew those escaping the strife-ridden world beyond. For example, a Captain Waard and his family attracted much attention when they crossed the Pacific from Shanghai to Victoria in a small junk in the early 1920s; explaining their need to escape the chaos in China, they settled on Galiano.
The provincial government, again animated by a myth of agricultural settlement, also made land available at Merville, north of Courtenay, for soldiers returning from World War I. The aim was to give veterans a chance to work in a healthy environment and restore themselves after the nightmares of the Western Front, but the land in these "soldier settlements" was poor. Most farms were soon abandoned, though veterans could make a living fishing and lumbering.20 Writer Hubert Evans, a recovering veteran, published a short autobiographical novel in 1927 entitled The New Front Line that described what it was like to wash ashore on the Strait at that time.
For those seeking spiritual restoration, the Strait offered many options. In Quadra Island, Jeanette Taylor describes Read Island in the interwar years as "a haven for people seeking religious and personal freedom." By the 1920s the island, located east of Quadra Island in the northern Strait, had hosted "so many different kinds of religion…that it was hard to find a suitable day for community celebrations." The Hamilton family, meanwhile, chose Saltspring Island for its "Spiritualist Camp" in 1940, because it offered a "peaceful, restful detachment from materialism."21 Among the more colourful characters was Edward Wilson—better known as Brother XII—and his Aquarian Foundation. The English-born accountant from Victoria had spent much time exploring the shores of the inland sea in small boats and contemplating world religions. In 1920 he founded a spiritual community at Cedar-by-the-Sea near Nanaimo, on a beach that had once been a meeting place for the Cowichan people.
As Brother XII, Wilson declared himself Earth's representative of a supernatural order known as Chila that encompassed eleven other domains floating in the "Outer World." Together with his partner, Madame Zee, Brother XII created a syncretic cult based on elements of ancient Egyptian religion, Buddhism, astrology and theosophy that promised "a wondrous land," "a place by the sea…[with] trees around it" where followers could eliminate greed and evil from the world. It would also, Brother XII explained, "usher in a new dispensation, a new sub-race to make way for the return of the Messenger…around 1975."22 The Aquarian Foundation's doctrine of impending doom and reincarnation was implausibly appealing to many people at the time; it had attracted eight thousand followers worldwide by 1927, many of them rich Americans disenchanted with the materialism of their age.
As the contributions poured in, Brother XII and Madame Zee converted the money into gold bars in Nanaimo. But accusations of financial misbehaviour in 1929 forced the pair to move their operation to nearby De Courcy Island, where a visitor to their island home remembered years later "the exquisite loveliness of the ceremonial scene: In the centre of a clearing, lit by the moon a huge fire…Near this was a sort of rock altar behind which Brother XII stood in long blue robes embroidered in gold…against background sounds of the sea breaking upon the rocky shore."23 Hounded by further criminal charges, however, Brother XII and Madame Zee disappeared in 1933 and were never seen again on the Strait.
Not all religious groups around the inland sea were attracted by religious freedom or spiritual growth, though. In the early 1930s, over 600 Doukhobors from the BC interior who had been convicted of parading naked were imprisoned by the federal government on Piers Island, the erstwhile "sun trap" of Clive Phillips-Wooley. A barbed-wire fence divided the island, with female prisoners on one side and male prisoners on the other. Although this experiment in penal isolation lasted only two years, the idea of rehabilitating the sect on the Strait reappeared again briefly in the late 1950s (chapter 1).
The idea of recreation on the Strait was firmly established by the 1930s. Instead of seeing tourism simply as a means of promoting the province's resource industries, Victoria—as many people and companies around the sea already did—began to see it as an important economic activity in its own right. As primary resource wealth shrank in small shoreline communities, many of them pursued seasonal tourism. In Sechelt, for example, the summer hotel business thrived around the docks. The Union Steamship Company and other resort owners provided visitors to Bowen Island and Sechelt with their choice of a hotel room or a cottage, and on Bowen, the USC also offered tennis courts, picnicking grounds, a putting green, a lawn bowling green, hiking trails, horses and ponies for riding, and outdoor concerts.
Privately owned summer cottages spread farther around the Strait. Savary Island became one of the coast's more popular summer colonies in the 1920s with hundreds of cottages lining its white sand beaches. The local real-estate agent greeted visitors at the USC dock dressed in a grass skirt and lei. A summer colony of schoolteachers grew up in the mid-1920s on Texada's Gillies Bay, while Keats Island hosted a collection of Baptist cottages. More sedate cottaging developed by Qualicum's broad beach, where two provincial lieutenant governors, the mayor of Vancouver, four judges and forestry magnate H.R. MacMillan all had summer homes by the 1930s. Cottages also continued to proliferate closer to cities, at Crescent Beach, Point Roberts and White Rock on the Mainland (see photograph here), and on the Saanich Peninsula and at Maple Bay on Vancouver Island. These places could easily be reached by train and, increasingly, automobile.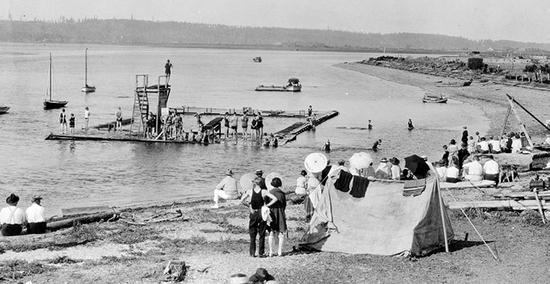 The less well-off had excursion boats. Publisher Howard White has written about the town of Sechelt in those years, swamped by factory and office workers pouring off these boats.24 The USC's Lady Alexandra carried up to 1,400 passengers on picnic and dancing tours to Bowen Island.25 The CPR's Princess ships offered cruises to a lively dance pavilion on Nanaimo's Newcastle Island. Earlier mined for coal then quarried for sandstone, the island had become a vast recreation site accommodating up to twelve thousand people at a time. The ships moored there became floating weekend hotels. So popular were these events that locals raced to the island early to beat the crowds arriving from Vancouver, and everyone danced far into the night.26 By 1931, the CPR also offered weekend trips aboard its steamships from Vancouver to Jervis Inlet, Powell River, Princess Louisa Inlet, Knight Inlet and the San Juan and Gulf Islands. And it ran "holiday excursions" linking Victoria, Seattle and Vancouver as well as various "cruises" between New Westminster and Nanaimo, Nanaimo and Bellingham, and many other combinations.27
Although tourist hotels, cottages and excursion boats were spreading around the Strait, these were also difficult years for many, especially after 1929. Francis John Barrow spoke of visiting a poor family on Cortes Island in 1933: "They said they had a very hard time last winter…They have not bought any clothes for five years but Mrs Roark showed us cushions she had made out of gunny sacks…We bought two pillow slips she had made out of flour sacks."28 Poorer families living in the city could apply for a subsidised place for their children in new church camps. The shores of Howe Sound hosted many of them, aiming to combine healthy summer fun with a good dose of spiritual instruction (see Figure 12 and photograph here).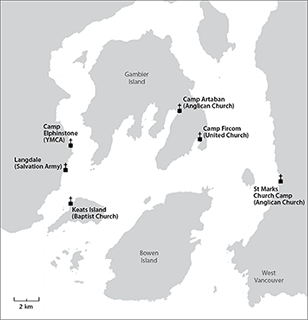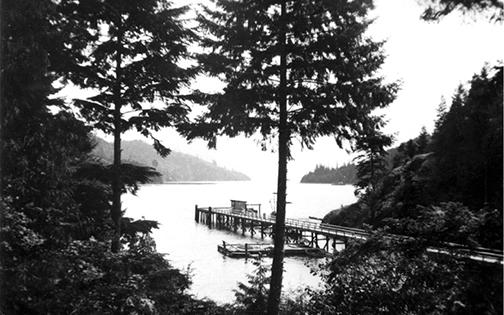 Parks offered more affordable access to the Strait. In 1911, Victoria had established Strathcona Provincial Park inland on central Vancouver Island, the first park in a provincial system it intended to grow. New parks were established at Englishman River Falls and Little Qualicum Falls near Parksville in 1940. However, like their predecessor, neither of these places was actually on the shores of the Strait. Initially they were used as campgrounds for unemployed young men rather than for recreation. Citizens in the Comox Valley pushed for a major park located on the seashore, proposing a stretch of beach near Oyster River south of Campbell River. Their initial goal was a national park, but their appeals stressing the area's spectacular sport fishing and freedom from pests of all kinds seemed more designed to engender envy than gain support in Ottawa.
Just before the start of World War II, Elma Pearse appealed to the province's lieutenant governor, Eric Hamber. She emphasised the need for a park at Oyster River for the province's children and noted that the sandy beach was "better than Qualicum…a children's paradise." She underscored the fact that it was also the "last large piece of sandy beach left on the east side of Vancouver Island [not yet privately owned]."29 And she pointed out that Canada had numerous national parks in the mountains, but few by the sea and none at all on the Strait. In the end, Ottawa declined to develop a national park at Oyster River, in part because with four national parks—including most of the "mountain parks" Pearse had mentioned—the province already had more than its fair share.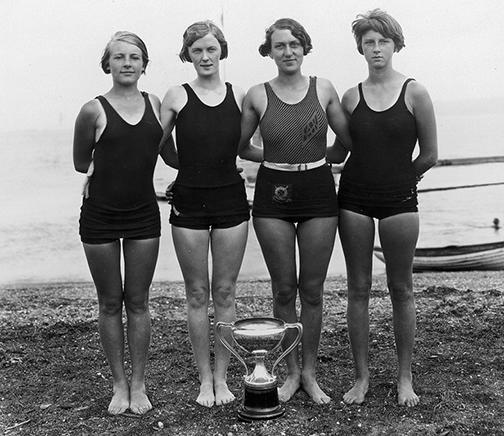 Although neither the federal government nor the province had yet designated parks along the Strait, municipal parks by the sea were becoming more numerous and were heavily used. Nanaimo's Newcastle Island Park received tens of thousands of visitors annually in the 1930s and Vancouver's Stanley Park remained the flagship of that city's growing park system. In 1917, alarmed over shoreline erosion around the park, the city began to build a corniche, or "seawall" promenade, around the periphery. Two years later, the main road through the park began experiencing its first weekend traffic jams.
English Bay was the city's most crowded beach, and the Vancouver Parks Board was gradually gaining control over the waterfront around it. The Parks Board vigorously opposed plans to expropriate Squamish reserve land for new construction south of the Burrard Bridge, and the city eventually developed parks there instead. It also inherited more beach park at Locarno and Spanish Banks on the south side of Burrard Inlet when Vancouver absorbed the Municipality of Point Grey in 1929. Mostly these urban beach parks were used for swimming (see photograph here), and to meet growing demand a new concrete bathhouse replaced the original wooden one on English Bay. North America's largest saltwater swimming pool opened at Kitsilano Beach in 1930. Other forms of recreation blossomed on the beaches as well. For example, the annual English Bay Carnival started in 1937, evolving into the Vancouver Sea Festival.
Until World War II, Indigenous people remained largely absent from the stories about these recreation spots and from the recreation that took place there. In a 1944 report, the Vancouver Parks Board mentioned an Indigenous past in its parks for the first time. It explained that archaeologists excavating the Great Fraser Midden, a Musqueam village and burial site unearthed earlier in the city's Marpole neighbourhood, had revealed that Indigenous people inhabited the coast of BC perhaps as much as three thousand years ago. "For numberless generations," stated the report, "tribes of these Indians made homes at Snauq and Eyalmu on the southern shore of English Bay, as well as at Whoi Whoi, where Lumberman's Arch now stands, in Stanley Park." Then, explained the Parks Board rather disingenuously, as the city grew up and became "too noisy for Indians," they looked for somewhere else to live.30
This kind of growing awareness was also reflected in the use of Indigenous motifs in promotional material aimed at tourists. Summer adventurers such as Francis John Barrow sought out petroglyphs, "Indian graveyards" and coffins suspended in trees by certain Indigenous groups. But these were beyond the recreational experience of most people. Increasingly, as such sites around the Strait were exhausted of their artifacts, the searchers had to move farther north. Some Indian reserves leased low-cost waterfront land to settlers for cottages. But relations with Indigenous people were still uneasy, especially among recreational anglers, who grew more upset about what they considered "Indians' wasteful fishing practices" and the effect they believed these were having on dwindling stocks of Chinook and Coho salmon (chapters 2 and 4).
Fishing had become one of the most important recreational activities on the inland sea, and visitors to the province were attracted by the Strait's reputation for salmon fishing. A cadre of nature writers with substantial national and international readerships, including Hamilton Mack Laing in Comox, Francis Dickey on Quadra Island and Roderick Haig-Brown in Campbell River, published widely in those years and extolled the virtues of hunting and fishing, especially, around the Strait. The USC's tourist brochures, first published during World War I, also spread the word. "North by West in the Sunlight" described tours "to give knowledge to the outside world regarding the beauties, grandeurs and sport potentialities of the coast of BC." "Fin, Feather and Fur on the British Columbia Coast" spoke to a war-weary population and offered "a much-needed vacation" before informing readers of the USC's network of coastal resorts.31 By World War II, the province was also throwing its weight behind tourism and its promotions helped draw an estimated 1.7 million American tourists during the war years, most of them to the shores of the Strait.
As tourism grew, so did a community of wildlife conservationists, especially on the western shore of the Strait. Attracted by the Comox Valley's gentle climate, beauty and profusion of wildlife, artist Allan Brooks moved to the area and persuaded his hunting companions and fellow birdwatchers Ronald Macdonald Stewart and Hamilton Mack Laing to join him in this "very birdy place." Stewart arrived first, in 1908, initially working as a farmer and later as a game warden. He became Mack Laing's mentor in the woods when the latter settled on Comox Harbour in the early 1920s after studying art at Brooklyn's Pratt Institute. Brooks was a successful artist, and his wildlife paintings appeared in National Geographic and other international publications in the 1930s. He also illustrated American author Aldo Leopold's Game Management. The fourth member of the group, another birder neighbour on the beach, was a lawyer and one-time mayor of Courtenay named Theed Pearse. Pearse and his wife, Elma, became outspoken supporters of local conservation issues, and the couple's well-preserved forest land at the mouth of Black Creek eventually became the site of Miracle Beach Provincial Park.
Mack Laing (see photograph here) published hundreds of articles over several decades, becoming the best known of the Comox group and its unofficial spokesman. His writing revealed a complex relationship with the natural world. "Yes," he wrote at one point, "I am dippy over trees—beautiful, useful, wonderful creations."32 He and Stewart also devoted much of their lives to bird collecting. Both men collected thousands of specimens, which sometimes led to conflict with neighbour and birdwatcher Theed Pearse, who believed wildlife ought to be left intact in its natural setting; Brooks, however, was happy to use the collectors' specimens as models for his paintings. In fact, Mack Laing saw himself unequivocally as a part of nature and made no attempt to be impartial about his fellow creatures. As well as shooting thousands of birds for his collection, he regularly killed deer, raccoons and rodents that threatened his well-being. He harboured a visceral hatred for species that preyed on animals he loved to hunt, fish or observe. He had an especially jaundiced view of the "blackfish" (Orca), which fed on so much marine life in the Strait. Bald eagles and domestic cats he considered "bird killers" and shot them on sight.33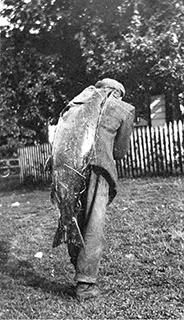 None of the Comox Valley naturalists were wealthy, but they lived rich lives close to nature in a place they had chosen. Despite doctrinal differences with the American philosopher Henry David Thoreau, Mack Laing saw himself as a "back-to-the-lander" and his Baybrook farm on Comox Harbour as his Walden. He bemoaned the contemporary youth he saw "streaming headlong into the yawning gape of that vast monster we call the Industrial Machine."34 Ultimately his writings laid the groundwork for a younger generation, including Francis Dickey and Haig-Brown, who lived a few miles farther north along the shore.
Recreation on the Strait offered sanctuary from the grim realities of war and economic collapse that dominated much of this period. Things were about to change dramatically, and recreation on the Strait would become more important still.
Recreation became firmly established as an important part of the Strait's culture and economy during the post-war decades as incomes rose, technologies evolved and people found themselves with more leisure time. However, the elaborate network of dance cruises, dance pavilions, seashore hotels and cottages linked by steamships that had grown up around the Strait by 1940 was soon to disappear as highways, automobiles and ferries proliferated. Local historian Barry Broadfoot suggested that when Bowen Island reached peak popularity right after the war, it was probably "the most used resort in Canada other than Toronto's Centre Islands." In 1946, the USC recorded over 100,000 round trips between Vancouver and its Bowen Island playground, mostly in summer. It was a remarkable number given that Vancouver had a population of 365,000.
In 1947, the USC was still heavily advertising its Bowen property, describing it as "a pleasure garden" and "a wonder of scenic charm" on "the happy isle." Yet mass recreation on the island was declining rapidly and this decline would prove terminal. The USC took its Bowen-bound ships out of service in the early 1950s, closed its hotel for good in 1957 and sold off its cottages, many of which were barged to other locations on the Mainland coast. "The idea of a boat ride, a picnic basket on the lawn and splashing in the ocean," Broadfoot concluded, had become "just a little passé."35 Post-war citizens travelling in cars on a rapidly growing highway network now had a broader range of recreational opportunities to choose from.
As ferries were increasingly used to move cars, more sedate forms of sea travel on local ships almost disappeared. By the mid-1950s all the landings from Williamsons, Hopkins and Gibsons to Vananda and Powell River could be reached from the Lower Mainland by car and ferry. No longer did people have to wait for the USC's scheduled rounds to reach these places along the Mainland shore. They could still sail on one of the CPR's luxurious Princess ferries from downtown Vancouver to downtown Nanaimo, but fewer people did and this service also disappeared by the mid-1970s.
For the most part, the types of recreational activities in vogue before and during the war continued afterwards, though often with far more participation. Sea kayak-ing became popular in the 1970s and windsurfing a decade later, but both were variations on older themes rather than entirely new pastimes. Scuba diving was more novel; in the 1950s the first recreational divers started exploring the depths with new artificial breathing apparatuses in clear, protected waters like Howe Sound. Undersea diving was relatively complex, physically demanding and expensive, and the sport was limited to a small number of practitioners. However, their new perspective on the marine environment and growing awareness of the underwater world helped not only to stimulate the development of marine parks but also to bring attention to pollution below the water's surface. The renowned French undersea explorer Jacques Cousteau, for example, robustly condemned the Strait's pulp mills in the early 1970s (chapter 5). By the end of that decade, the Underwater Archaeological Society of British Columbia had identified a number of "underwater heritage sites" in need of "conservation and development." The many shipwrecks littering the sea floor, vestiges of earlier marine transport disasters (chapter 1), were being billed as repositories of the Strait's settler culture and novel recreation sites. Among the sites designated were the SS Zephyr, lost off Mayne Island in 1872; the SS Chehalis, sunk off Brockton Point in Vancouver in 1906; the SS Iroquois, wrecked near Sidney in 1911 (already a provincial heritage site) and the SS Capilano, lost off Savary Island in 1915.
The post-war era also brought efforts to convert some of the Strait's more polluted shoreline industrial sites into a series of parks and residential neighbourhoods. Parks Board commissioner Joseph Malkin envisioned a twenty-five-year project converting Vancouver's False Creek into a single marine park with public marinas, a seawall, a bird sanctuary and a rowing course. He proposed dredging the basin and making it safe for swimming by rerouting its many sewage outfalls. In the early 1970s the city embarked on a more modest version of Malkin's vision. False Creek's seawall, constructed between 1973 and 1988, gave the city a seaside promenade stretching over 25 kilometres. New marinas, parks and residential developments replaced old industries, though water quality remained a problem and the city still advised against "unnecessary" contact with it.36
Perhaps the biggest change during the post-war era was the rising tensions that such tremendous growth in recreation had created. Industries in particular found themselves increasingly at odds with those using the inland sea for pleasure. By the early 1970s, the Strait was being described as a "veritable Pandora's box of diversified recreational opportunity."37 Yet again, conflicting visions and people's fears of losing "their" Strait were surfacing.
Recreation and conflicts on the water
Recreational boating (see photographs here and here) grew very rapidly after World War II. In 1949, for example, the Vancouver Parks Board reported receipts of $4,394.75 from the rental of 564 rowboats and 2,838 dories powered by inboard motors—over three times the earnings in 1945. Another 300 inboard-powered dories were available for rent on the North Shore, where 500 more were privately owned. The introduction of these small inboard-powered boats was leading to rapid growth in the rental business. The North Shore Boat Rental Association boasted in 1948 that its members were giving "the average working man a chance to fish at a cost which is not prohibitive." At the same time, it complained of Ottawa's attempts to impose new safety standards on these "glorified rowboats," most of which were around 4 metres long and powered by a motor under 2 horsepower with a maximum speed of 8 kilometres per hour. As long as renters heeded warnings to avoid the dangerous tidal rips at First Narrows on Burrard Inlet, they were generally okay. Three boaters didn't and drowned there in 1948.38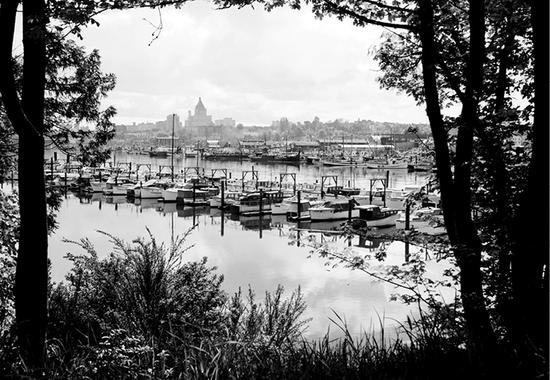 By 1966, an estimated 72,000 pleasure craft were operating around the Strait, more than 50,000 of them in Greater Vancouver. Overall numbers were projected to increase to over 100,000 by 1976. A later survey estimated that the number had reached 88,000 in 1973, which suggested the earlier projection was accurate. The same study found that 17.4 percent of households around the Strait owned one or more pleasure boats, though numbers varied greatly among communities, with the lowest rates of ownership in Vancouver and Victoria and the highest on the Mainland north of Howe Sound (see Table 8).
Table 8. Household ownership of recreational boats around the Strait, 197339

| Community | Percentage of households with one or more pleasure boats, 1973 |
| --- | --- |
| Greater Vancouver (excluding Delta, Surrey, White Rock) | 12.5 |
| Victoria | 17.1 |
| Powell River area (including Texada, Lasqueti, Harwood and Savary Islands) | 45.1 |
| Sechelt area | 41.5 |
| Gibsons area | 40.2 |
| Campbell River region (including Quadra Island) | 40.7 |
| Comox Valley (including Denman and Hornby Islands) | 36.3 |
| Parksville | 32.8 |
| Ladysmith | 31.3 |
| Duncan–Gulf Islands | 32.4 |
| Average in all communities surveyed on the Strait | 17.4 |
As the fleet of small craft grew, the proportion of motorised craft also increased. In 1966, a little over 60 percent of these boats were powered by inboard or outboard motors, about 6 percent by sail and the rest—about a third—by either oar or paddle. Another survey seven years later found that powerboats had risen to over 70 percent, sailboats to 10 percent, and human-powered craft accounted for less than 20 percent of the fleet. People indicated they would continue shifting to gas- or diesel-powered craft; over 90 percent of the boats they planned to buy that year would be motorised.
Also growing rapidly was the number of larger pleasure craft requiring a "wet berth" and moorage space. The sheltered waters of English Bay, Burrard Inlet and Saanich Inlet were the most popular boating sites, and all saw big increases in the facilities offered at adjacent marinas throughout these decades. In 1971 an estimated 13,000 small-craft berths were available around the Strait, most near Vancouver and Victoria. Projections by the mid-1970s suggested that 7,000 more berths would be needed by 1980 around Vancouver alone. Ottawa responded with plans to reduce commercial fishing wharves and other shore facilities in False Creek in order to add hundreds of new berths for pleasure craft to the 1,700 that already existed in the basin. The province, once again more ambivalent about marine issues, reserved a few patches of shoreline for small-boat moorage. By the 1970s, though, Victoria was developing a network of provincial marine parks largely for the use of boaters. Yacht clubs on the Strait, meanwhile, offered their members urban docks as well as safe moorage at a growing network of outstations around the inland sea. The boom in boating would continue into the 1980s, though it would not grow at the rate projected earlier.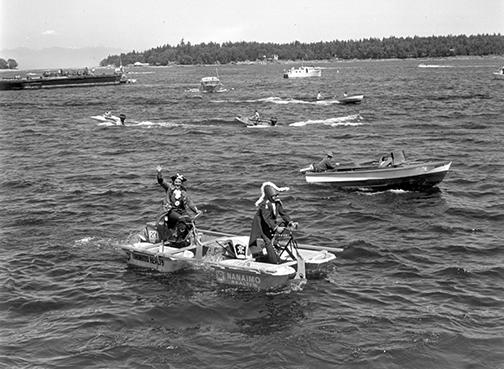 Many of the new boats carried sport fishermen, as interest in saltwater angling on the Strait also grew dramatically. Haig-Brown vigorously promoted this expanding sport fishery, declaring it an important component of the tourist industry and defending its claim to a greater share of the Strait's salmon. He confirmed, "A lot of people want to spend money on going fishing," adding, "It represents a consumer's choice and a consumer's demand…with the additional advantage that it also contributes to the physical health, the mental well-being and the spiritual character of the nation."40 In 1969 Haig-Brown announced that the Strait's sport fishery was probably the most valuable in the world, though he was short on hard numbers. Geographer Mary Barker estimated in a 1974 report for the federal government that Canadian sport fishers on the Strait were now spending 800,000 "recreation days" (a recreation day being one day spent on a recreational activity by one individual) to land over 750,000 Coho, Chinook and Pink salmon each year.
Recreation and conflicts on private and public lands
The network of children's summer camps that had earlier been concentrated around Howe Sound expanded after the wars, spreading along the Sechelt Peninsula in particular. In Sunshine Coast, Howard White would later describe the peninsula as "infested with summer camps" run by a range of NGOs, including the Boy Scouts, the Girl Guides "and every church in the phone book." Similarly, recreational cottaging boomed after World War II, mostly north of Vancouver and in the southern islands, as people around Vancouver and Victoria especially sought to get out of the city. Even the province's long-serving leader, W. A.C. Bennett, had a getaway on Saltspring Island by the 1960s.
By the mid-1970s, soaring prices reflected strong demand for shoreline recreational property around the Strait. In some places, like Tsawwassen and Departure Bay, recreational properties were replaced by suburbs and permanent homes. On islands near cities, including Bowen, Gabriola and Saltspring, the distinction between suburb and recreational property became fuzzier as ferry services improved. In 1963 an innovative developer even began running full-page ads in Calgary and Edmonton newspapers offering to reimburse the airfare of people who bought at least one cottage property on North Pender Island. Summer camps and cottages remained popular escapes into the 1980s, when recreational land prices slowed their vertiginous rise. Although many islanders now depended on the influx of "summer people" to keep the local economy afloat, many were also happy to see them leave at the end of August.
Promises of mild weather, a relaxed lifestyle and healthful recreation attracted growing numbers not just to visit but to live on the post-war Strait. On what writer Frederick Marsh christened the Leisure Islands of the southern Strait, people sought simpler lives surrounded by beauty and supported by art-loving communities that tolerated eccentricity. Except for a few tiny Indian reserves, these were very white communities. As Marsh described in the late 1940s, they were places for "the carpenter with tools and a little money, the small farmer, the amateur gardener, the fisherman, the business man with stomach ulcers, the pensioner, the lover of earth and sea who had found a distraught world too much for him." It was, he said, "an earthly heaven entirely surrounded by sea" where "a man and his family can be close to all that grows and walks and swims and flies." A Saltspring Islander explained to Marsh, "Most of us here believe there is still such a thing as an art of living…people need to relax, to stand off and look at themselves too. What is life without fun?"41
Many island forests and farmsteads were already being subdivided for sale by the end of the 1940s, mostly as retirement or recreational properties. This subdividing had become controversial by the 1960s, yet throughout these decades the southern islands retained much of their idyllic, sometimes sybaritic character. They remained a destination for seekers of a "better lifestyle"—for a few days or a few years or the rest of their lives—and provided the freedom to pursue interests outside the mainstream. Many writers and journalists, from Jean Howarth and David Conover to Bill Deverell, Audrey Thomas, Jane Rule and Bill Richardson, took up residence and explored the quirky, unconventional personalities of their islands.
Islands farther north—a little wetter, colder and more isolated—were still more sparsely populated in the first post-war decades and more devoted to the Strait's resource industries. They also began to change dramatically in the 1960s and '70s as they too became destinations for the escapees, artists and retirees already common in the southern islands. They were joined by a new wave of back-to-the-landers, urban middle-class young people in search of alternative lifestyles, whose influx signalled a cultural revolution on a number of islands until then mostly home to farmers, loggers and fishermen—aging settlers who planned to finance their retirement by subdividing family lands. Writer Des Kennedy described the newcomers arriving on Denman Island, which had a population of around 250 in the 1970s: "We were a pretty bizarre looking bunch…The men had wild hair and big beards and they arrived en masse, in the span of a few years." Up until that point, he noted, "There was nobody like that here and then all of a sudden there were several hundred of us."42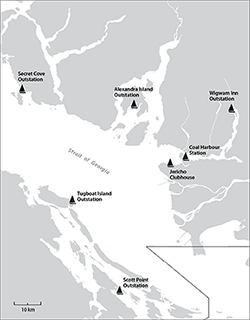 Kennedy and others questioned the way Denman's old-timers did things. Writing in the newcomers' "alternative newspaper" after a discussion about the role of tree worship in ancient belief systems, he wondered: "Do we need to cut all those trees down? Do our roads always need to be wider and wider? Do we have to batter and push and slash at everything living around us until we've destroyed it all? Perhaps no tree-spirit will descend and smite us for needlessly destroying living things; but if we destroy the tree of life, the tree of the knowledge of good and evil, then we shall have destroyed the chance of ever becoming any better than we are now; and that, perhaps, is the worst punishment of all."43 To the newly arrived, swimming nude and smoking marijuana were exalted expressions of freedom, whereas the old-timers' practices—cutting down trees, hunting the plentiful island deer and speculating on real estate—were misguided acts that were hurting the planet and perpetuating economic greed.
These differences between old-timers and newcomers, and contentious issues such as limits on the subdivision of land, were more factious on some islands than others. Read, Lasqueti and other more isolated islands were often more open to newcomers than those closer to mainstream society, such as Quadra, Denman and Texada. In 1974, some issues appeared at least partially resolved when the Islands Trust was established with a mandate to protect the islands' natural beauty and bucolic lifestyle (see Islands Trust section page 244). This federation of island planning authorities encompassed most of the larger southern islands. It extended no farther north than Denman and Hornby, yet even big northern islands like Texada, Quadra and Cortes, outside the ambit of the Trust, were increasingly recognised for their unique lifestyles.
The islands' invasion by back-to-the-landers was part of an established tradition of people seeking new lives—restoration or re-creation on the Strait. Broken men fleeing the killing fields had sought out isolated bays and islands to retreat to and heal after both world wars. Others sought escape and restoration in religious colonies and organised spiritual retreats more reputable than Brother XII's experiment. The Cold Mountain Institute on Cortes Island, reincarnated later as the Hollyhock Retreat, specialised in restoring short-term visitors with Gestalt therapy.
The rapid expansion of tourism
After World War II, building on foundations established before 1945, the province had begun to view tourism as a key sector, a means of "economic diversification" that created jobs, generated government revenues and drove development on a par with the Strait's resource industries. And the decline of those industries seemed to be looming. The BC Government Tourist Bureau ranked tourism one of the province's key industries as early as 1950, and by the early 1970s, it had become the province's third-largest source of revenue. Tourists, most of them from the western US and Canada's prairies, had become valuable commodities whose spending was vigorously stimulated and carefully monitored by the province.
Victoria recognised that tourism on Vancouver Island, on the islands in the Strait, and on the Mainland north of Howe Sound all depended overwhelmingly upon tourists travelling in cars, which needed ferries. The province was increasingly committed to improving car ferry services (chapter 1) but it faced a dilemma: the need for infrastructure to move and accommodate these tourists came in summer, when ferries, tourist lodgings and campgrounds were typically overtaxed. Most were then chronically underused during the other nine months of the year. A study for the province's inter-ministerial Environment and Land Use Committee in the mid-1970s recommended promoting tourism that didn't require automobiles, noting that the 20 percent of out-of-province tourists who travelled without cars typically spent almost three times more money than the average tourist.44 Yet this was an era when car dealers were prominent in most provincial governments and the idea of promoting tourism without cars was not vigorously pursued, while car ferry service would continue to expand to meet the growing demand.
As early as the 1950s, Haig-Brown had called on the province to make sure the recreational needs of local populations would continue to come first, despite the heady growth of tourism. Already communities had been debating the role that tourism should play, how to encourage it and what kinds of tourism to encourage. Parksville and Qualicum became an interesting contrast in these years. Both towns were recreational destinations and neither had strong resource industries compared with neighbouring towns. After the 1950s, despite the continued importance of the tourist industry, Qualicum didn't seek visitors as aggressively as Parksville did. Parksville's stock of hotel and motel rooms grew by almost 150 percent between 1959 and 1988 whereas Qualicum's declined by over 10 percent. Qualicum increasingly shifted its focus to meeting the needs of incoming retirees—by 1982, most of the population was full-time residents, almost half of them over 55 years old—rather than the seasonal peak demands of tourists (see Table 9). Yet Parksville also attracted growing numbers of retired newcomers, and both towns would continue to grow during the challenging years of the 1980s.
Table 9. Tourist accommodation units in Parksville and Qualicum, 1957–8845

| Year | Parksville | Qualicum |
| --- | --- | --- |
| 1957–58 | 136 | 296 |
| 1959–60 | 188 | 325 |
| 1967–68 | 186 | 245 |
| 1969–70 | 192 | 230 |
| 1977–78 | 326 | 304 |
| 1979–80 | 335 | 264 |
| 1985–86 | 397 | 304 |
| 1987–88 | 354 | 258 |
Local needs sometimes had to come second in order to meet the demands of paying guests, but the situation on the Strait was hardly unique. By the 1970s authorities in a growing number of wealthy coastal regions with booming tourist industries, such as those along the north shore of the Mediterranean, were struggling to mediate among the competing demands of tourists, seasonal homeowners and full-time residents along their shorelines.
A growing network of parks
Rapid post-war growth in demand for recreational space encouraged provincial, municipal and federal authorities to expand their park systems around the Strait. The province was the largest player, though not a particularly enthusiastic one before the 1960s. By then, options for creating new parks by the sea were much diminished by the soaring price of land. When Haig-Brown described the 1950s and early '60s as "a bad time…an open season on parks," he was mostly referring to provincial parks. These, he said, had lost "much good ground…both literally and figuratively, in spite of the protests of those who saw and understood the steadily increasing recreational needs."46 The provincial park system as a whole had acquired over 44,000 square kilometres of land between 1911 and 1948 but then shrank significantly to about 25,000 square kilometres by 1961 because the interests of resource industries—particularly forestry and mining—were usually put ahead of the park system. At the time, the concept of parks as instruments for wilderness preservation was devalued, while parks close to population centres were more likely to be recognised as valuable economic assets. Attendance at provincial parks, meanwhile, increased from a little over 100,000 visits in 1948 to an estimated 3.5 million visits in 1960.
The province's cavalier treatment of Strathcona Park in the late 1940s and '50s and Haig-Brown's unsuccessful struggle to protect it had marked his coming out as a budding environmentalist and strident critic of the Social Credit government's policies on industrial development and protected area management. In what Haig-Brown described as "industrial vandalism," the British Columbia Power Commission had "sacrificed" part of the park to "supply cheap electricity to pulp mills—power whose cheapness has been handsomely subsidized by reckless disregard for the recreational and other uses of the watershed." The dam built across the Campbell River between Upper Campbell Lake and the sea was part of a hydroelectric project and, according to Haig-Brown, "a simple matter of selfish, short-sighted and badly planned resource use, an incompetent decision based on totally inadequate information, tolerated by a public that has been deliberately misled."47 When a new Ministry of Recreation and Conservation was created in 1957, partly in response to Haig-Brown's vociferous criticism, it assessed potential park sites around the sea in terms of their ability to cope with the expected increases in ferry- and highway-borne visitors and the demands of boaters.
In the early years after World War II, there was growing concern that most citizens were being excluded from seashore recreation as more and more waterfront land fell into private hands. The province's Social Credit government favoured slow and cautious expansion of shoreline parks—especially small parks near towns (like Miracle Beach Provincial Park, here) and those acquired as gifts. Fillongley Provincial Park opened on the east side of Denman Island in 1954 on land bequeathed to the province by its settler owner, George Beadnell. Similar parks opened near Heriot Bay on Quadra Island in the 1950s and on Hornby (Helliwell Park) in the '60s, following the deaths of their previous owners. Farther south, the province presented Portland Island to England's Princess Margaret in the 1950s to commemorate her visit and then lobbied to get it back; it was returned and gazetted as Princess Margaret Provincial Park in 1967. The Parks Branch established another shoreline park on Quadra Island's Waiatt Bay (Octopus Islands Marine Park) in 1974 through a more complicated deal that saw Robert Filberg, owner of the Comox Valley Logging and Railway Company, cede almost 2.5 kilometres of waterfront in exchange for land on adjacent Read Island.
Earlier warnings to expand the park system while land was still relatively afford-able had been ignored, so provincial authorities were obliged to trade or beg for waterfront property. Their parkland acquisition budgets were tiny compared to the soaring costs of this land. Unless people could be found to donate land, park establishment was slow and unsteady because most desirable sites around the Strait were unaffordable. Speculators, meanwhile, looked repeatedly to the government to acquire waterfront properties they couldn't sell; the province was often interested and monitored different pieces of shoreline around the Strait for years but seldom had the resources to acquire them. The province spent years in the late 1960s and into the '70s, for example, trying to engineer a complicated deal to secure waterfront parkland north of Heriot Bay. Government officials approached private owners in the US and Toronto, as well as the provincial Ministry of Forests. The Toronto owner, a prominent banker, eventually agreed to trade for land elsewhere. The Ministry of Forests was willing to trade, but only for choice forest land inside Strathcona Park. The Americans, based in Oregon and Idaho, declined. They were skeptical of the province's ability to offer them equivalent properties elsewhere, insisting they had spent a long time finding this ideal Quadra Island waterfront. Eventually the Parks Branch decided the area, though perfect for a park, was more trouble than it was worth. A 1965 attempt to secure Pym Island near Sidney by petitioning its owner, Seattle aviation magnate William Boeing, was equally unsuccessful.
Meanwhile local landowners, appealing to the rising anti-American sentiment of the time, desperately lobbied the province's Parks Branch to buy waterfront land to prevent it from falling into the hands of "rich Americans." By the 1970s, this narrative of wealthy Americans buying up the best shoreline and cutting off local access to the sea was widespread and clearly a concern for at least some officials in Victoria. Whether American-owned or not, affordable waterfront land was increasingly hard to come by. A 1970 study determined that the price of shoreline property in the southern islands had increased by 300 percent between 1950 and 1970. Only about 10 kilometres, or 3 percent, of that shoreline land was still publicly owned in some form; most of the rest was privately owned recreational property.
Many local governments also campaigned for the province to open new parks in their areas, as these public recreational lands had come to be considered important economic assets. The Powell River Chamber of Commerce, for example, lobbied the province in 1967 for a provincial park on Hernando Island. Powell River's business community was concerned about rumours that the island's aristocratic German owners might be preparing to subdivide and sell off the island. In their proposal to Victoria, the merchants signalled their disapproval of the kind of "commercial development" that had taken place on nearby Savary Island. Yet their vision for a park on Hernando sounded like a high-latitude Club Med. The island, they claimed, had "unlimited potential for development over the next century for all kinds of recreation, served by both sea and air traffic. Sandy beaches second to none in the Province surround much of the island and sheltered anchorages make public marine development ideal. As a Provincial Holiday Resort, developed over the years, one can easily envisage camping areas, golf courses and other recreational facilities, tourist accommodation of all kinds, an aerodrome, ferry connection(s) and many other attractions." The province pleaded that it was unable to consider the proposal because of previous commitments to acquire bits of land at Porpoise Bay, Smuggler Cove and Pender Harbour on the Lower Sunshine Coast that would consume all available funds.48 By 1964, Victoria had shifted its criteria for selecting new park land, embracing the concept of "nature conservancy zones" to preserve areas representative of the province's "bio-geo-climatic zones" rather than assessing parks from a strictly economic perspective.
When Premier Bennett appointed Kenneth Kiernan his new Minister of Recreation and Conservation in 1963, one of Kiernan's first initiatives was to open previously protected parks to mining and logging. Haig-Brown was not impressed; while doing "substantial damage" to the park system, said Haig-Brown, the new minister was making no improvements to its management, opting instead to make "aggressive use of his department…as an advertising agency to attract more and more tourists to less and less value." Even Haig-Brown had to concede, however, that the province had responded to growing public pressure by establishing many smaller, "strategically placed" seaside parks, camping and picnicking grounds around the Strait of Georgia by the late 1960s.49 By 1974, through a combination of donations, complicated trades and outright purchase of small parcels, the province had gazetted a total of thirty shoreline parks around the inland sea.
One of the province's most important recreation initiatives on the Strait in the 1960s and '70s was a new system of marine parks catering primarily to recreational boaters. The first marine park was established in 1959 at Montague Harbour on Galiano Island, and another in 1961 when Nanaimo ceded Newcastle Island to the province. By the late 1960s, Victoria committed to systematically developing a chain of marine parks to meet the needs of an estimated 75,000 Canadian and 10,000 American pleasure craft then plying the Strait in summer. As with the Strait's terrestrial parks, the lack of suitable shoreline in the public domain and the prohibitively high cost of acquiring private land made establishing new marine parks difficult. Yet by 1973 the province had established a dozen marine parks around the Strait and was proposing five more (see Figure 14).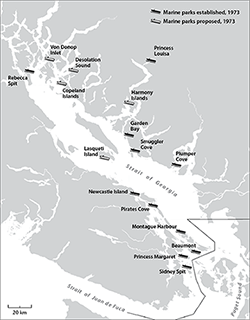 Through the rest of the 1970s and into the '80s provincial authorities continued to spend much time looking on, frustrated, as attractive prospective park sites around the Strait became increasingly unaffordable. They did consummate a few plans for marine parks in places such as Desolation Sound, Jervis Inlet and Indian Arm, where land prices were less inflated due to a lack of road access. Acquisition of the land, however, was seldom rapid. The need to establish one or more marine parks in Indian Arm was identified as an "urgent priority" for the province in 1974. The tiny Twin Islands and nearby Raccoon Island were gazetted as provincial marine parks seven years later.
The chronic inability to acquire land was not the only problem related to under-funding. An ongoing shortage of resources meant that many parks were managed less well than their neighbours expected. To many, it looked as though Victoria had put the cart before the horse, adding numerous parks to its system and improving road and ferry services to them before it had the capacity to manage them. Discontent spilled over on Saltspring Island in 1967, when local residents discovered a new provincial campsite at Beddis Bay and complained to Minister Kiernan that "their" beloved beach had been changed from "amateur to professional status" and was attracting unwanted visitors. They suggested the province post a sign at the site: "No hippies, no harpies, no boat launchers—and particularly, no sharpies."50 Others worried about fires and vandalism in the province's recently acquired and undeveloped parks, particularly on the islands. In the early 1970s, a new ferry connection and several new parks were attracting growing crowds to Cortes Island, where locals began to complain that they felt like "bears in cages," to be viewed by visitors passing through.51
An aging couple on Hornby Island who identified as socialists began to negotiate a deal with Victoria's new social democratic government after 1972. They aimed to live out their lives on 7 of their 17 waterfront acres, giving the rest to the province for a park. The deal fell through when the prospective donors backed out. The couple had spent a summer camping on their beach, where they had witnessed the devastation wrought by members of the public who dumped garbage, carved their names into petroglyphs and carted away sea anemones. Victoria assured the couple that if their land became a park, then the Parks Branch could help with posters and other "public education" but admitted it wasn't able to exercise any real control, even in other parkland it had already acquired on Hornby.
Many of the Strait's cities and towns established their own waterfront parks in the first few decades after World War II. In the 1960s and '70s Vancouver embarked on an ambitious program of shoreline park expansion, partly in response to a mid-1960s study that suggested public beach frontage in Greater Vancouver (see photograph here) had fallen from 100 feet per thousand people in 1941 to 70 feet per thousand in 1965 and might be in precipitous decline. The authors recommended a target of 88 feet per thousand people, which would require 20 more miles of public waterfront. In response, Vancouver acquired or developed new parkland at Jericho, Locarno and Spanish Banks Beaches and Vanier and New Brighton Parks by 1980. This acquisition of new shoreline recreation space would later slow to a crawl as land prices climbed in the latter decades of the century, but the city improved citizens' access to the shore in other ways. The 10-kilometre seaside promenade around Stanley Park was finally completed in 1980. In 1985 the city established Fraser River Park, its first park on the Lower Fraser, and then its first municipal marina, on former Kitsilano Indian Reserve land at the mouth of False Creek, in 1988. Elsewhere, Hamilton Mack Laing bequeathed his 2-hectare property on Comox Harbour for the creation of a municipal park in the early 1980s.
The only level of government not involved in creating parks around the Strait was the one in Ottawa. After rejecting the idea of a national park on the Strait in the 1930s, the federal government was open to the idea again by the late 1960s, though it recognised the process would be complicated. Jean Chrétien, then minister of Indian Affairs and Northern Development, was interested in a federal park on Hernando Island but reminded local proponents that any land would have to be acquired by the province and then transferred to federal jurisdiction. A lively controversy broke out on the southern Strait a couple of years later when David Anderson, Liberal MP for Esquimalt–Saanich, began to talk of a land trust on the southern Strait. Anderson explained the idea to a constituent in early 1971:
"

The suggestion regarding preserving the large [and largely uninhabited] tracts of land and the as yet unbuilt-up coastline is very sound. There is absolutely no need…to turn the islands into a park in the traditional sense…no need to remove houses and cottages and try to turn the islands back to what they were before settlement began. What is needed is to preserve the character of the islands, not only for the present residents but for the inevitable influx of visitors and residents who will be going to the area in the years to come…a private non-profit body to be known as the Coastal Trust or some such name to administer, to acquire land by gift or purchase…[T]he time has come to think about present trends and where they are leading us…more and more Americans are turning to Canada for land. We know this will increase, particularly when their Islands Trust is established (in the adjacent San Juan Islands)…we can expect the number of boats to double every seven years.52

"
Anderson was not talking about a national park, and the province would go on to form the Islands Trust (see below) several years later, which in many ways resembled the model he had in mind. Nonetheless Anderson was a federal politician, and initially his suggestion was widely perceived as a hint that Ottawa was about to launch a vast expropriation of private lands across the southern islands. Many reacted badly to the rumour. Tommy Douglas, former head of the federal NDP, was drawn into the debate to defend the private property rights of constituents in his Nanaimo–Cowichan–The Islands riding against the spectre of a federal takeover of their island properties. Those who read Anderson's proposal carefully mostly agreed with his ideas about the need for some kind of "trust." But fears of a park persisted. An editorial in Saltspring Island's Driftwood newspaper at the end of 1971 declared:
"

Mr. David Anderson…has made a remarkable proposal for the establishment of a national park…The operator of a business is well aware that the implementation of the Anderson plan will leave him penniless and without recourse to a court of law. A number of property owners are reported to have already abandoned plans for home construction here for fear of losing their homes after working on them and spending their life savings…As a park devoid of people, devoid of homes, populated by tent dwelling refugees from Esquimalt–Saanich [Anderson's riding], without ferries, accessible largely to the wealthier elements of United States coastal cruising traffic, the Gulf Islands would yet be a scenic wonderland, though reserved for the wealthy and the eccentric.53

"
Buzz Brown, a retired provincial tax assessor turned director of Salt Spring Lands Ltd., dismissed claims by Anderson and others about the threat of foreign takeover, estimating that at most 5 percent of Gulf Island properties were held by Americans. On Saturna, the island closest to the US, Americans owned only 31 out of 410 properties. On North Pender, then the focus of the most intense real-estate development on the southern islands, Americans held barely 2 percent of the almost 1,900 properties. The real problem, said Brown, was people trying to protect the southern islands as an "exclusive and undeveloped reserve" for people from Greater Vancouver and Victoria.54
Jack Davis, then federal Minister of Fisheries and Forestry, tried to reassure voters that Anderson, his fellow Liberal, did not intend to turn the islands into a national park. Davis reminded them, as Chrétien had, that any national park would depend on the province acquiring the land and handing it over to Ottawa, adding, "Can you really imagine Premier Bennett doing this in the 1970s?" Davis, though, was enthusiastic about converting stretches of the sea around the islands into a national underwater or marine park. "All land below the low water mark," he pointed out, "already belongs to the people of Canada and so it is not a question of expropriation…or of transfer of provincial land to the Federal Government."55
Davis pursued this idea of a federal marine park as vigorously as he had his earlier initiatives. Many areas on the Strait, he said, had become more valuable for achieving "social" goals than economic ones and needed to be preserved for their aesthetic qualities and "peculiar" ecological character. In 1971 he appointed a task force to study the feasibility of a marine park, proposing to link it with a marine "water quality management area." After Jacques Cousteau endorsed the idea of an underwater marine park on the Strait the same year, the task force declared that the waters around Gabriola Reef, Plumper Sound and Victoria's Race Rocks all met the standard for a national marine park. Haig-Brown commended this "bold idea" of a Strait of Georgia national marine park, marvelling that a concept that "could scarcely have been seriously considered a few years ago" was now almost certain to become a reality.56
The province, though, responded to the idea of a federal marine park in the Strait with the familiar mix of truculence and paranoia so often seen in its relations with Ottawa. Provincial authorities were particularly sensitive about federal initiatives aimed at stopping oil drilling and reducing marine pollution on the inland sea. From Victoria's perspective, Ottawa's proposals ignored the province's progress in dev-eloping its own system of marine parks and improving its Pollution Control Board. The feds, said the provincial government, were failing once again to demonstrate what Victoria considered the required "knowledge or sensitivity on just how province and federal must work together" and choosing instead to flex their muscles and exclude the province from important consultations.
Senior officials in Victoria worried that the public awareness generated by pronouncements from Davis and others threatened to make the province look bad. A better strategy, Kiernan's office suggested in 1971, would be "to upstage the federal proposal" by calling instead for the creation of an International Quality Marine Management Region. This region would encompass all of the islands and the adjacent shores of both the Strait of Georgia and Puget Sound, under the guidance of an international commission. Such an approach would help refocus federal attention on issues for which its mandate was more clearly defined and hopefully put an end to its meddling in the province's inland sea. Apparently the strategy worked: the US National Park Service and Parks Canada jointly developed a plan for an international marine park the following year. The project was vast and complicated and went nowhere.57
A decade later in 1983, the federal Minister of the Environment and the provincial Minister of Lands, Parks and Housing both responded to a Nanaimo citizen inquiring about the status of plans for a Gulf Island marine park. Ottawa indicated that federal-provincial plans were progressing, with new policies proposed for identification, selection and management of protected areas and new discussions on these policies scheduled for a few months from then. When Victoria replied to the same inquiry a month later, it made no reference to any such federal-provincial discussions. Instead, the province emphasised its own extensive marine park system and plans to continue improving it. BC, wrote Victoria, had "no current plans for such a national marine park."58
Clashes between recreation users and other stakeholders on the Strait
The increasing ease of movement around the Strait by sea and land improved access to recreational opportunities while threatening to diminish them in other ways. As ferry terminals grew bigger, especially on the major routes between Vancouver and Vancouver Island, conflicts increased. Most wharves and marinas near the Strait's larger settlements suffered from growing congestion, but this situation was most acute where pleasure boats shared harbour space not only with commercial fishing boats but with ever-larger ferries arriving and departing all day long. By the mid-1970s, collisions between ferries and smaller craft had come to be expected every summer around the busy Horseshoe Bay terminal. The provincial ferry fleet was also blamed for degrading recreational values by delivering too many visitors to places that could earlier be reached by only a few. An irate Saltspring Islander complained to the Minister of Recreation and Conservation in late 1967: "I suppose it can be partly blamed on summer TV commercials…sponsored by our own Government…which say, more or less, — 'Want to enjoy an old fashioned picnic? Then why not go to the Gulf Islands by Ferry for a picnic'; …AND THEY ALL END UP ON OUR BEACH! Have you ever seen the size of the beach?"59
Comparable struggles arose between proponents of more efficient road networks and opponents who strove, among other things, to protect valued recreational land along the shore. A plan tabled in the early 1960s in Vancouver called for an eight-lane highway along the beach at English Bay, from Prospect Point to the Burrard Bridge. Later in the decade a proposed second crossing of the First Narrows called for a bridge landing at Brockton Point and a highway along the shore of Coal Harbour connecting it to the city. Both were successfully resisted, as proposals in the 1950s and '60s to establish a small-aircraft runway on the beach at Spanish Banks had been. A similar attempt in the Comox Valley to convert recreational beach into a commercial landing strip was successfully blocked two decades later.
Much shoreline recreation inevitably took place on sites that were earlier used by Indigenous people, whose lives had mostly been lived by the shore. The provincial and municipal parks proliferating at various shoreline sites often contributed to the degradation of Indigenous heritage resources in these places. The City of Vancouver, for example, had long sought control over land still officially owned by the Squamish band at Kitsilano Point and finally absorbed it into its growing shoreline park system in 1967, when the federal government granted Vancouver a 99-year lease there for a dollar a year. The province's first marine park was on Montague Harbour, a sheltered bay on Galiano Island popular with recreational sailors that was also the site of a half-dozen clamshell middens built up over thousands of years of Indigenous occupation. Sandy Island Marine Park at the northern entrance to Baynes Sound was established in 1966 on territory claimed by the nearby Comox people and three other Indigenous groups. The Comox maintained that, before they were suddenly pre-empted in the late nineteenth century, the island and its foreshore had been used for centuries for shellfish harvesting, hunting and ceremonies. A park master plan prepared in 1987 called for protection of any remaining "archaeological resources" from further disruption, though by then few artifacts were left.
The same was true of much Indigenous heritage at other shoreline sites around the Strait. In the mid-1970s a survey by the Provincial Archaeologist of eight hundred known archaeological sites around the islands of the southern Strait and Howe Sound found under 10 percent of them still intact. Most had been disturbed after the 1870s, while the worst damage was caused by the construction of permanent and summer homes. Ferry landings, wharves and marinas had also taken a great toll.
Clashes between recreation and the Strait's resource industries became more frequent after 1945 not only because of the rapid growth in marine recreation but also because the recreation and tourism sector gained clout as an economic sector in its own right. Haig-Brown wrote in 1955 that the province's primary resource industries typically caricatured recreation advocates as "sentimental, unrealistic and anachronistic" and saw recreation resources as "inevitable sacrifices to progress." Although demands from "consumers of recreation" were becoming impossible to ignore after World War II, defenders of recreation values still had to fight, he said, because "the pressure of other resource users will always work against the sportsman." To successfully resist threats from pollution, encroachments into parks, loss of access to recreation space and "all the other dangers of increasing civilization," they would have to demonstrate the socio-economic and moral values of recreation.60
Cottagers who lived around Quadra Island's Gowlland Harbour eventually stopped the spread of log booms in "their bay" despite the powerful economic influence of the forestry industry (chapter 3). They were able to prove that small-boat owners and swimmers—recreationists—had equal, if not more important, socio-economic and moral value. Similar events were playing out elsewhere around the Strait by the 1960s. The established right of logging companies to use sheltered bays for log-boom storage was being undermined in many places by economic and moral arguments for recrea-tion, not to mention the growing property value of recreational land along the shore.
Likewise, as mentioned earlier, recreational fishers were attracting growing support for their claims to a share of the Strait's dwindling catch of Coho and Chinook salmon, especially from provincial and local governments that sought to boost the economic returns from this sport fishery. Reduced numbers of salmon available for the tens of thousands of saltwater anglers around the Strait, though hard to quantify, could now be counted as real economic damage inflicted by reckless logging in coastal watersheds, commercial fishermen taking "more than their share" or hydro dams blocking access to spawning beds. When BC Hydro contemplated expanding its Comox Lake dam, Haig-Brown testified in 1962 to the "severe damage" that had been done to salmon runs downstream on the Puntledge River. Overall, he claimed, the Strait's sport salmon fishery was "one of the greatest on the continent" and the large Chinook bred on the Puntledge were "powerful advertising for the province." Tens of thousands of salmon were still being taken by the sport fishery around Comox each year and it could not afford further damage from ill-conceived dam expansion.61
By the late 1950s the Strait's sport fishers had a substantial claim on its salmon. Along the whole BC coast, commercial trollers—those who used hook and line instead of nets to catch fish for a living—were still taking six million salmon a year, around twenty times the number taken by recreational anglers. But in the Strait, sport fishers were taking fully a third of all salmon caught there by hook and line; both their share of these fish and the money they spent to catch them were expected to grow rapidly. Economists demonstrated that each of the several hundred thousand Coho or Spring salmon that anglers caught in the Strait every year generated far higher returns to the local economy per fish than those same fish hooked by commercial trollers or gillnetters. In Washington state, the sport salmon fishery was worth an estimated $70 million at the time versus only $20 million for the commercial fishery.
As the value of the sport fishery increased in the 1960s, so did pressure to manage the Strait's salmon in its interest. In 1969, Howe Sound was closed to all fishing except the sport fishing of salmon, and Haig-Brown suggested it might be time to take the same approach for the whole Strait. The Fraser River Sockeye run would still sustain a commercial fishery; those fish didn't often take an angler's lure anyway. But Coho and Chinook were by then so important to the sport fisheries in most major towns on both sides of the sea that Haig-Brown claimed they might simply be too valuable to leave to the commercial fleet. A report prepared for Victoria's Environment and Land Use Committee in 1975 supported his claim, indicating that closing the Strait to commercial fishing of Chinook and Coho salmon might not significantly reduce commercial fishermen's returns and could greatly enhance "recreational returns from the resource."62
However, federal authorities ensured that the commercial fisheries remained open for all salmon species on the Strait and, as predicted, competition between sport and commercial fishers grew more intense. Sport fishers began to call for "social justice," complaining that they received far less value for their licence fees than their commercial competitors and would still only be assigned a tiny portion—700,000 of 24 million—of the extra salmon predicted by the Salmonid Enhancement Program (chapter 4). Sport fishers didn't often contemplate the possibility that they might also be contributing significantly to the depletion of the Strait's Coho and Chinook stocks.
The idea that various types of pollution might be turning the inland sea—prized as a place for healthy recreation and restoration—into a dirty, unhealthy place was particularly galling for many shore dwellers in the post-war era. Around Vancouver especially, swimmers—or their parents—were at the forefront of growing public outrage over the expanding sewage stream flowing into False Creek, English Bay, Burrard Inlet and the Fraser mouth. Civil engineers designing improvements to Vancouver's sewage management infrastructure starting in the early 1950s had to figure out how to minimise this pollution of local beaches (chapter 5).
A new source of marine pollution that remained largely unresolved throughout this period was the waste discharged by boats operating on the Strait. Worries about human waste being discharged from pleasure craft were becoming common where these small boats congregated, especially in summer. Later, in 1984–85, the Islands Trust office in Victoria tried, unsuccessfully, to mobilise federal, provincial and City of Vancouver support for measures to improve the regulation of waste dumping from small craft. City health officials advised the mayor of Vancouver, Mike Harcourt, that while the Trust's concerns were laudable, the problem was far less serious than unresolved problems with land-based sewage discharges into the sea around Vancouver. For the Islands Trust, however, this sort of conflict among different forms of recreation was its reason for being.
Haig-Brown had warned that many other places in North America, including Ontario, New York and California, had "woken up" after World War II to find their outdoor recreation resources badly degraded, especially near the largest population centres, where they needed them the most. He insisted the solution to these challenges was long-term planning that recognised the public's right to outdoor recreation space. He expected that a provincial ministry devoted to recreation in general and parks in particular would fulfill this role, and he lobbied vigorously for it. But the careful husbandry of the province's recreational lands did not materialise in the way Haig-Brown had envisioned, and by the late 1960s he was thoroughly disillusioned. He believed that residents of BC and similarly wealthy places in the world were heading towards ever greater economic security and leisure time, and that they sought lives with high-quality outdoor recreational opportunities and a world where environmental damage was minimal. In the absence of the careful planning that Haig-Brown called for, threats to high-quality recreational opportunities and environmental quality on the Strait grew rapidly. Conflicts among tourists, residents, cottage owners, boaters and others, "all of whom want[ed] a piece of the beach pie,"63 would not go away, he said, but they could be anticipated and managed. In the 1970s, an innovative and controversial response emerged.
As Frederick Marsh moved around the Strait's southern islands in the late 1940s, taking careful note of the islands' inhabitants and their lifestyles, old settler families with large parcels of pre-empted land were already discussing plans to subdivide them. By then, the islands had grown distinct from most Mainland and Vancouver Island communities. Islanders shared a strong sense of their own uniqueness and their islands' value as refuges from the excesses of modern life. However, much of the island settlers' earlier work—logging, fishing, boat building, mining and quarrying—had become less viable after World War II. Farming continued, particularly production of specialty products such as seeds, bulbs and flowers. But service industries, mostly tourism and real-estate development, had become the largest economic sector on most of the larger islands south of Nanaimo by the late 1960s, and many residents had begun to worry about an erosion of island character resulting from rapid population growth.
In the early 1970s, in the wake of improved car ferry service and the subdivision of ever more old farms into small building lots, fear was widespread that the islands were destined to become crowded exurban wastelands with substandard services and no water. Three thousand new island lots were developed between 1959 and 1968—one-third of them on Saltspring alone. In 1969, Victoria announced a temporary freeze on further subdivision of island lands and decreed that all future lots would have to be at least 4 hectares in size. But local governments accepted another 1,900 applications for development before this freeze came into effect in 1970. Victoria subsequently came under considerable pressure from developers to end the freeze and from island residents to make it permanent.
One of the most disturbing new developments, for those who wished to preserve the islands' character, was the one built around North Pender Island's Dead Cow Swamp, which was renamed Magic Lake. The development, called Magic Lake Estates, was the largest in the Capital Regional District and one of the largest in the province: it consisted of 1,400 lots on 480 hectares, on an island with 700 full-time residents. Almost all the lots were sold in 1971, and the developers' optimistic public pronouncements about Magic Lake as the wave of the future confirmed many islanders' worst fears. James King, one of Magic Lake's principal owners, told the Vancouver Sun there was "no way they are going to hold the islands down—the population pressure is right there…I know a lot of people who, if there was a commuter [ferry] service put in, would live there now."64 Another developer, Cy Porter, predicted in 1971 that Mayne Island's population would grow from 250 to 10,000 in the next five years and could well reach 50,000. He forecast 15,000 to 20,000 for North Pender.

Gabriola Islanders managed to block "speculators' plans" for a subdivision of 550 properties in 1972. A resident explained: "I am constantly aware of truth here…so close to the earth, and to the ocean, you are continually reminded about reality…Very often people who live in the plastic city dimly realise that they're missing out on reality and so they go out trying to buy it. In places like this, where the land is unspoiled and the air is free. But they don't leave it the way they found it—they immediately begin cutting down trees and putting up supermarkets."65 Gabriola Islanders had other reasons to oppose new developments. The water and sewerage systems serving the island's 1,000 residents (4,000 in summer) were already substandard and the impact of the threatened "instant suburbia" promised to be disastrous. Other islands, from Saltspring and Galiano to Bowen and Hornby, faced their own threats from rapid, unmanageable growth of summer and year-round populations.
The idea of special status for the islands was discussed—and widely mis-understood—as early as 1970. A committee of provincial legislators toured the islands in 1973 and expressed "distress and alarm" about the effects of speculation and poor planning. They declared the islands too important to the people of Canada for their fate to be left to developers and speculators; they recommended the creation of an Islands Trust—an approach adapted from the British model of land trust to oversee the land-use planning—and the new NDP government supported the idea. The Islands Trust Act of 1974 encompassed roughly 5,000 square kilometres; 250 islands accounted for 15 percent of this area and the rest was open water, including stretches of Howe Sound, Haro Strait and Baynes Sound. Most residents in the Trust area lived on thirteen of the largest islands (see Figure 15). Some larger, more populated islands with significant ongoing industrial activities or Indigenous populations, including Kuper (now Penelakut), Quadra, Cortes and Texada, were conspicuously absent from the initiative. Citizens on each of the largest Trust islands elected two trustees for four-year terms to oversee land-use planning, which was to be the Trust's principal tool in carrying out its mandate "to preserve and protect the islands' unique amenities and environment." Each island would otherwise remain subject to municipal, provincial and federal regulations.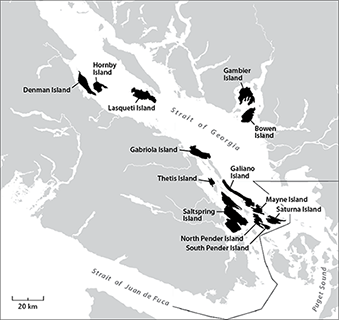 Paradoxically, the Islands Trust was the product of an emotional crusade to protect the recreational value of the Strait's islands from the influx of too many urban refugees, yet the islands it was charged with looking after were to be protected for the benefit of the province as a whole, especially the growing urban populations nearby. In other words, to preserve the islands' unique character, neighbouring city dwellers would need to be made welcome but discouraged from visiting too frequently or staying too long. The situation was similar to the one that had created Stanley Park almost a century earlier. Then, proponents had seen the park as a necessary counterpoint to city growth; defenders of the Trust argued that the islands met a need for balance in harried urban lives. Unlike Stanley Park's original Indigenous residents, however, the islands' roughly 10,000 inhabitants would be allowed to remain and new residents to move there, albeit at a more modest pace than during the decade leading up to the Trust's creation.
Although Liberal MP David Anderson had earlier spoken of a trust based on the British model, Hilary Brown, the first head of the Islands Trust, also saw it following in the footsteps of innovative North American approaches. Its goal, as with similar initiatives in Ontario, California and New York, would be to reject the "premise of greed" that American ecologist Garrett Hardin declared was the cause of the "tragedy of the commons." Tragedy was bound to strike, Hardin said, when "common property" resources were degraded by populations that had grown too large to steward them effectively using their traditional approaches.66 Hardin's ideas would later be hotly contested by more accomplished analysts such as Nobel Prize winner Elinor Ostrom, but his "tragedy of the commons" idea captured the public imagination and was widely invoked in the 1970s.
Under Hilary Brown from Hornby Island, the new Trust formulated an ambitious policy agenda. Its 1975 policy document explained the rationale behind the Islands Trust initiative, where it hoped to go and how it would get there. But to many the Trust still looked like a park by another name. The islands were described as "a resource of national importance but of finite size." The core objectives included "provision of a varied recreational opportunity and experience" and "retention of native flora and fauna and both unique and typical island scenery." And the document noted that further reserves would be created within the Trust area to protect the "most fragile ecosystems."
Furthermore, this initial policy statement used language that foreshadowed the 1990s debates about how to make development more "sustainable." It called for "patterns of land use which will allow needed and reasonable development in the present but which will…[allow future] generations [the] opportunity to make their own choices and decisions." One of the Trust's primary concerns would be the welfare of the island's existing and future populations, even as it ensured the islands developed in a way that was "in sympathy with the landscape and which makes the most of each site's natural characteristics."67 Islands Trust policy overall promoted careful planning and zoning regulations that would allow local island communities rather than off-island development companies (which were presumed to be more susceptible to the "premise of greed") to determine the character of their communities. The Trust would "encourage types of development that will maintain the essentially rural nature of the islands."
As concern grew in the 1960s and early 1970s over the rate at which the relatively limited farmland around the sea was being developed for suburban and recreational building sites, Dave Barrett's NDP government was pushed to establish the Agricultural Land Reserve (ALR). To protect this agricultural land, areas designated as part of the ALR could not be readily converted to residential or other use. The Islands Trust also embraced the concept of the ALR not for reasons of food security but in pursuit of its goal of preserving the islands' rural character. It rushed to protect moribund island farms—to the dismay of many owners, who had hoped to cash in on the real-estate boom and secure their retirement. On the Trust islands, at least, farming had gone from being an instrument of Indigenous dispossession to a modest source of livelihood to a means of protecting "valued rural character," all in three or four generations.
The Islands Trust viewed forest as being even better than open farmland, but it nonetheless recognised the key role that logging still played on many islands. Its policy called for logging practices that recognised the special character of the islands, done "on a scale appropriate to the island concerned." In other words, a type of "boutique logging" that was entirely foreign to the industry at the time. Moving logs to water and gathering them in booms was to be "carried out in a manner that is the least damaging to the environment and in areas that will not conflict with other shoreline uses."68 Sawmilling was to be restricted to small mills supplying mostly local markets. Pollution would be strictly controlled and mills screened from public view.
Likewise, rather than seeing most other extractive industries as opportunities, the Islands Trust perceived them as threats and sought to control them even more tightly. For example, quarrying sand and aggregate from beaches was no longer allowed, as the recreational and aesthetic values and the ecological role of all island beaches were deemed more important. For similar reasons, the entire Trust area, land and sea, was to be closed to all oil and gas drilling. Infrastructure improvements, too, were subject to stricter standards, to minimise the threats they might pose to the islands' "unique and fragile" natural areas. For instance, though island residents had earlier welcomed their roadways, the Trust engaged in a prolonged struggle with the provincial Department of Highways, whose "urban road standards" resulted in "excessive tree clearing and unsightly cuts and fills which destroy the pastoral nature of the islands." The Trust also took aim at increased automobile traffic, fed by expanding ferry service, which was deemed to be "contributing to the destruction of the islands;" it lobbied BC Ferries to improve foot passenger services.69
Protecting the islands as recreational space was central to the Trust's mandate. But recreational activities also needed to be carefully managed on Trust islands. A 1975 study conducted together with the Nature Conservancy identified the Strait of Georgia–Puget Sound region, with the Trust islands in the middle, as North America's most important outdoor recreation area. The Trust committed to safeguarding the recreational resources in its care with a "well planned and integrated recreational system" that addressed the needs of both residents and a diverse range of visitors and promoted recreation with the smallest negative effects on the islands. It aimed to increase public access to shoreline but also to prevent the overuse or abuse of beaches. Furthermore, marine activities, from swimming and scuba diving to kayaking and other forms of boating, as well as wilderness parks, hiking and horse-riding trails, and bicycle paths were all to be promoted. Scenic drives and automobile-based campgrounds, however, were discouraged; some recreational needs were more equal than others.
The Trust didn't underestimate the challenge of its commitment to enhanced recre-ational opportunities for (almost) all. By the mid-1970s, land access to the shore was "virtually non-existent" on many islands. Although the importance of recreation and environmental protection were now recognised, less than 4 percent of the land on Trust islands was dedicated to these purposes. Many island residents began to look upon visitors from off-island as an inconvenience or worse, synonymous with enhanced fire risk, garbage and crowded ferries. Trust policy sometimes seemed to suggest that potential residents might have to be screened in the future. Artists and craftspeople, as well as other small-business owners who catered to local markets and created local jobs, were to be encouraged. The elderly occupied a special place in many island communities, and home nursing, elder housing and community care facilities were to be given priority. Larger-scale enterprises in general were judged to be at odds with the islands' character.
Predictably, the Trust's sweeping utopian vision encountered resistance from various quarters on and off the islands. It did little to improve the often rocky relations between certain islands and other actors that predated the Trust. Provincial ministries of highways and forests, for example, pursued their established policies. Private forestry companies continued to control much of the islands' forests, and developers still harboured ambitious schemes. Most Trust islands remained under the jurisdiction of adjacent regional district governments that were often sympathetic to the salutary effects of land development on their tax base.
The key instrument for delivering the Trust's vision was the Official Community Plan (OCP) to be prepared by each large island, and the first OCPs developed under the Trust were contentious, especially on islands close to large towns. In 1975 the description given by Victoria's Monday Magazine of the process on Saltspring was a little tongue-in-cheek: "Islanders found themselves so much in agreement with one another concerning the details of their future development that it took only seven years [that is, far longer than usual] to produce an official community plan."70 Whereas locally elected Trust officials on Saltspring had considerable control over land-use decisions determining the island's tax base, the Capital Regional District remained responsible for delivering services to island residents and these had to be paid for with their land taxes. If islanders wanted an industry-free and recreation-intensive island without subdivisions, they would have to accept the combination of higher land taxes and fewer services that went with it.
Reality did not always match the goals of the Trust. The number of residents on Saltspring continued to rise significantly into the 1980s, and the population on Bowen doubled in that decade. In 1978, Denman passed into law its first OCP, which identified preserving the island's rural environment as its highest priority. Two years later, the community was locked in a protracted struggle with the provincial government authority that had approved a new land development in contravention of the island's OCP. The island prevailed in court, establishing a legal precedent that limited but didn't eliminate Victoria's right to ignore local island bylaws.
The province's NDP government was defeated in the 1975 election by Bill Bennett's Social Credit, who had close ties with the development industry and shared few of the values expressed in the policies of the Islands Trust. Bennett's government was ready to repeal the Islands Trust Act in 1982 and hand the islands back to the sole jurisdiction of their respective regional districts. Bill Vander Zalm, Bennett's Minister of Municipal Affairs, suggested the Trust was no longer necessary since all the major islands had prepared an OCP under its guidance. Public opinion was powerfully opposed to dissolving the Islands Trust, how-ever, and the government backed down. The Vancouver Sun suggested Vander Zalm and his advisers were "naive in the extreme to think that remote control by regional districts could effectively protect the islands from the predations of greedy developers." In fact, various islands' trustees confirmed that developers still exerted tremendous pressure through regional districts. In the absence of the Trust, the Sun said, the islands were destined to become "Coney Islands in the Strait."71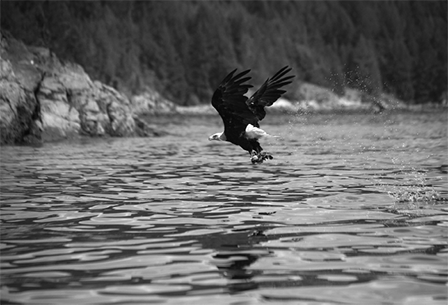 The Islands Trust experiment had clearly helped protect recreational and other values that many on the Strait wanted preserved. But its vision of rural communities in pristine environments where artisans and old folks enjoyed a high-quality lifestyle and harried urban folk came to regenerate was regularly contested. Denman Island's Des Kennedy summed up the Trust islands' situation by the mid-1980s: it was not perfect and certainly not the utopia envisioned a decade earlier. The province's Minister of Municipal Affairs, William Ritchie, appeared more committed to opening up the islands to rapid development than to respecting the Trust's mandate to "preserve and protect." Other provincial agencies continued to contravene local Trust policies. Most significantly, island populations continued to grow rapidly.
In the latter half of the 1970s, the total number of people living on the islands went from 9,500 to 12,700. By 1983, 5,200 permanent homes and 4,500 summer cottages existed on the islands. Another 10,000 properties were zoned for development; most of these were under a hectare and many were already on the market. Despite a steep downturn in the economy and the real-estate market, the Trust was still approving subdivisions, for an average of 600 new lots each year. The official land-use plans in place for the thirteen big islands could now accommodate an aggregate population of up to 70,000 people. Opinion was divided: many islanders were deeply disturbed by the continuing growth, while others found Trust planning policies unacceptably restrictive.
Despite the broken dreams, said Kennedy, the islands remained a "magical heri-tage" and their lifestyle a magnet "to rich, to poor, to dreamers and tinkerers, artists, farmers, fisherfolk, retired executives and a cast of characters as eccentric and hospitable as you'll find anywhere."72 Their future, and that of recreation on the Strait more generally, remained uncertain. The Islands Trust would remain in place into the twenty-first century and succeed in maintaining a bucolic, park-like atmosphere in most parts of most Trust islands. Some places, like Ganges on Saltspring Island—unquestionably the least bucolic corner of the islands—remained hotly contested, as provincial governments and property developers continually pushed to escape the control of the Islands Trust.
Settlers early recognised the Strait as a valuable place for recreation and restoration. The more "their Strait" was transformed from barrier to highway—by steamships, ferries and diverse small craft—the more recreational opportunities it offered. Beaches that had previously given Indigenous people places to live beside the sea and its resources became the sites of cherished shoreline parks or high-priced real estate.
Conflict in this space was inevitable. The resource industries on the Strait's waters and along its shores helped generate the higher personal incomes that made recreation on the Strait affordable to growing numbers of people. Yet these same industries would eventually stand accused of turning prized retreats or recreation spots into industrial wastelands or of taking too many salmon. In many cases, waste dumped into the sea by rapidly growing towns was literally washing up against recreational users of the Strait.
By the 1960s recreational users were increasingly competing with one another for the same patches of sea and shore. Those who valued motorised pursuits ran afoul of those who preferred to sail, paddle, swim or dive. Those whose recreational pursuits changed the land or the plants and animals that occupied it—hunting, fishing and cottaging, for example—were at odds with those whose preferred recreation called for preservation and minimum impact—birdwatching, kayaking, camping and so on. These types of tensions have continued into the twenty-first century, not least on the Islands Trust islands.
__________
1. "From the East Coast," British Colonist, 9 July 1866, 3.
2. From an article in BC Historical Quarterly of April 1939 by Judge F.W. Howay; in Wolferstan, Pacific Yachting, 45.
3. British Columbia Archives MS-1176 - Frederick Marsh fonds, "Leisure Islands," 480.
4. "For Sale," British Colonist, 13 May 1893, 1.
5. "Farm Land Selling in the Gulf Islands," British Colonist, 2 November 1907, 7.
6. "The Islands," British Colonist, 9 April 1907, 15.
7. "Are You Seeking an Investment?" British Colonist, 16 May 1909, 27; "News of the City—Pier Island sold," British Colonist, 7 June 1910, 6.
8. "The Island Of Death," British Colonist, 16 June 1895, 3.
9. "Quisisana," British Colonist, 20 May 1910, 11.
10. James P. Delgado, Waterfront: The Illustrated Maritime Story of Greater Vancouver (Vancouver: Vancouver Maritime Museum, 2005), 74.
11. "A Pleasure Trip," British Colonist, 15 July 1906, 3.
12. "Change in the Game Laws," British Colonist, 19 Feb 1908, 7.
13. "Buy Gulf Islands as Game Reserves" British Colonist, 22 December 1906, 1. This article reported that the Englishman G.L. Findlay was "struck with the climate and…the plenitude of the game."
14. "Travellers See the Whaler in Operation," British Colonist, 8 December 1907, 10; "Island's North End," British Colonist, 22 December 1907, 32; "The Black Diamond City," British Colonist, 5 April 1896, 11; "Take a trip on the Iroquois Sunday and you will be delighted," British Colonist, 12 August 1905, 5.
15. "Picturesques Pt. Comfort," British Colonist, 1 January 1893, 14.
16. "Willows," British Colonist, 29 June 1904, 6.
17. T.L. Grahame, "The Coward—The story of a fight," British Colonist, 2 August 1903, 9.
18. MS-0364 Orchard - Box 4, File 2, British Columbia Archives.
19. "Leisure Island Laughter," 553.
20. Jeanette Taylor, The Quadra Story: A History of Quadra Island (Madeira Park, BC: Harbour Publishing, 2009), 169.
21. "Leisure Island Laughter," 331.
22. Ronald MacIsaac et al., Brother XII: The Devil of Decourcy Island (Victoria: Porcepic Books, 1989), 26.
23. "Leisure Island Laughter," 169–70.
24. White, Sunshine Coast, 44.
25. Gerald A. Rushton, Whistle Up the Inlet: The Union Steamship Story (Vancouver: J.J. Douglas, 1974), cited in City of Vancouver Archives, Port Watch—A RetroScientific Pollution and Environmental Control Societytive Look at 100 Years of Ships and Shipping in Vancouver Harbour (Vancouver: Vancouver City Archives, 1986), 46.
26. Norcross, Nanaimo's Playground; Richard S. Mackie, "The Newcastle Island Resort Pavilion" (unpublished manuscript prepared for the Heritage Conservation Branch, Victoria, BC, March 1983).
27. Mackie, "Newcastle Island," 34.
28. Toktie Logs, 9 July 1933, MS-1636, Francis John Barrow collection, British Columbia Archives.
29. Letter from E.M. Pearse of 12 June 1939 to Lieutenant Governor of BC, Eric Hamber, Government House, Victoria, GR 1614, Parks and Outdoor Recreation Division (re: recreation land) Box 25, Oyster River Park Committee, British Columbia Archives.
30. Board of Park Commissioners of the City of Vancouver, The Parks of Vancouver, Canada (Vancouver: City of Vancouver, 1944). The same introduction was used in Parks Board reports in 1946, 1954 and 1958.
31. City of Vancouver Archives, Additional MS 75, vol. 5, cited in Mackie, "Newcastle Island," 14.
32. "Romance of Stump Ranching," MS-1900 Hamilton Laing fonds, Box 17, File 19, 20, British Columbia Archives.
33. Much to my shock and the horror of his cat-loving neighbours.
34. MS-1900 Hamilton Laing fonds, Box 18, File 11, British Columbia Archives.
35. "The old Union Steamship General Store building, Bowen Island, BC," unpublished brief prepared for the Provincial Heritage Advisory Board, Heritage Conservation Branch of the Ministry of Recreation and Conservation, by the Bowen Island Park and Store Use Society, April 1979, Volume II ("largely written by author and island resident Barry Broadfoot"), MS-2009 Margaret Ormsby's records, Box 6, File 3, Bowen Island Park and Store Use Society, British Columbia Archives.
36. Richard Steele, The First 100 Years: An Illustrated Celebration (Vancouver: Vancouver Board of Parks and Recreation, 1988), 164–65, 264–66.
37. Nelson, Seaspace, 135.
38. Letter from T. Sewell, Secretary of the North Shore Boat Rental Association to T.M. Stephens, Divisional Supervisor, Steamship InScientific Pollution and Environmental Control Societytion Service, Vancouver, 5 Feb 1948, 52 E 1 File 2 Boating—1945–1959, City of Vancouver Archives; Letter from C. Smith, President of the North Shore Boat Rental Association to Chief Steamship InScientific Pollution and Environmental Control Societytor, Vancouver, 27 October 1948, op. cit.
39. GR-1002 BC ELUC Secretariat, Originals 1972–1980, BOX 28, British Columbia Archives: Ownership rates in Nanaimo-Gabriola, Squamish, North Shore, Delta/Surrey/White Rock were between 20 and 30 percent.
40. R. Haig-Brown, and S.B. Smith, foreword to Distribution and Economics of the BC Sport Fishery—1954 (Victoria: BC Game Commission, 1955), BN 137, University of British Columbia Library, Rare Books and Scientific Pollution and Environmental Control Societyial Collections. This rapid post-war growth in saltwater angling is also noted, for example, in Newell, Tangled Webs; Qureshi, Environmental Issues; and Taylor, The Quadra Story.
41. "Leisure Island Laughter" manuscript: 2, 259.
42. Sharon Weaver, "First Encounters: 1970s Back-to-the-land Cape Breton, NS, and Denman, Hornby and Lasqueti Islands, BC," Oral History Forum d'histoire orale 30 (2010), 19.
43. Des Kennedy, Editorial, The Denman Rag and Bone, first issue, May 1974, cited in Weaver, First Encounters, 19.
44. BC Ferries Study, GR-1002, BC ELUC Secretariat, Originals 1972–1980. Box 11, British Columbia Archives.
45. Brad Wylie, Qualicum Beach: A History of Vancouver Island's Best Kept Secrets, (Qualicum, BC: Qualicum Beach Historical and Museum Society, 1992), 72.
46. R. Haig-Brown, "Parks and the New Conscience," in Park News: The Journal of the National and Provincial Parks Association of Canada 8, 1 (January 1972), 3-4, RHB papers, BN 146-5, University of British Columbia Library, Rare Books and Scientific Pollution and Environmental Control Societyial Collections.
47. The Fight for Strathcona Park. Handwritten, undated, 9-page manuscript for address to Rod and Gun Club, RHB papers, BN 52-2, University of British Columbia Library, Rare Books and Scientific Pollution and Environmental Control Societyial Collections.
48. GR 1614 Parks and Outdoor Recreation, Box 26, File 1.6.3.535, British Columbia Archives.
49. "Undermining the Park System; or Tear It Up. There Might Be a Buck around Somewhere," undated (but apparently mid-1960s) 8-page manuscript, RHB papers, BN 138-7, University of British Columbia Library, Rare Books and Scientific Pollution and Environmental Control Societyial Collections; R. Haig-Brown, "Resource Management in Canada: A Point of View," unpublished, typed, 33-page manuscript, undated but apparently 1966 or 1967 from context.
50. GR 1614, Box 22, File 1.6.1.351, British Columbia Archives.
51. GR 1614, Box 26, File 1.6.3.540, British Columbia Archives.
52. Undated letter from David Anderson to anonymous (name taped over in file) constituent, MS-2042 ANDERSON, David - File 5, British Columbia Archives.
53. Editorial, Gulf Islands Driftwood, 17 December 1971, MS-2042, File 5, British Columbia Archives.
54. "Gulf Islands US Owned? Victoria Daily Times, 21 June 1971: 17, MS-2014, File 5, British Columbia Archives.
55. Letter dated 24 November 1970 from Jack Davis to Mr. T.W. Cross, Port Credit, Ontario, MS 2042, File 6, British Columbia Archives.
56. R. Haig-Brown, "Parks and the New Conscience," Park News—The Journal of the National and Provincial Parks Association of Canada 8, 1 (January 1972): 3–4. RHB papers, BN 146-5, University of British Columbia Library, Rare Books and Scientific Pollution and Environmental Control Societyial Collections.
57. Letter of 21 June 1971 re: Strait of Georgia National Marine Park Proposal from Lloyd Brooks, Acting Deputy Minister, to the Hon. K. Kiernan, Minister of Recreation and Conservation, PB, Victoria, GR-1118: BC Marine Resources Branch, Box 8, File 8, British Columbia Archives; Letter dated 23 February 1983, and from Federal Minister of Environment to an inquiry from a citizen in Nanaimo, GR 1614, Parks and Outdoor Recreation, Box 24, File 1.6.2.406, British Columbia Archives.
58. Letters from Federal Minister of Environment, 23 Feb 1983, and from provincial Minister of Lands, Parks and Housing, 31 March 1983, to the same inquiry from a citizen in Nanaimo, GR 1614, Parks and Outdoor Recreation, Box 24, File 1.6.2.406, British Columbia Archives.
59. GR 1614, Parks and Outdoor Recreation, Box 22, File 1.6.1.351, British Columbia Archives.
60. R. Haig-Brown and S.B. Smith, foreword to Distribution and Economics of the BC Sport Fishery—1954 (Victoria: BC Game Commission, 1955): 4, RHB papers, BN 137-3, University of British Columbia Library, Rare Books and Scientific Pollution and Environmental Control Societyial Collections.
61. "Statement for Puntledge River inquiry," handwritten 12-page manuscript dated 1962, RHB papers, BN 54-8, University of British Columbia Library, Rare Books and Scientific Pollution and Environmental Control Societyial Collections.
62. Underwood, McLellan and Associates, Mid Coast North Vancouver Island—Mid Coast Queen Charlotte Islands Regional Study (unpublished, preliminary draft report submitted to ELUC, Victoria, 10 March 1975), GR-1002 BC ELUC Secretariat, Originals 1972–1980, Box 7, British Columbia Archives.
63. Lena Lencek and Gideon Bosker, The Beach: The History of Paradise on Earth (New York: Penguin, 1999), 273.
64. Jes Odam, "Gulf Islands at the crossroad: Water wonderland or just another suburb?" Vancouver Sun, 7 December 1971.
65. Kay Alsop, "With her back to the land," The Province, 31 Aug 1972.
66. Garret Hardin, "The Tragedy of the Commons," Science 162 (1968): 1243–48.
67. "The Policy of the Islands Trust" (Victoria: The Islands Trust, Parliament Buildings, 1975), 2–6, 13–14, MS-1246, Islands Trust Fonds 1974–76, Box 1, Islands Trust, British Columbia Archives.
68. "The Policy of the Islands Trust," MS-1246, Islands Trust Fonds 1974–76, Box 1, Islands Trust, British Columbia Archives; briefing notes for the Minister, 22 December 1975, op. cit.
69. Briefing notes for the Minister, 22 December 1975, MS-1246, Islands Trust Fonds 1974–76, Box 1, British Columbia Archives.
70. Saltspring Island file: Doug Watters, "Are storm clouds clearing from Saltspring Island?" Monday—Victoria's Magazine, December 15–21, 1975: 10–11, MS-1246, Box 2, British Columbia Archives.
71. "Crown jewels," Editorial, Vancouver Sun, 28 July 1982; "Ending Islands Trust would bring 'Coney Islands,'" Vancouver Sun, 27 July 1982.
72. Des Kennedy, "Whither the Gulf Islands? Nature's largesse spawns a B.C. dilemma," Canadian Geographic, 105, 5 (1985), 49.