Home of the Encyclopedia of British Columbia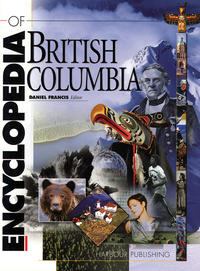 The Encyclopedia of British Columbia is the definitive reference work on British Columbia. With more than 4,000 entries and 1,500 accompanying photographs, maps, charts and tables, as well as sound and video clips, The EBC is the source of readable and authoritative information on all the significant British Columbian people, places and things.
Originally a bestselling 824-page book, the The Encyclopedia of British Columbia is now available exclusively online, allowing for easy access to continually updated information and an expanding database of articles. [Read more]
I was in Kamloops on the weekend having dinner with the Lieutenant Governor.
OK, it was a banquet and there were a hundred or so other guests but still, I shook her...
The Encyclopedia of Raincoast Place Names: A Complete Reference to Coastal British Columbia is an indispensable companion and an essential reference for anyone interested in British Columbia history. Read details of the intriguing stories behind more than 5,000 BC coast places: who bestowed the names and why, and what they reveal.
[Read more]

The most comprehensive collection of photographs of Pacific Northwest marine life ever published, with more than 1,400 saltwater plants and animals and 1,700 superb photographs. A must-have resource for serious biologists, scuba divers, beachcombers and anyone interested in marine life and beautiful underwater photography.
[Read more]

From fearless immigrants to indigenous women in the workforce, award-winning journalist Stephen Hume unmasks the stories of British Columbia's Frontier Women. Abounding with historical photographs and rare glimpses into the daring, and often difficult, lives of pioneering women, Lilies and Fireweed reveals the voices and hands of women who helped shape and build British Columbia.
[Read more]

British Columbia's colourful story has been told many times, but until now no one has attempted to relate the chronicle specifically for young readers. From the gold rush to the Gumboot Navy and from "bride ships" to W.A.C. Bennett, BC history comes alive in this highly illustrated and vivid account by award-winning writer and historian Daniel Francis. [Read more]

Where Mountains Meet the Sea is a unique history of coastal British Columbia being written and published in installments online by the editor of the Encyclopedia of British Columbia, Daniel Francis. It will eventually tell the story of the coast from the arrival of the first European explorers right up to the present day. [Read more]
KnowBC Quiz

Test yourself on your knowledge of BC people, places and things—and learn a fascinating fact or two! All the answers are taken from articles in the Encyclopedia of British Columbia.

[enter here]

Did You Know?

Did you know that Simon Gunanoot, a Gitksan trapper accused of murder, remained on the run from the law for thirteen years (1906-1919) before he finally gave himself up, stood trial and was acquitted?

[enter here]
Sample Articles from the EBC

Miner, Bill

MINER, Bill, outlaw (b 1846, Vevay Township, Mich; d 2 Sept 1913, Millidgeville, GA). He left home at age 16, went west and began robbing stagecoaches. Before he was 20 he was doing time in the ... [enter here]