Knowbc Blog
Posted by Howard, Jun 24, 2017
Fred Herzog's story is irresistible: skilled photographer with an unfashionable style labours in obscurity until his seventies, then is "discovered" and becomes a local and international celebrity. Born in Stuttgart on September 21, 1930, Herzog immigrated to Canada in 1953 and began documenting everyday life in Vancouver while holding a day job as a medical photographer.
Herzog's subject was "the social fantastic of the street" popularized by Cartier-Bresson and the post-war... Read this post
Posted by Howard, Dec 16, 2015
Bruce Yoke was a prominent Vancouver social activist during the latter half of the 20th C and a long-time Vancouver city councillor. Born into a comfortable middle-class family in Vancouver on Dec 10, 1924, Yorke was an excellent student and athlete. At UBC he studied economics and played for the Thunderbirds basketball team. A member of the Communist Party of Canada, he long served on the Trade Union Research Bureau and helped found the left-wing Vancouver municipal party, The Committee of... Read this post
Posted by Howard, Dec 16, 2015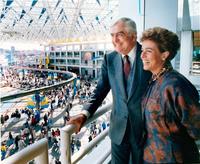 Patrick Reid, best known to British Columbians as the man who guided Expo 86, had a long and many-sided career.
Born Patrick Lockhart Reid was born in Belfast, Northern Ireland on Nov. 14, 1924, he grew up on a farm in County Donegal. At 15 he entered law school at Queen's University in Belfast, but he didn't graduate... Read this post
About Knowbc Blog
This is a blog administered by Daniel Francis, Editor of the Encyclopedia of British Columbia www.knowbc.com. Along with publisher Howard White, we plan to blog about all manner of BC-related subjects, be they cultural, historical, economic or political. We also have invited other EBC contributors to join the discussion. And of course we welcome your comments on whatever you read here. We want to make it a lively space for conversation about what is going on in the province. Join us!