Home of the Encyclopedia of British Columbia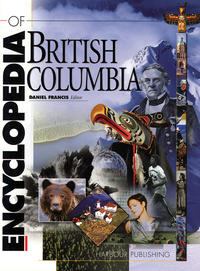 The Encyclopedia of British Columbia is the definitive reference work on British Columbia. With more than 4,000 entries and 1,500 accompanying photographs, maps, charts and tables, as well as sound and video clips, The EBC is the source of readable and authoritative information on all the significant British Columbian people, places and things.
Originally a bestselling 824-page book, the The Encyclopedia of British Columbia is now available exclusively online, allowing for easy access to continually updated information and an expanding database of articles. [Read more]
The Encyclopedia of Raincoast Place Names: A Complete Reference to Coastal British Columbia is an indispensable companion and an essential reference for anyone interested in British Columbia history. Read details of the intriguing stories behind more than 5,000 BC coast places: who bestowed the names and why, and what they reveal.

The most comprehensive collection of photographs of Pacific Northwest marine life ever published, with more than 1,400 saltwater plants and animals and 1,700 superb photographs. A must-have resource for serious biologists, scuba divers, beachcombers and anyone interested in marine life and beautiful underwater photography.

From fearless immigrants to indigenous women in the workforce, award-winning journalist Stephen Hume unmasks the stories of British Columbia's Frontier Women. Abounding with historical photographs and rare glimpses into the daring, and often difficult, lives of pioneering women, Lilies and Fireweed reveals the voices and hands of women who helped shape and build British Columbia.

British Columbia's colourful story has been told many times, but until now no one has attempted to relate the chronicle specifically for young readers. From the gold rush to the Gumboot Navy and from "bride ships" to W.A.C. Bennett, BC history comes alive in this highly illustrated and vivid account by award-winning writer and historian Daniel Francis.

It has often been observed that the First World War jolted Canada into nationhood, and as Mark Forsythe and Greg Dickson show in this compelling book, no province participated more eagerly in that transformation or felt the aftershock more harshly than British Columbia.

Tofino and Clayoquot Sound delves into all facets of geographically and culturally rich land's history, bringing to life the chronicle that started with the dramatic upheavals of geological formation and continues to the present day.

The Strait of Georgia is one of the world's great inland seas, a 6,515 square kilometre body of water lying between the British Columbia mainland and Vancouver Island. Rich in history, teeming with wildlife and marine traffic, the waterway is essential to British Columbians for food, jobs, travel and recreation.

This updated and expanded guide is the authoritative guide to over 100 common species of seaweeds in the Pacific Northwest. From species identification and seaweed biology to the essential roles seaweed plays in the marine ecosystem and our everyday lives, Pacific Seaweeds thoroughly documents every aspect of seaweed life.

Where Mountains Meet the Sea commemorates the 125th anniversary of the District of North Vancouver's incorporation as a municipality. Combining hundreds of illustrations with the personal accounts of residents and a lively text, the book presents the story of North Vancouver in all its colour and complexity.
KnowBC Quiz

Test yourself on your knowledge of BC people, places and things—and learn a fascinating fact or two! All the answers are taken from articles in the Encyclopedia of British Columbia.
Sample Articles from the EBC

Bear, Kermode

BEAR, KERMODE (Ursus americanus kermodei) is a subspecies of black BEAR that may be white or black in colour. Kermodes in their white coloration are known as spirit bears or snow bears. They are