A Visit to Trotsky's House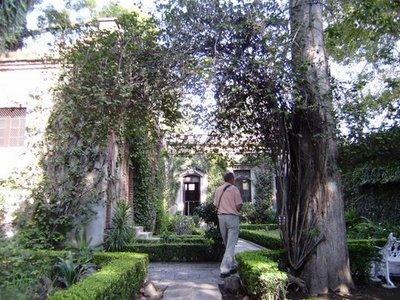 Last October I paid my first visit to Mexico City. One afternoon I made my way out to the neighbourhood of Coyoacan to visit the Museo Leon Trotsky. The Museo is the house occupied by Trotsky and his wife 1939-1940. It is kept exactly as it was on the August day in 1940 when Ramon Mercador, a Spanish Communist travelling on a phoney Canadian passport and in the hire of Joseph Stalin, struck Trotsky down with an ice axe while the exiled revolutionary stood at his desk. The rooms are crowded with the library of books Trotsky had obtained during his years on the run; the walls are pockmarked with bullet holes from a previous assassination attempt. Trotsky's ashes are buried outside in the very pretty courtyard, shown in this photograph.
I did not expect to be as impressed as I was by the pathos of the setting and the grim reminder of the lengths to which political fanaticism will go. All you British Columbians planning a visit to Mexico City, consider giving the Trotsky Museum some of your time.